25 Best Men's Board Shorts
If the calendar's closing in on May – which it is – that means you need a pair of the best men's board shorts just as soon as you can. And in this case, that means you should be looking for a mix of form, function and great style. And if the thought of hitting the beach as you scrambling to hit the gym, you might as well motivate yourself to get back in shape by picking up a stylish pair of versatile board shorts – right?
The classic style has its roots in surf culture, but has been updated for the more casual beach bum via brand collaborations, cool colors and patterns and agreeable prices. Yes indeed, today's board shorts — along with a pair of stylish sandals — can go from the beach to the boardwalk and back – weekend after weekend. With 25 of the best men's board shorts to choose from, we'd wager it'll be tough to choose.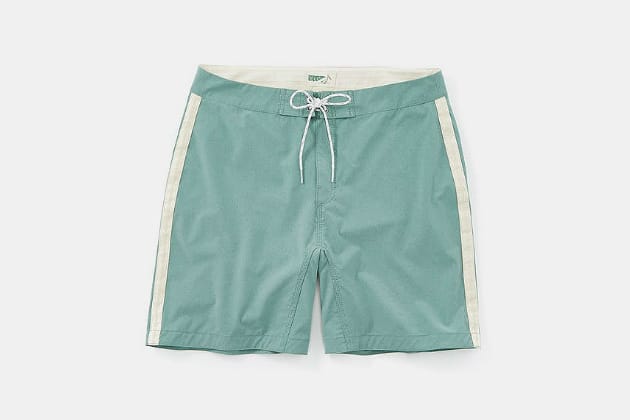 Wellen '66 Stretch Boardshorts
The Wellen '66 Stretch Boardshorts boast vintage vibes with modern performance to make your beach experience this summer all that much more stylish and comfortable to boot. Durable four-way stretch fabric and sun-faded colorway options for that vintage look and feel. The side seam stripe and fitted waistband reinforce the pleasingly retro vibes, while the tailored-yet-movable fit helps these Boardshorts to look more like a pair of your favorite shorts. Wear them out to the beach, and then to the local beachside watering hole afterwards. – Shop Now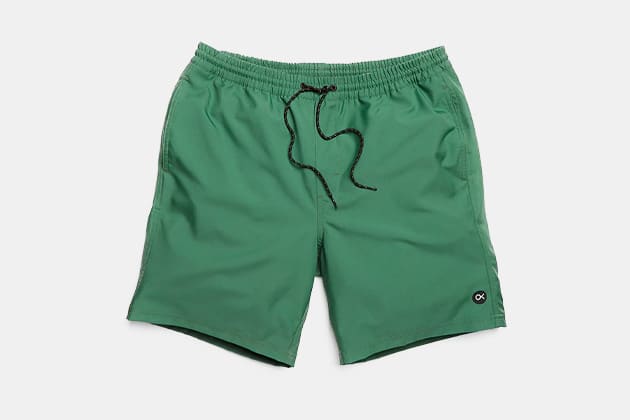 Outerknown Nomadic Volley Boardshorts
You'd expect a great pair of boardshorts to come from a brand like Outerknown, founded in part by legendary surfer Kelly Slater — right? Right. The Nomadic Volley Boardshorts are a uniquely deserving pair when it comes to the best men's boardshorts, made with 100 percent recycled polyester that repurposes material waste from plastic bottles. It's a unique approach that results in a functional, affordable and sustainable pair of boardshorts for spring and summer. – Shop Now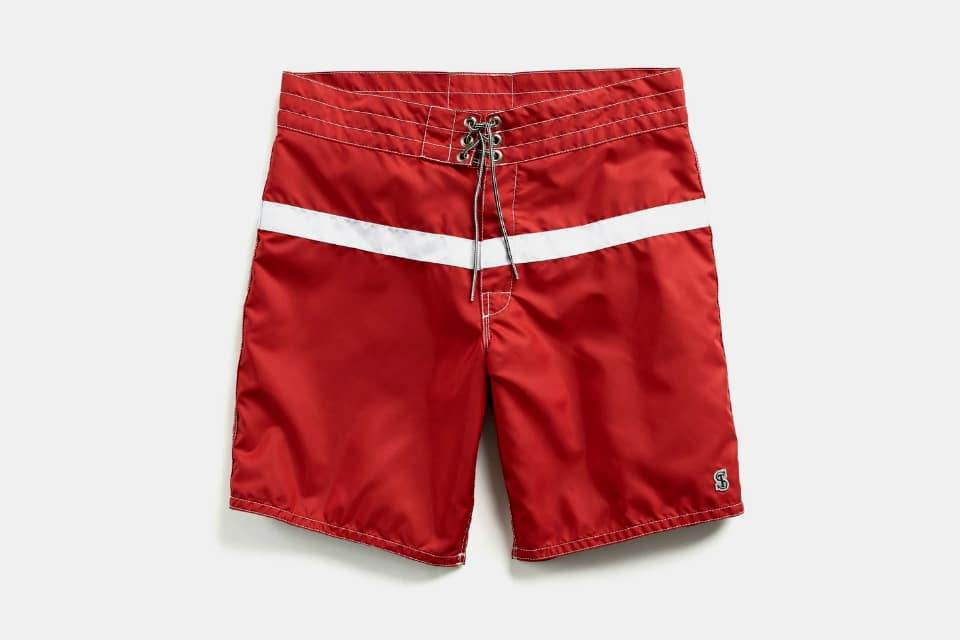 Birdwell 311 Boardshorts
There are some bands that should instantly spring to mind when you start thinking about the best men's boardshorts — take Birdwell, for instance. Birdwell Beach Britches makes lauded and legendary surf gear, the kind that's been worn by lifeguards for decades, and you too can get a bit of that history and style with these finely crafted boardshorts. The SurfNyl fabric is truly next-level, meaning they can stand up to all kinds of adventures on the water. – Shop Now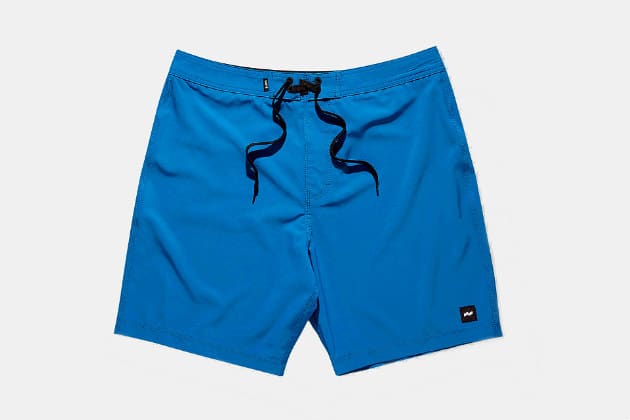 Banks Primary Boardshorts
When we want classic style staples that are built for more than one season, we turn toward Banks Journal — a line of menswear staples sold via Bespoke Post. Perfect for poolside day drinking one the summer as well as epic surf sessions, these minimal yet rugged boardshorts use recycled polyester and elastane for all-season comfort no matter the activity. 4-way stretch means that you can wear these all day long at the beach, and then poolside in the evening for a few rounds of cornhole without the need to change into something more comfortable. – Shop Now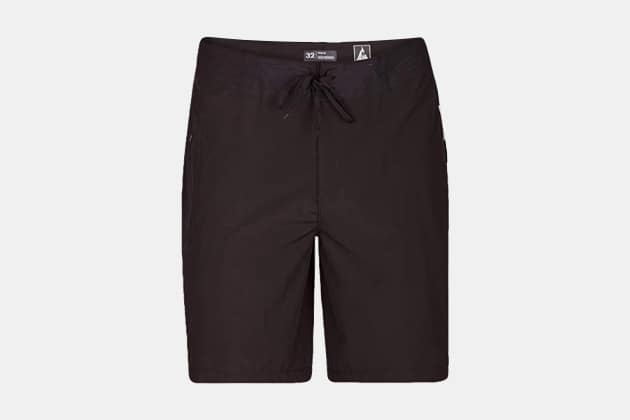 Hurley Phantom JJF Elite Board Shorts
When you're starting your search for new board shorts, best to start with some of the best – right? Hurley is among a wave of brands who've nailed the type of action sports-level quality you expect and need in your board shorts – that's why they're sold via Nike, fittingly enough. And that means you can expect these board shorts to hold up to plenty of repeated wears through the season – whether on a summer road trip or hitting up your local beach, high-quality board shorts are definitely the way to go. – Shop Now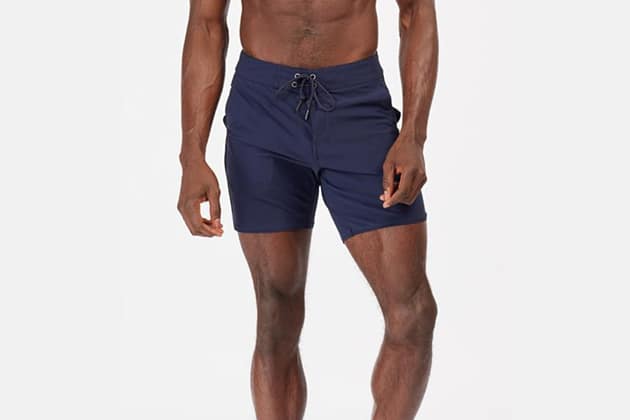 Rhone 7″ Board Short
Masters of functional and mobile apparel and gear for the modern man on the go, Rhone's Board Shorts are classic in their execution and current in their design. The four-way stretch fabric makes them exceptionally easy to wear all day long, and we appreciate the mix of versatile, neutral color options — you'll stand out in all the right ways at the beach this season, guaranteed. The lack of a liner also makes them streamlined and sharp. – Shop Now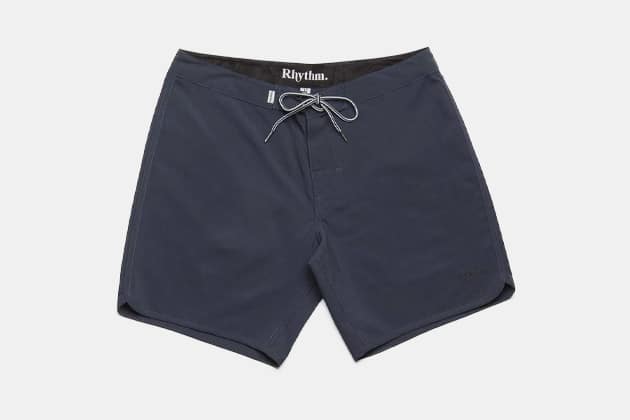 Rhythm Black Label Retro Trunks
Especially when it comes to swim gear and the best men's boardshorts, there are times when simple and straightforward (yet stylish and functional) is undoubtedly the way to go — Rhythm's Black Label Retro Trunks are just that. They're lightweight and breathable, with an easy fit thanks to the drawstring waist, while the scalloped sides offer greater range of movement and a bit of throwback style, to boot. – Shop Now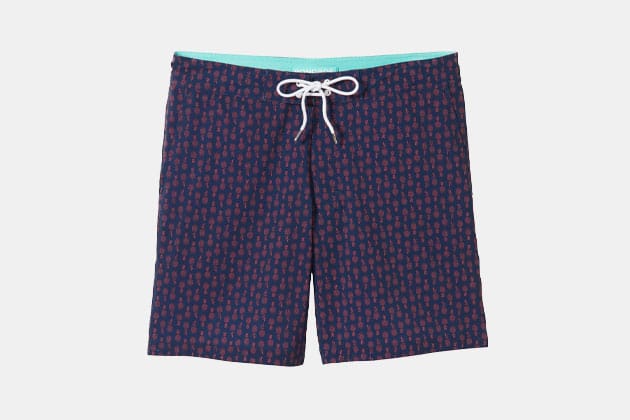 Bonobos Banzai Boardie
The next time you head out on a beach vacation, we can't recommend enough that you pack these stylish board shorts from Bonobos – yes, that's right. Swim trunks from Bonobos can be every bit as stylish and essential as the brand's tailored chinos. Plus, the print shown here is engaging and fun. For the agreeable price, you should pick up more than one pair in a fun pattern or color, too. – Shop Now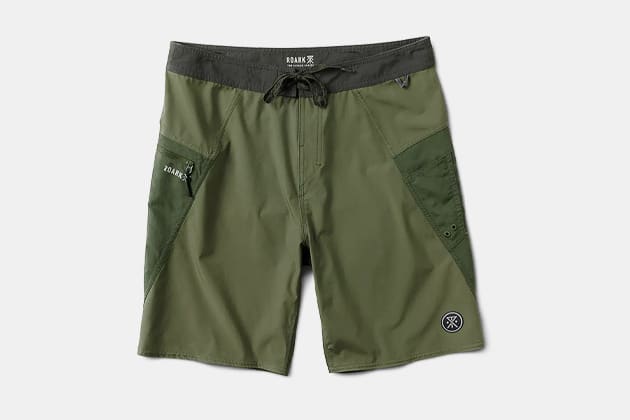 Roark Revival Boatman Boardshorts
The best men's boardshorts often take the qualities of your favorite, well, shorts and translate them into a package that's spring and summer-ready. In that case, the Boatman Boardshorts are lightweight and breathable, complete with stretchy fabric that moves with you and wicks away moisture while drying quickly. That makes them some of the most essential boardshorts you can buy right now — and we like the rich Military color, too. – Shop Now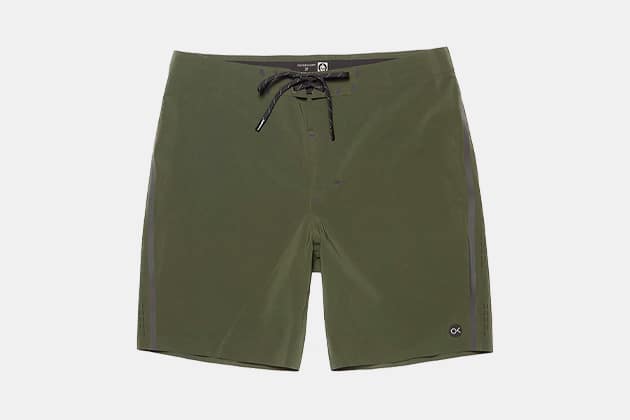 Outerknown Apex Boardshorts
Outerknown's Apex Boardshorts are but another worthy offering to consider from the brand when it comes to the best men's boardshorts — these are made using those same sustainable approach that makes the brand such a worthwhile candidate to add to your wardrobe. The addition of spandex here also sets them apart from the pack — the Apex Boardshorts are assuredly durable and adventure-ready. Take your pick of multiple colorways, including the beach-friendly Rising Sun pattern. – Shop Now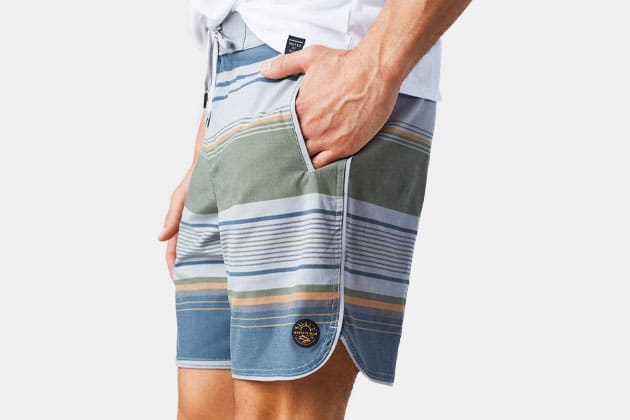 United By Blue Seabed Scallop Board Shorts
The philosophy at Philadelphia's United By Blue is simple: Buy great gear, save the world. The purchase of one product removes one pound of trash from oceans and waterways, and we're all about that — especially when that means you get to pick up the Seabed Scallop Board Shorts, a new classic rendered in bright colors for spring and summer (or your next beach getaway). – Shop Now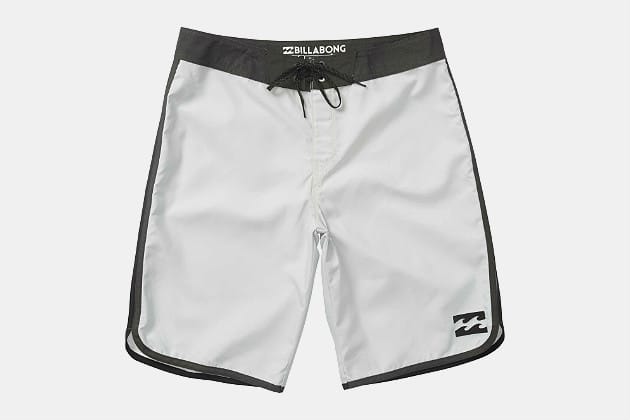 Billabong 73 OG Boardshorts
Billabong consistently gets a lot of things right with its boardshorts, and the 73 OG Boardshorts are a perfect example of that consistency, functionality and style. Made in true fashion for those who like to catch waves — and even those who don't — these boardshorts are priced with affordability in mind. That should leave you with plenty of cash to take on your next spring or summer beach adventure — agreed? That's about as good as it gets for under $40, and you'll be able to hit up plenty of beaches, lakes and pools this summer thanks to these scalloped-leg boardshorts. – Shop Now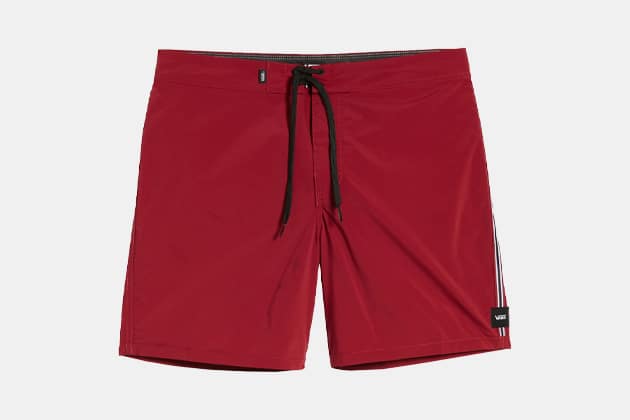 Vans Ever Ride Board Shorts
Does it surprise you that Vans makes boardshorts along with its iconic and ever-growing list of stylish sneakers? It shouldn't — and it's good news that you can pick up a pair of these boardshorts along with a new pair of kicks, all at once. The Ever Ride Board Shorts channel the iconic red Vans color, making for a bit of throwback style and serious functionality for the guy who appreciates the chance to head to the beach (and who doesn't?). – Shop Now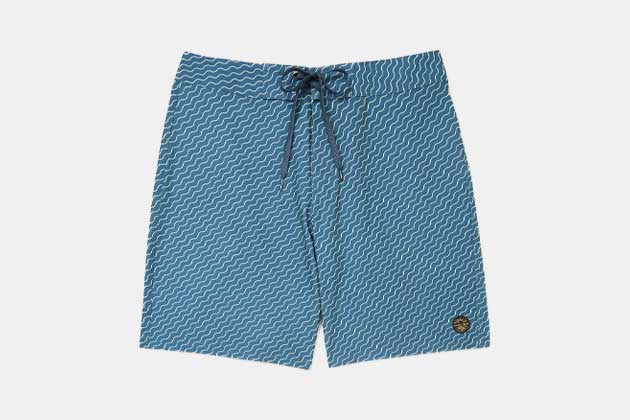 Riptide Pro Board Short
Rest assured, United By Blue does more than just one thing well — that extends to making multiple pairs of stylish, durable and eco-conscious board shorts that are great for the planet (and great for your personal style). Made from recycled polyester along with spandex for stretch and comfort, these board shorts are designed to stand out in exactly the right way — to say the least. – Shop Now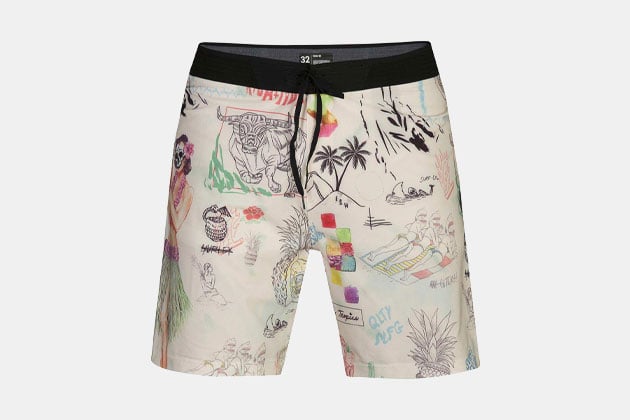 Hurley Phantom Hyperweave Doom Boardshorts
Hurley is among a host of brands you turn toward when your mind wanders toward the beach or the pool — but especially if you tend to climb atop a surfboard when on vacation. Hence, the Phantom Hyperweave Doom Boardshorts take the cake in terms of the best men's boardshorts, complete with a fun and bright print to show off your surfing prowess in style (if you so choose, that is). – Shop Now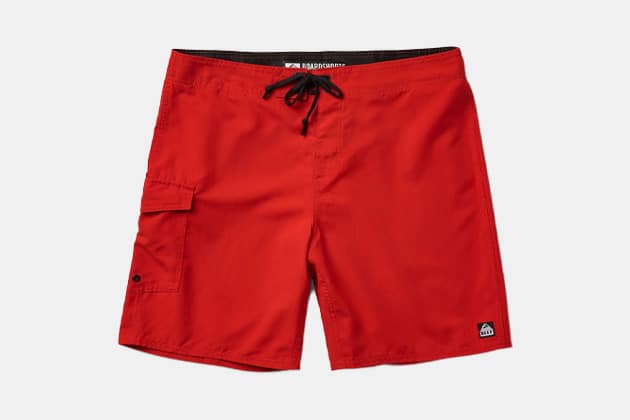 Reef Lucas 4 Shortie Boardshorts
In addition to its stellar selection of useful, bottle opener-enabled flip-flops, Reef also does more than a nice job of complementing its full product offering across the board — starting with these handy, essential boardshorts. They're made to be worn in tandem with Reef sandals, and that's more than perfect the next time you pack up for the beach. – Shop Now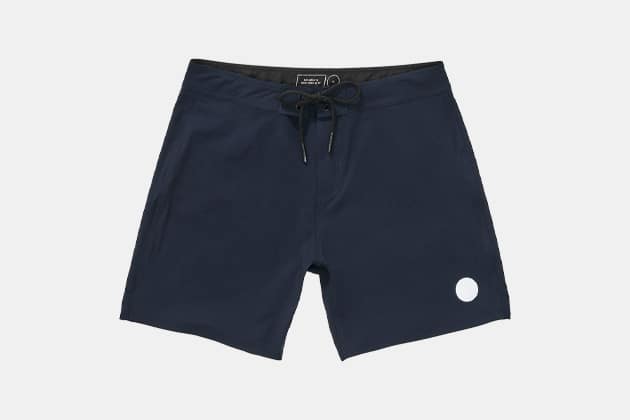 Saturdays NYC Danny Boardshorts
It's only fitting that Saturdays NYC makes a heck of a pair of stylish, essential boardshorts — it goes right back to the brand's roots, after all. With a focus on surfing lifestyle even in the urban confines of NYC, the brand has since expanded into stylish Oxford shirting, chinos and other men's style essentials, but the Danny Boardshorts, especially in a crisp Midnight color, are still the way to go. – Shop Now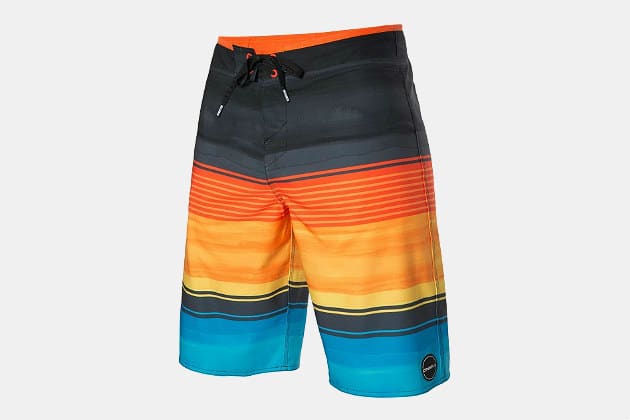 O'Neill Hyperfreak Heist Boardshorts
Building off a significant action sports background — including high-quality snow gear — O'Neill has you covered in more areas than one. It's Hyperfreak Heist Boardshorts boast both a catchy name and a catchy color, what with vibrant stripes that'll surely stand out in the water (aside from your surfing skills, that is). And you get that performance and style for just $55 — not a bad deal at all, and more than worthy of your next investment. The Hyperdry fabric adds yet another dimension of durability, so you can dry off in no time. – Shop Now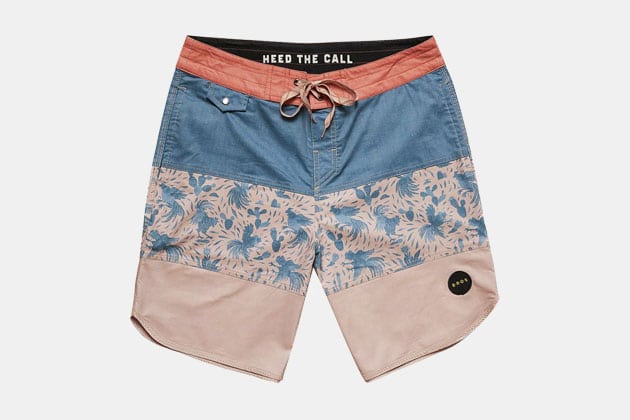 Howler Brothers Stretch Vaquero Board Short
Howler Brothers is a brand to watch if you want gear that A) Makes sense and B) Offers both functionality and style. That's the case with the Stretch Vaquero Board Shorts, made from quick-drying material that won't slow you down — no need to wait to dry off before you head from the ocean to the beach bar, in short. Pair up these boardshorts with a stylish Howler Brothers shirt, then call it a day. – Shop Now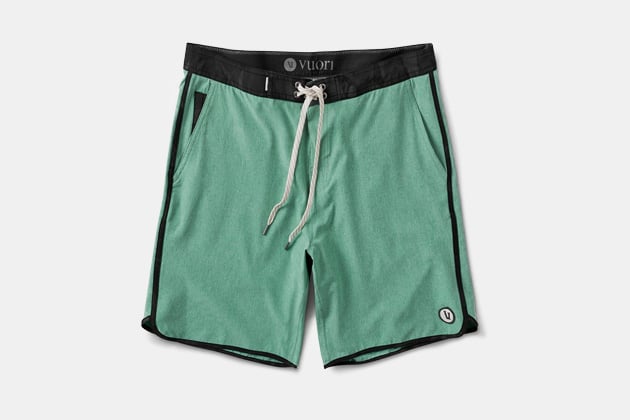 Vuori Cruise Boardshort
Is it the range of neat colors and patterns that draws our eyes toward the Vuori Cruise Boardshort? Is it the agreeable price for a pair of everyday boardshorts? Or is it the focus on quick-drying fabric and what the brand calls a dynamic fit? It's all of those, and then some — Vuori says they work to wear from "land to sea and back," and we couldn't agree more. – Shop Now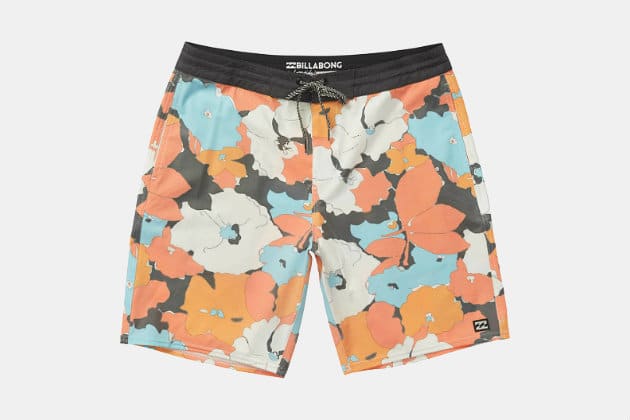 Billabong Sundays Lo Tides Boardshorts
For low tides and high tides alike, Saturday, Sunday and every day in between, these 19-inch Billabong board shorts are engineered to get the job done. For the handy and agreeable price of $54.95, the colorful, patterned print of these boardshorts is a winning one. And the bonuses don't stop there. Made with a cotton stretch blend and featuring a modern cut, they also incorporate Micro-Repel water-repellant technology — perfect for getting out of the water and going onto your next summertime adventure (be it beach, pool, lake or ocean). Not bad, ehh? – Shop Now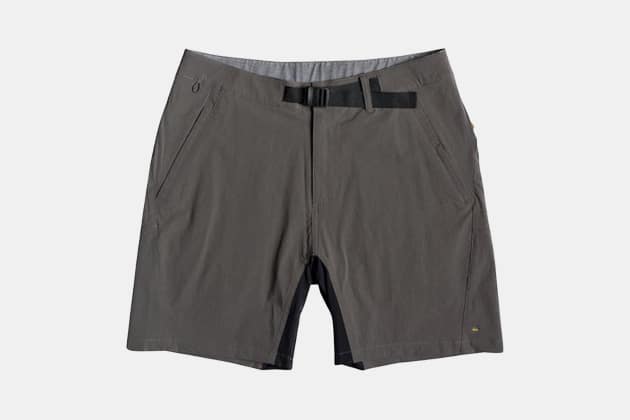 Quiksilver Waterman Venture Amphibian Board Shorts
Quiksilver has strong, strong ties to the surfing and watersports communities (to say the least), so it only makes sense that they'd come up with quite the functional, durable pair of board shorts. The aptly named Waterman Venture Amphibian Board Shorts really are more like a pair of durable everyday shorts than anything, treated with DryFlight water-repellent coating for maximum utility at the beach or on the boardwalk. – Shop Now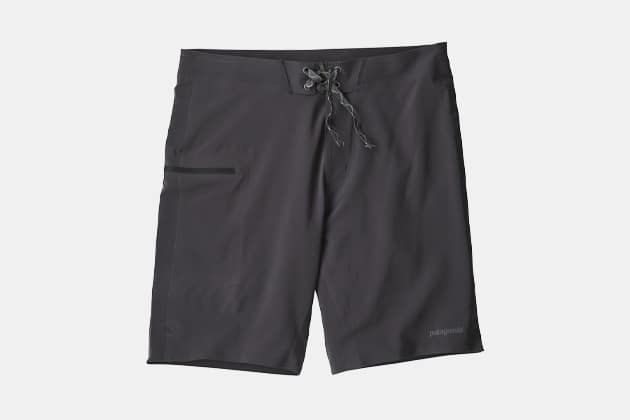 Patagonia Men's Stretch Hydroflow Boardshorts
Patagonia is a brand that's been stepping up to the plate in terms of its commitment to the environment — and they've accordingly continued to stay best-in-class when it comes to functional, tough gear (like the Stretch Hydroflow Boardshorts). Done up in a slim fit and made in part from recycled polyester, you're getting the best of both worlds here — again, that crucial mix of sustainability and style. – Shop Now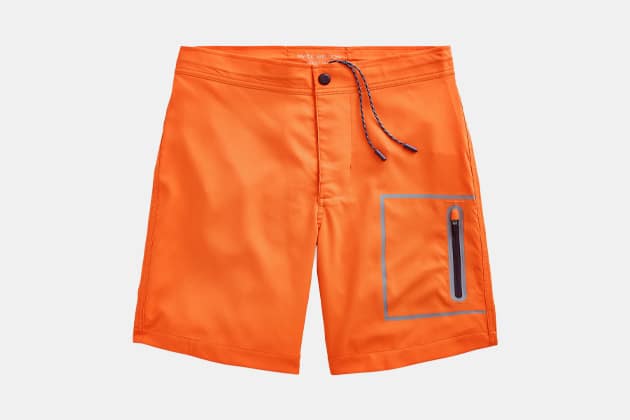 Mack Weldon Swim Board Shorts
Mack Weldon has applied the same technical prowess to its Board Shorts that it applies to the design of its essential, functional and surprisingly stylish basics. With a focus on performance-ready fabrics that actually look great, these Board Shorts get a boost thanks to the four-way stretch fabric and zippered front and back pockets (you won't lose anything along the way to the beach, guaranteed). – Shop Now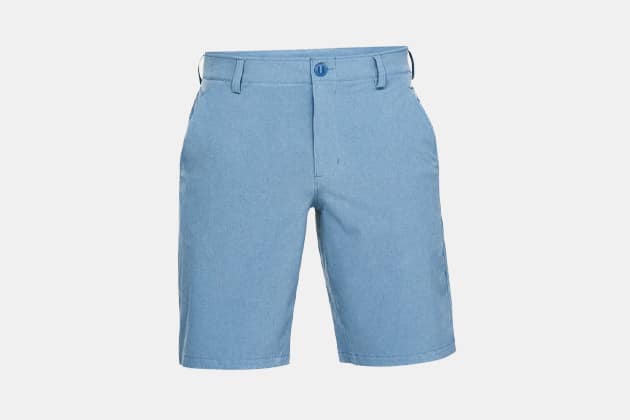 Under Armour Mantra Board Shorts
Under Armour very likely outfits you from head to toe for the gym and beyond, functional sneakers and high-performance shorts and shirts included. Add the Mantra Board Shorts to your shopping list now as well, made with four-way stretch built right in. These are a maximum-impact pair of boardshorts that actually perform similar to gym shorts, made to move with you and take on summer excursions with ease. – Shop Now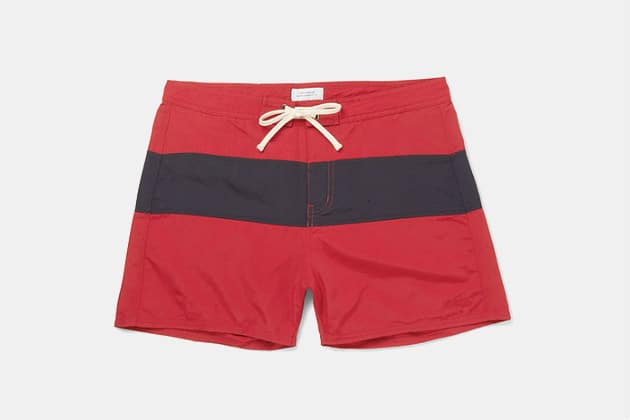 Saturdays NYC Grant Boardshorts
It's fitting that Saturdays NYC makes a great pair of board shorts – after all, the company's initial approach centered around selling real-life surf gear, from boards to shorts – and expanded to excellent Oxfords, chinos and sneakers. Now, the brand does hair care products, too. And you can use said hair care products to get your 'do back in shape after catching some waves with the stylish, modern Grant Swim Shorts – every bit as high-quality as the brand's apparel, you'll be pleased with how these hold up in the months, and beach days, ahead. – Shop Now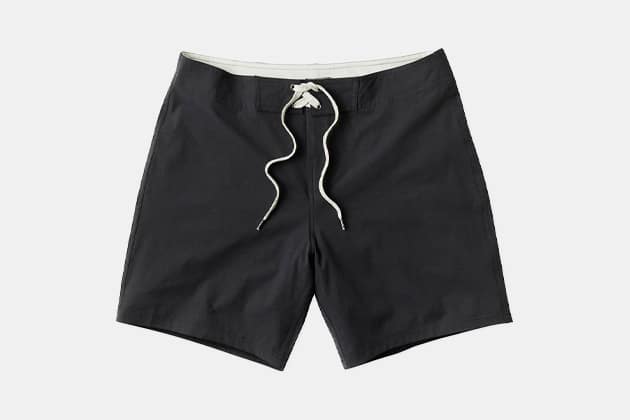 Buck Mason Swim Short
You've assuredly got a Buck Mason denim shirt or one of the brand's perfectly crafted T-shirts — but what about a pair of Buck Mason Swim Shorts? It's the latest product we absolutely love from the brand, made with quick-drying two-way cotton for both old-school cool and modern performance. Just when you thought Buck Mason couldn't get any better, they go and do it. – Shop Now
Disclosure: Clicking on these links and making a purchase may earn us a small referral fee, at no extra cost to you. Learn more here.
freestar.config.enabled_slots.push({ placementName: "gearmoose_leaderboard_btf", slotId: "gearmoose_leaderboard_btf" });