The 25 Best Men's Board Shorts
If the calendar's closing in on summer – which it is – you need a pair of the best men's board shorts just as soon as you can. And in this case, that means you should be looking for a mix of form, function and great style. And if the thought of hitting the beach as you scrambling to hit the gym, you might as well motivate yourself to get back in shape by picking up a stylish pair of versatile board shorts – right?
The classic style has its roots in surf culture, but has been updated for the more casual beach bum via brand collaborations, cool colors and patterns, and agreeable prices. Yes indeed, today's board shorts — along with a pair of stylish sandals — can go from the beach to the boardwalk and back – weekend after weekend. With 25 of the best men's board shorts to choose from, we'd wager it'll be tough to choose.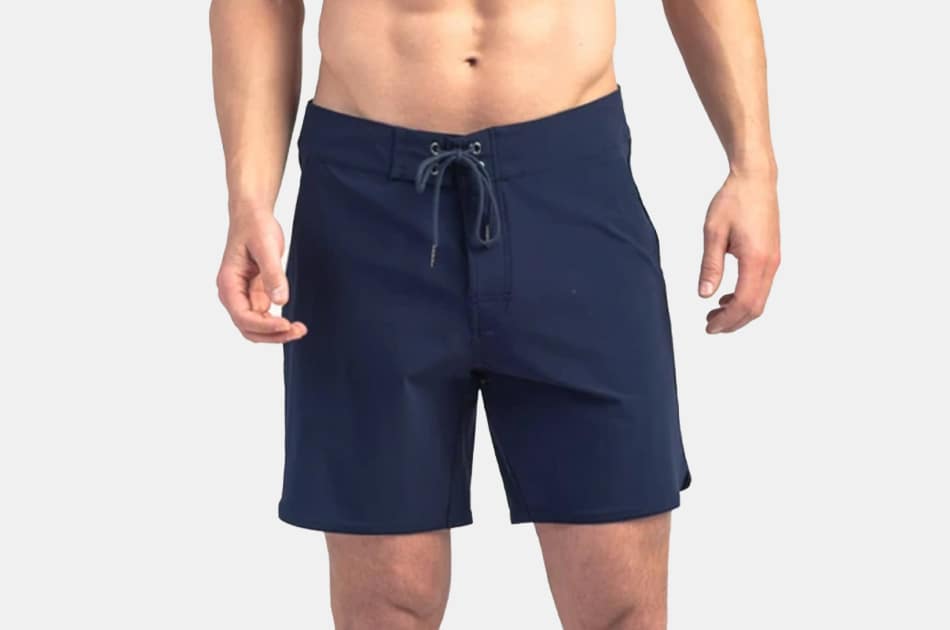 Rhone 7″ Board Shorts
Masters of functional and mobile apparel and gear for the modern man on the go, Rhone's Board Shorts are classic in their execution and current in their design. The four-way stretch fabric makes them exceptionally easy to wear all day long, and we appreciate the mix of versatile, neutral color options — you'll stand out in all the right ways at the beach this season, guaranteed. The lack of a liner also makes them streamlined and sharp.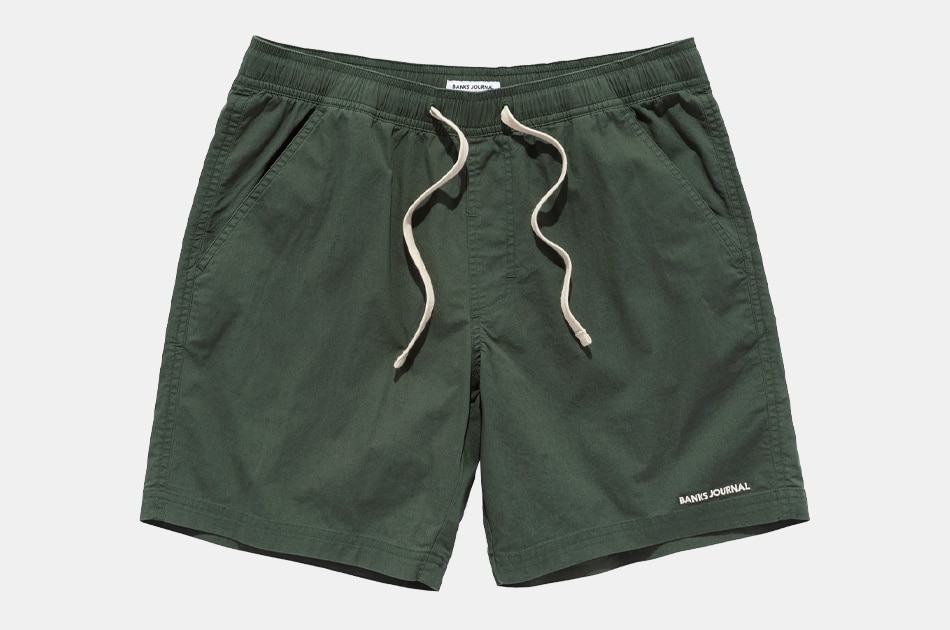 Banks Label Elastic Boardshorts
Part board short, part lounge pants, and all comfort — that's the Banks Label Elastic Boardshorts for you. Adding three percent elastane to the supple cotton makes these shorts your perfect wear-anywhere solution for summer. And with their mesh pockets and back flap pocket, you won't have to worry about losing your keys while you're taking a stroll on the beach. So if you're looking for one pair of boardshorts to keep you cool and comfy all summer long, go for these.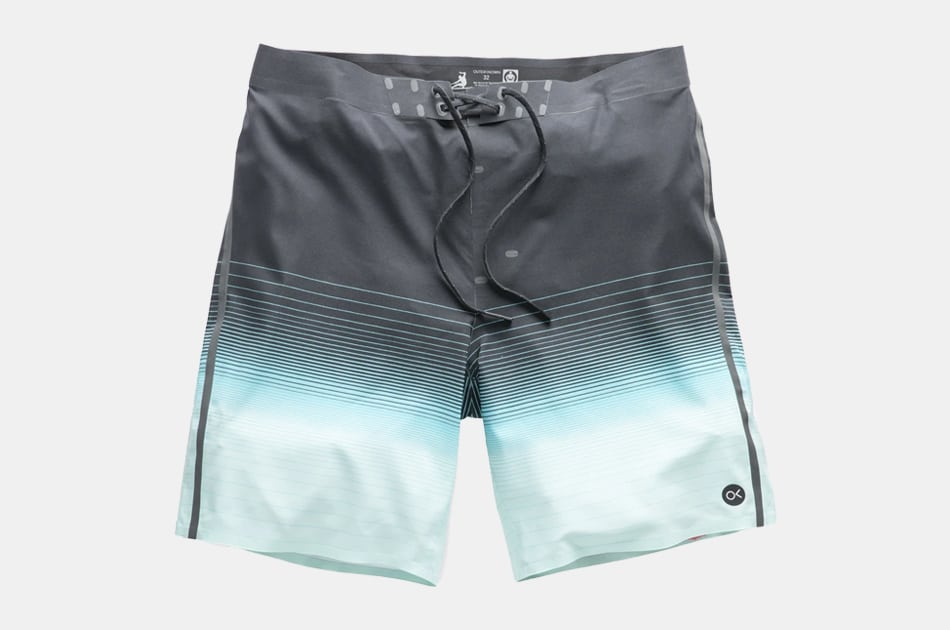 Outerknown Apex Trunks By Kelly Slater
Kelly Slater is a legend of surfing, with 11 world surfing championship wins to his name. But any famous person can put their name on a product, right? Well, these Outerknown Apex Trunks are the real deal — developed and tested by Slater himself. Every detail has been meticulously considered, from the four-way stretch fabric to stitch-free welded seams and a double-reinforced butt seam. All this adds up to make for a pair of boardshorts that combine performance, durability, and good looks in one sport-ready package.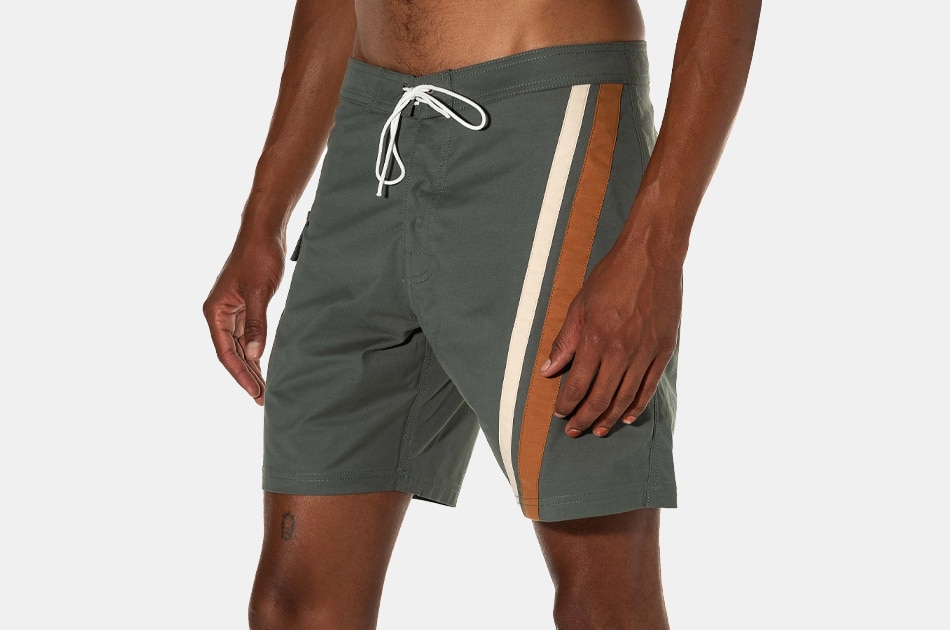 Katin Grant Boardshorts
Retro cool but with modern touches, Katin's Grant Boardshorts look great on the beach or around the city. They're made of a cotton, nylon, and spandex blend with a four-way stretch that keeps them moving with you all day long. Even better, that fabric blend dries faster than classic cotton, making these shorts an ideal choice for days at the beach. All that wouldn't be worth much if these shorts weren't comfortable — but oh man, are they ever! The interior seams are polished down to a barely-there feel, and the lace-up waistband lets you dial in a custom fit.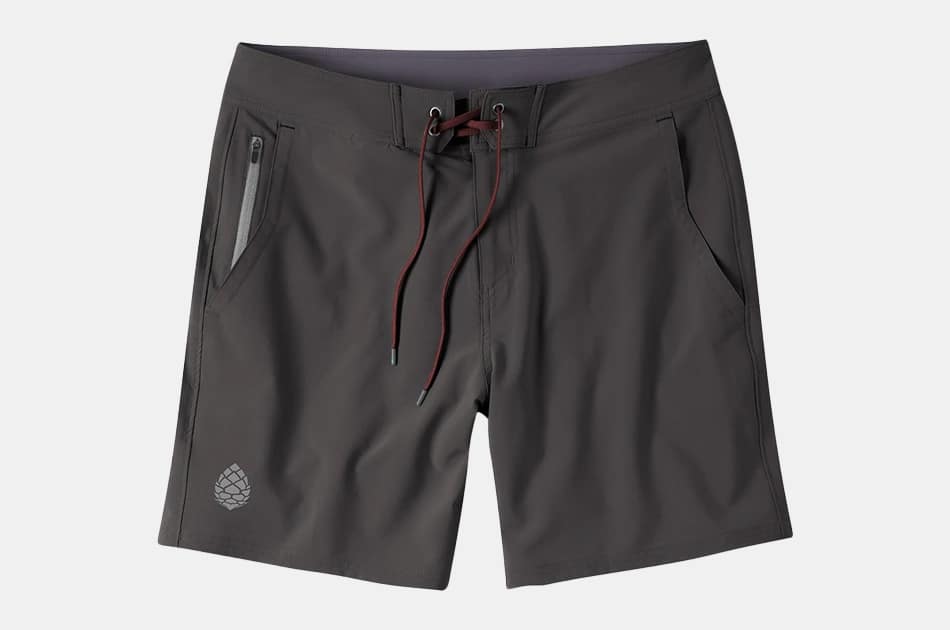 Stio Men's CFS Board Shorts
Wyoming-based Stio is a clothing company founded with stewardship of the great outdoors at their heart. They donate a big portion of their profits each year to wilderness conservancies and outdoor programs for at-risk youth. So when you buy a pair of their CFS Board Shorts, you're getting a lot more than just a high-performance pair of pants — you're helping to support campers, hikers, and swimmers everywhere. Of course, it helps that these shorts are awesome. Their abrasion-resistant finish makes them some of the most durable shorts you'll ever wear, without making them any less comfortable.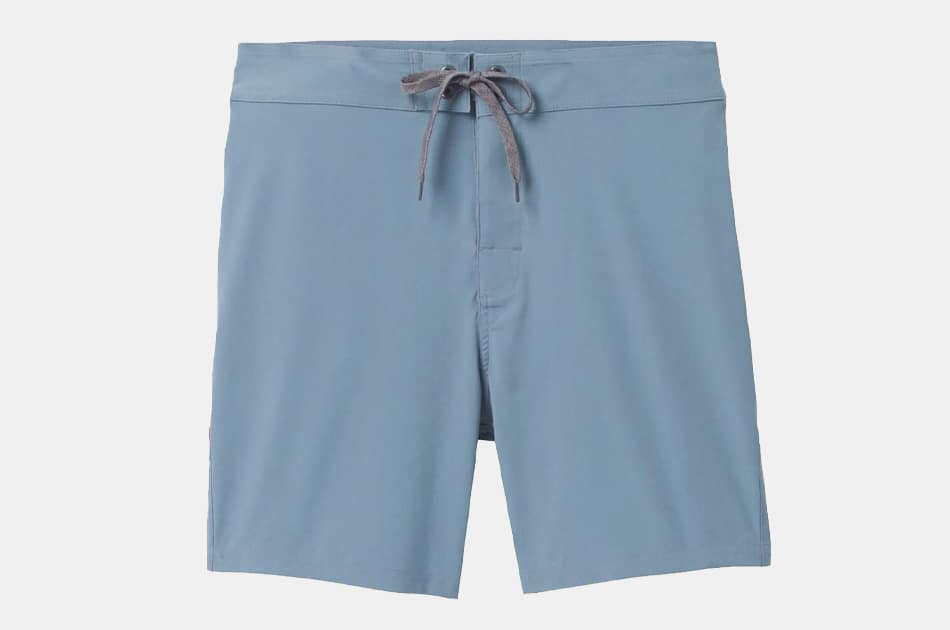 prAna Riveter Board Shorts
Fans of minimalist style will appreciate prAna's streamlined take on boardshorts. A far cry from the loudly colored shorts offered by many surf companies, they're a slick take on the style that looks great when worn as lounge shorts or swimwear. All four muted colors are made to match a wider variety of outfits, or to put the spotlight on your beach bod when worn solo. All of that is topped off with details like a fixed waistband with drawcord adjustment and hook-and-loop closure pockets to keep your valuables right where they're supposed to be.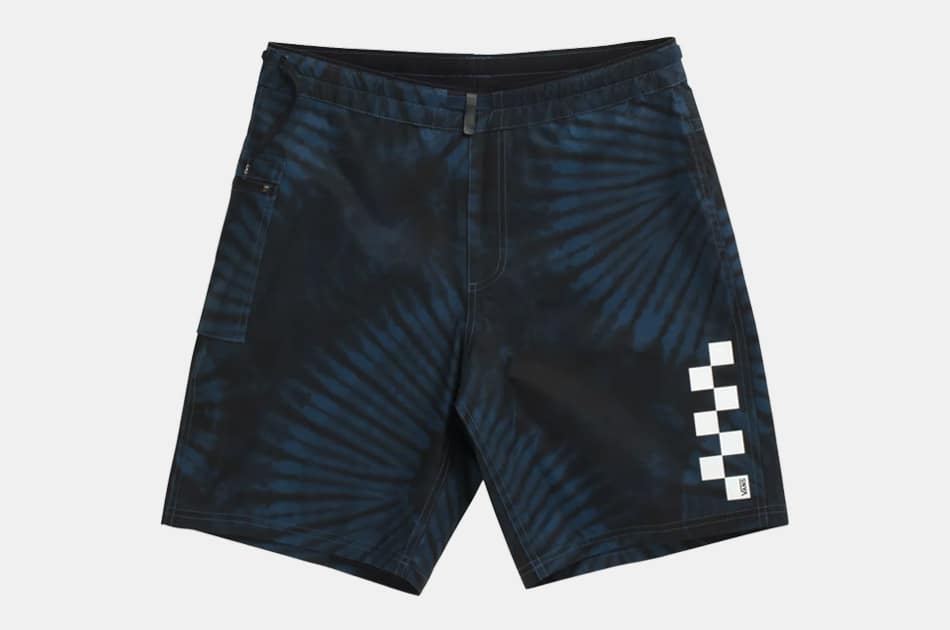 Vans Surf Trunk 3
Many pairs of boardshorts have come a long way from their original intention as high performance surfing gear. Not so with Vans' Surf Trunk 3 — a dedicated surf short that's packed with details guaranteed to appeal to surfers and guys who want to be like them. The 100 percent polyester fabric is quick-drying, and the tight weave makes them super soft and comfortable. That's paired with taped and clean-finished seams and a faux fly, leaving the interior of these shorts completely chafe free. They even have a loop tab connector placed front and center, in case you want to securely hook up a wetsuit top.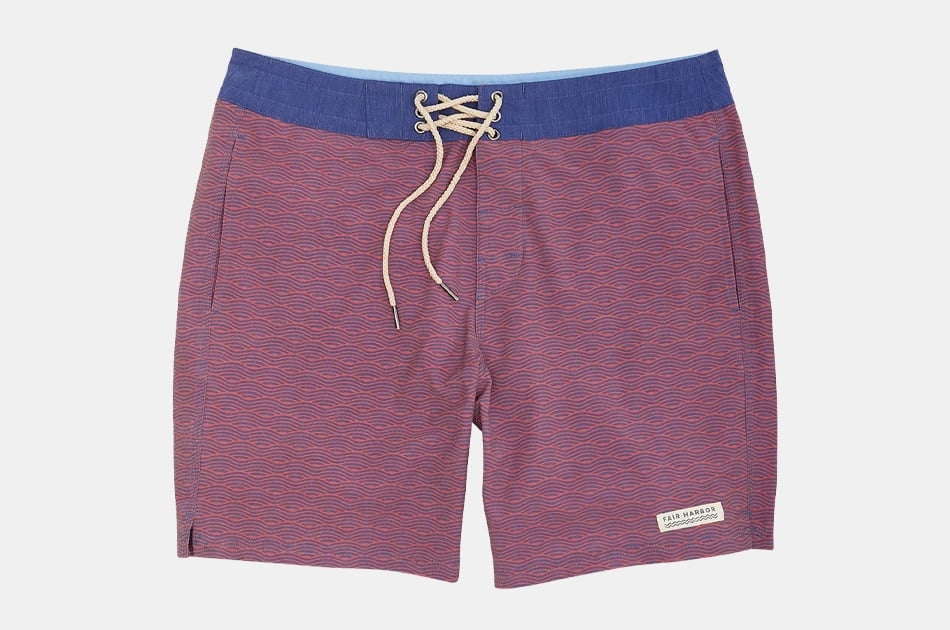 Fair Harbor The Nautilus Boardshort
Ten vibrant colors of commando-friendly boardshorts to choose from lets you dial in your style. But you know what's better than how comfortable these shorts are and how cool they look? Fair Harbor recycles plastic bottles to make 80 percent of the fabric blend for their Nautilus Boardshorts. True ocean lovers will see the draw here: By supporting a sustainable clothing company, you're helping to keep plastic trash out of our waterways. Of course, it doesn't hurt that this recycled polyester is durable and quick-drying, too.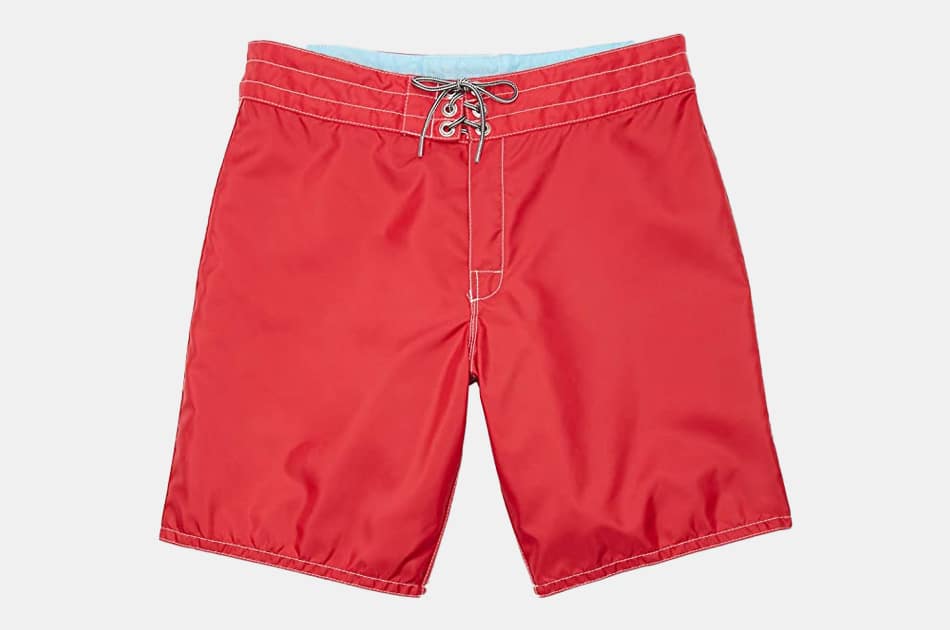 Birdwell 311 Boardshorts
There are some bands that should instantly spring to mind when you start thinking about the best men's boardshorts — take Birdwell, for instance. Birdwell Beach Britches makes lauded and legendary surf gear, the kind that's been worn by lifeguards for decades, and you too can get a bit of that history and style with these finely crafted boardshorts. The SurfNyl fabric is truly next-level, meaning they can stand up to all kinds of adventures on the water.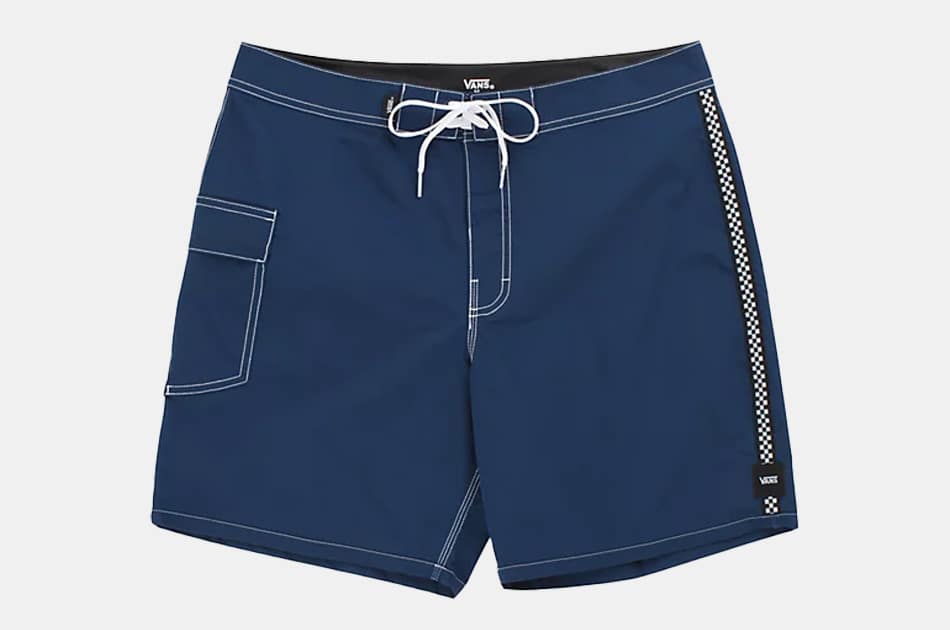 Vans Ever Ride Board Shorts
Does it surprise you that Vans makes boardshorts along with its iconic and ever-growing list of stylish sneakers? It shouldn't — and it's good news that you can pick up a pair of these boardshorts along with a new pair of kicks, all at once. The Ever Ride Board Shorts channel the iconic Vans vibe, making for a bit of throwback style and serious functionality for the guy who appreciates the chance to head to the beach (and who doesn't?).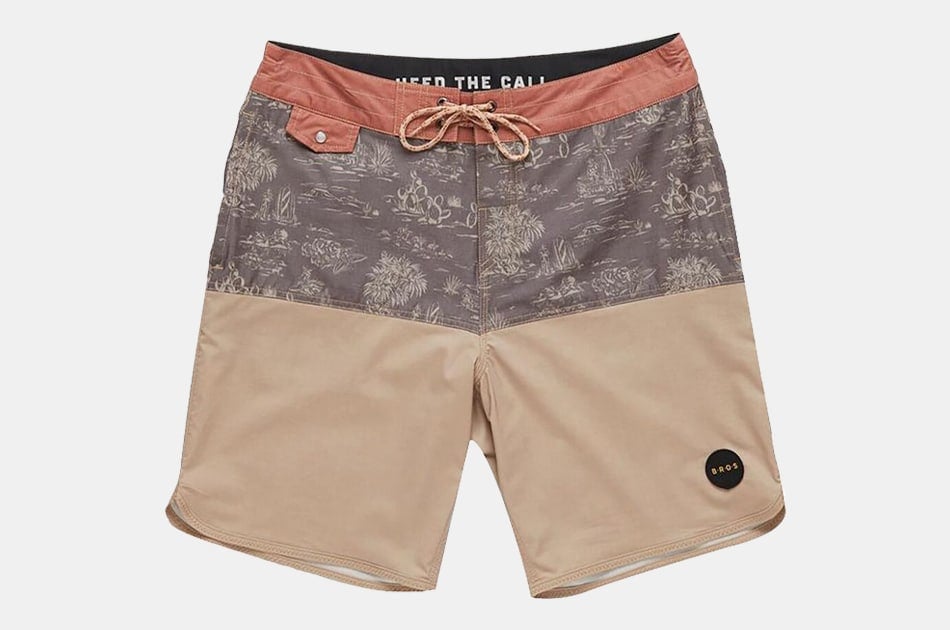 Howler Brothers Stretch Vaquero Board Short
Howler Brothers is a brand to watch if you want gear that A) Makes sense and B) Offers both functionality and style. That's the case with the Stretch Vaquero Board Shorts, made from quick-drying material that won't slow you down — no need to wait to dry off before you head from the ocean to the beach bar, in short. Pair up these boardshorts with a stylish Howler Brothers shirt, then call it a day.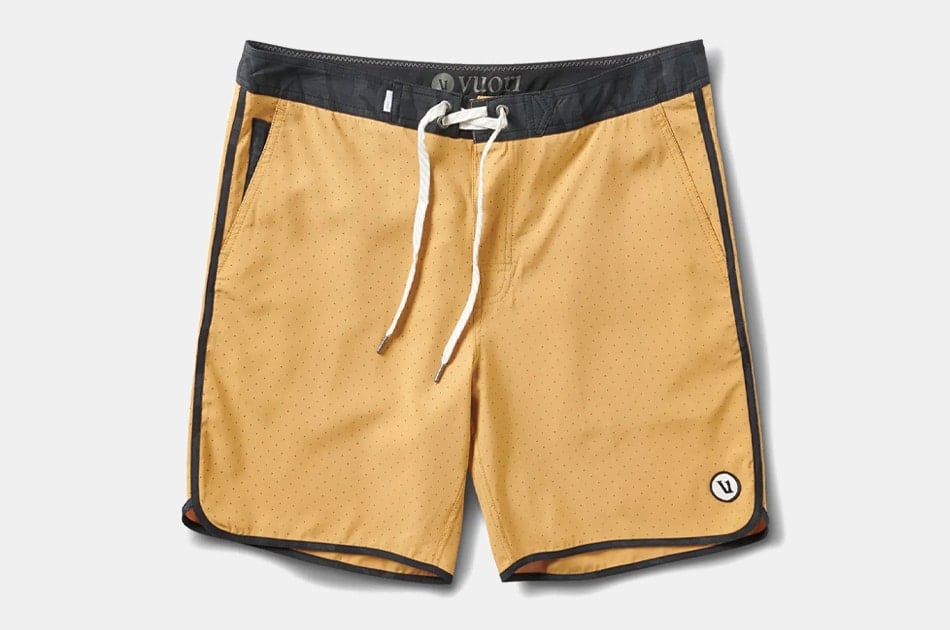 Vuori Cruise Boardshort
Is it the range of neat colors and patterns that draws our eyes toward the Vuori Cruise Boardshort? Is it the agreeable price for a pair of everyday boardshorts? Or is it the focus on quick-drying fabric and what the brand calls a dynamic fit? It's all of those, and then some — Vuori says they work to wear from "land to sea and back," and we couldn't agree more.
Billabong Sundays Lo Tides Boardshorts
For low tides and high tides alike, Saturday, Sunday and every day in between, these 19-inch Billabong board shorts are engineered to get the job done. For the handy and agreeable price of $54.95, the colorful, patterned print of these boardshorts is a winning one. And the bonuses don't stop there. Made with a cotton stretch blend and featuring a modern cut, they also incorporate Micro-Repel water-repellant technology — perfect for getting out of the water and going onto your next summertime adventure (be it beach, pool, lake or ocean). Not bad, ehh?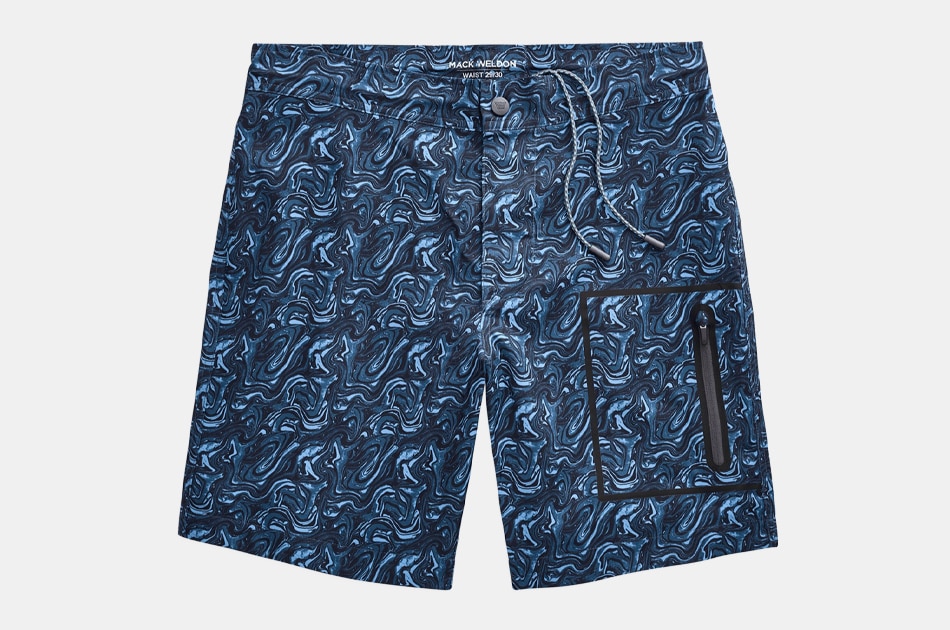 Mack Weldon Swim Board Shorts
Mack Weldon has applied the same technical prowess to its Board Shorts that it applies to the design of its essential, functional and surprisingly stylish basics. With a focus on performance-ready fabrics that actually look great, these Board Shorts get a boost thanks to the four-way stretch fabric and zippered front and back pockets (you won't lose anything along the way to the beach, guaranteed).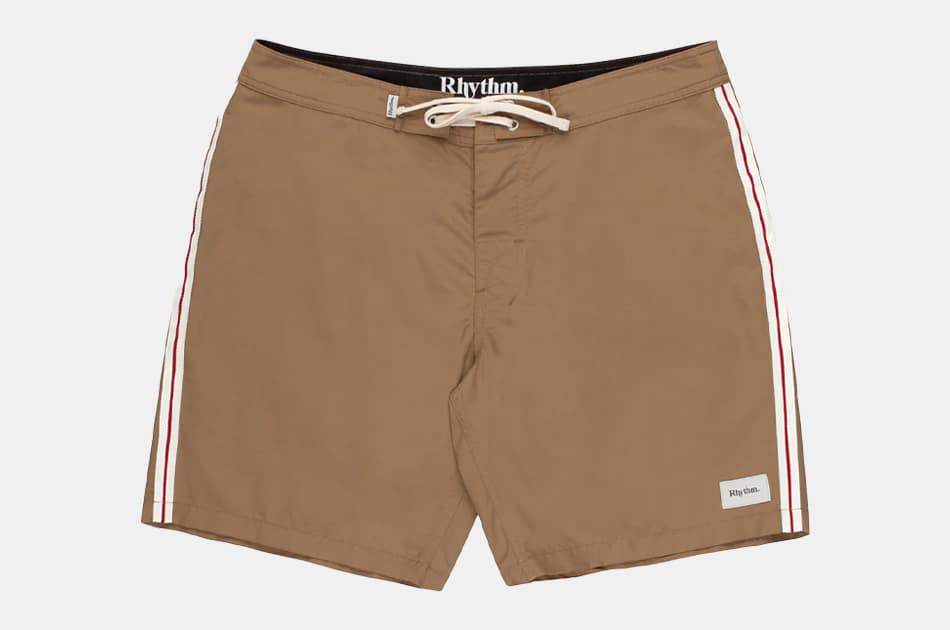 Rhythm Side Stripe Trunk
Especially when it comes to swim gear and the best men's boardshorts, there are times when simple and straightforward (yet stylish and functional) is undoubtedly the way to go — Rhythm's Side Stripe Trunks are just that. They're lightweight and breathable, with an easy fit thanks to the Chamois-lined waistband, while the buttondown patch pocket in the back (with an internal key loop and drainage hole) provide a reliable way to store your waterproof essentials while hitting the sand and surf.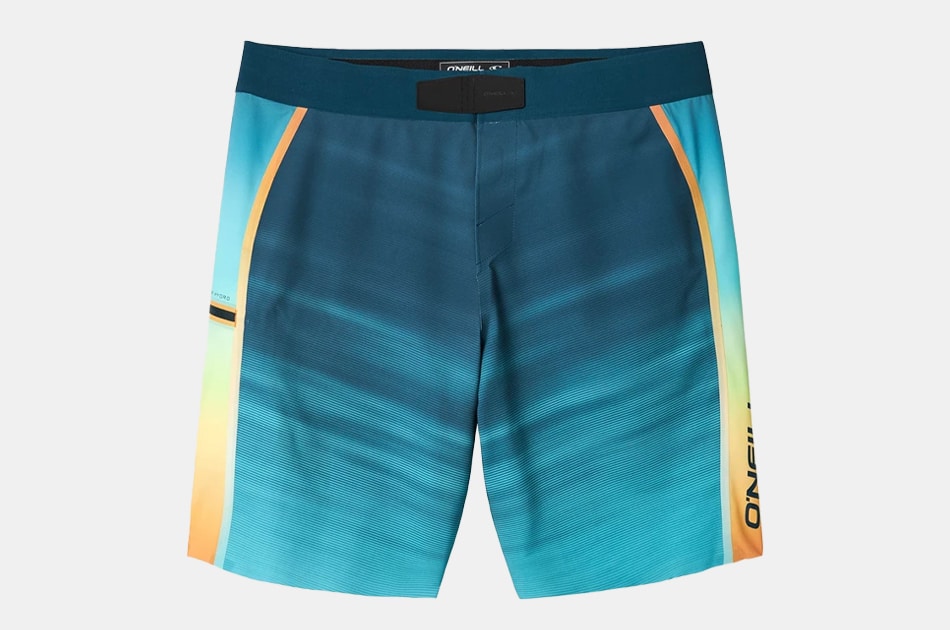 O'Neill Hyperfreak Boardshorts
O'Neill has been in the surf business since the '50s, so they know a thing or two about keeping you comfortable on the board. The Hydro version of their Hyperfreak Boardshorts are constructed with a flat, no-tie front, using a closure system you'll only find on a pair of O'Neills. That means nothing gets in the way when you're paddling hard. Welded construction, a zippered thigh pocket, and recycled materials round out this surf-ready design.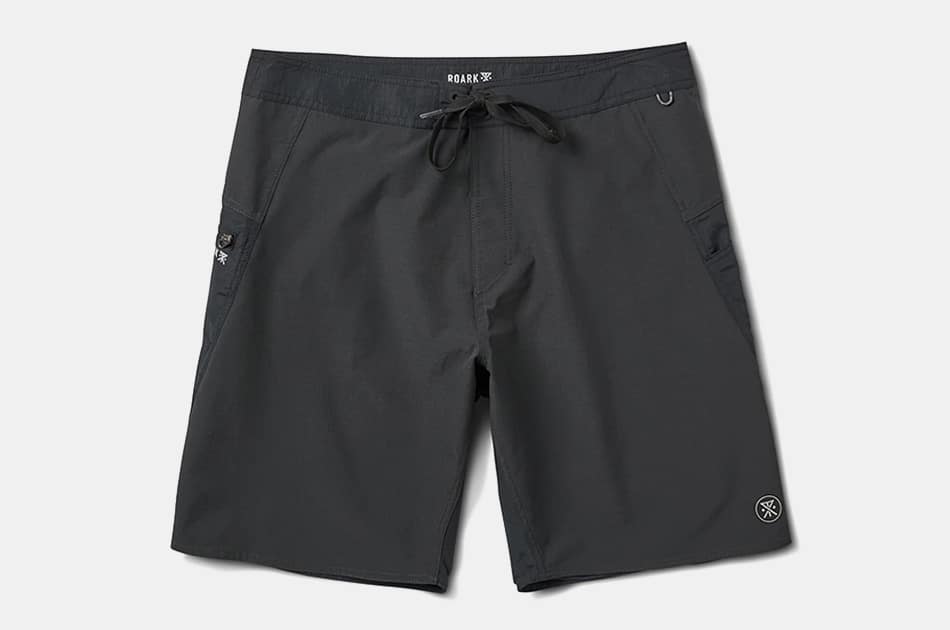 Roark Revival Boatman Boardshorts
The best men's boardshorts often take the qualities of your favorite, well, shorts and translate them into a package that's spring and summer-ready. In that case, the Boatman Boardshorts are lightweight and breathable, complete with stretchy fabric that moves with you and wicks away moisture while drying quickly. That makes them some of the most essential boardshorts you can buy right now — and we like the rich Military color, too.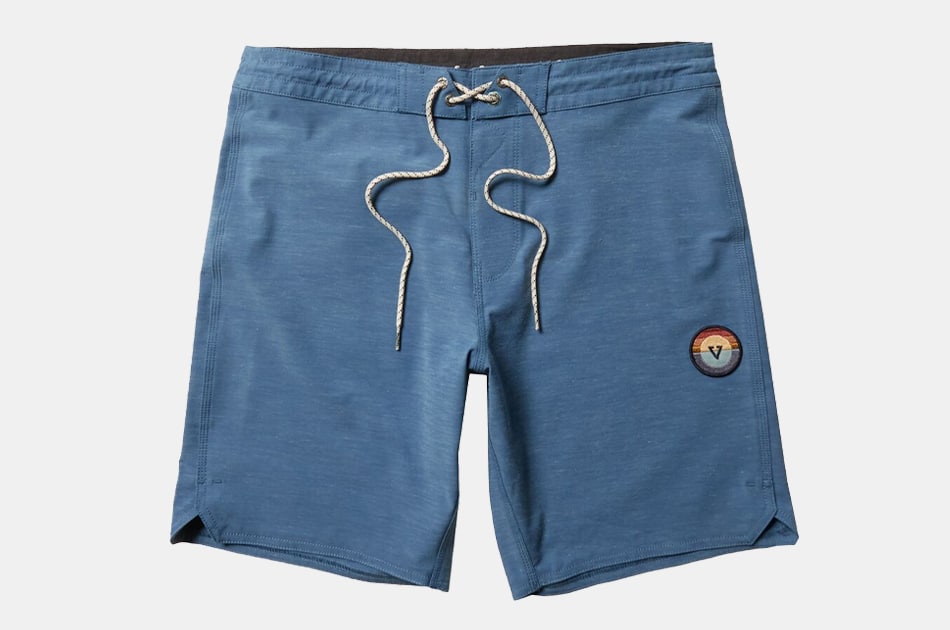 VISSLA Solid Sets Board Shorts
Coconuts are a tropical staple — but coconuts in your shorts? Crazy. That's what you get with VISSLA's Solid Sets Board Shorts. They're made of upcycled coconut, recycled polyester, sustainable cotton for comfort, and a touch of spandex for stretch. Overall, that ends up making a board short that's plush, moves with you, and keeps plastic trash out of landfills and the ocean. The front/back rise on the waist will keep these firmly over your hips, too, making them an excellent choice for water sports.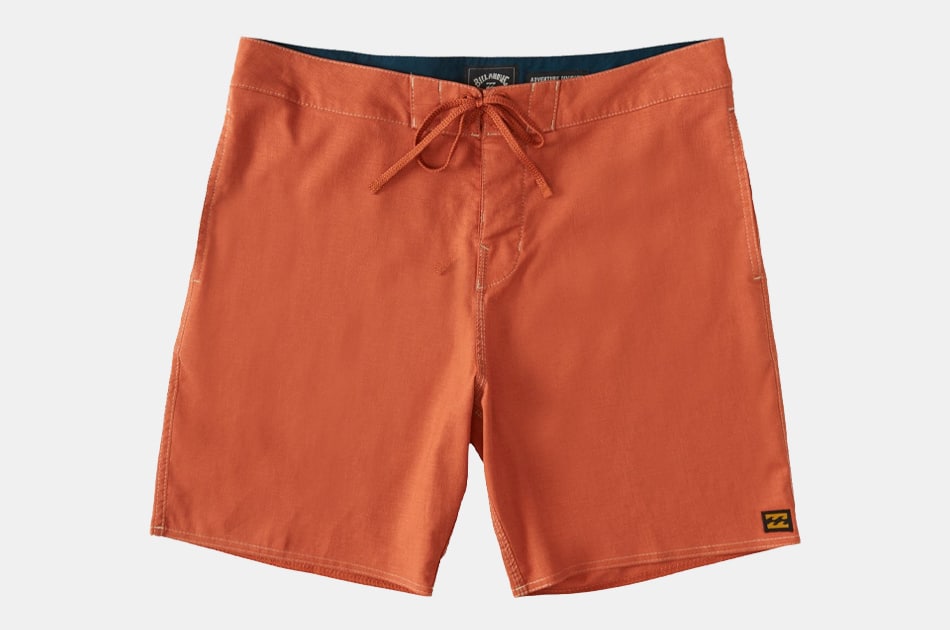 A/Div Surftrek Hemp Lo Tide Boardshorts
Billabong draws on cannabis's sister, hemp, for their A/Div Surftrek Board Shorts. Combined with recycled polyester and a tiny bit of stretchy elastane, this eco-friendly material makes for a ridiculously soft and comfortable board short. Side pockets and a lasso-style waist make these a great fit for the beach, but equally awesome for everyday lounging too. And with their modern style, you'll look great while feeling great no matter where you wear them.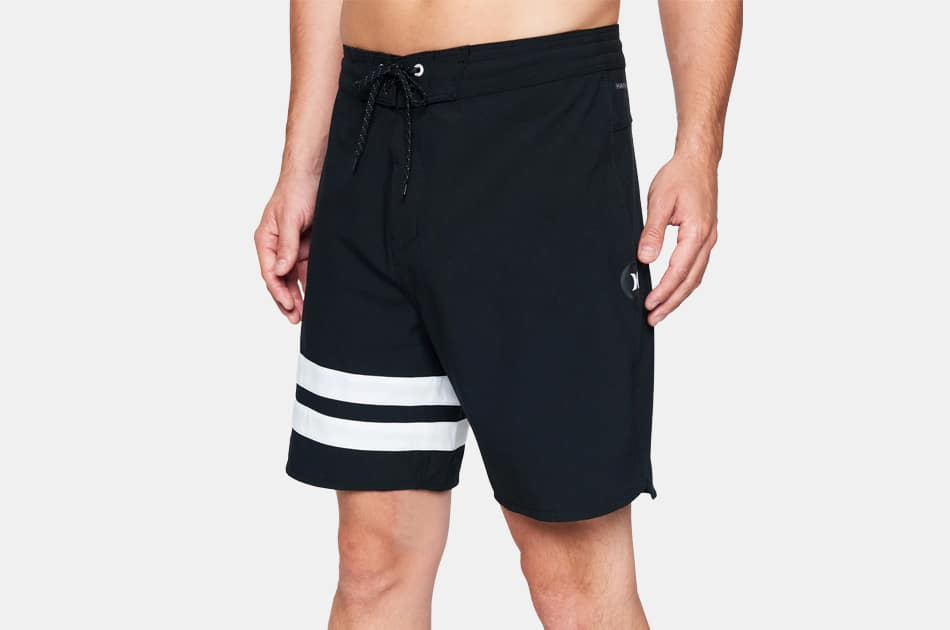 Hurley Phantom+ Block Party 2.0 Solid Board Shorts
Hurley's Block Party 2.0 Solid Board Shorts have one of the most distinctive senses of style that you'll ever find. They combine an understated color scheme with bold, asymmetrical stripes — resulting in an eye-catching pair of shorts that goes against the standard bright colors you've come to expect. An 80 percent polyester, 20 percent spandex blend makes them crazy movable too, and perfect for sports. That's further emphasized by the stay-fast zipper pocket, guaranteeing that your cash and I.D. stay right where you want them.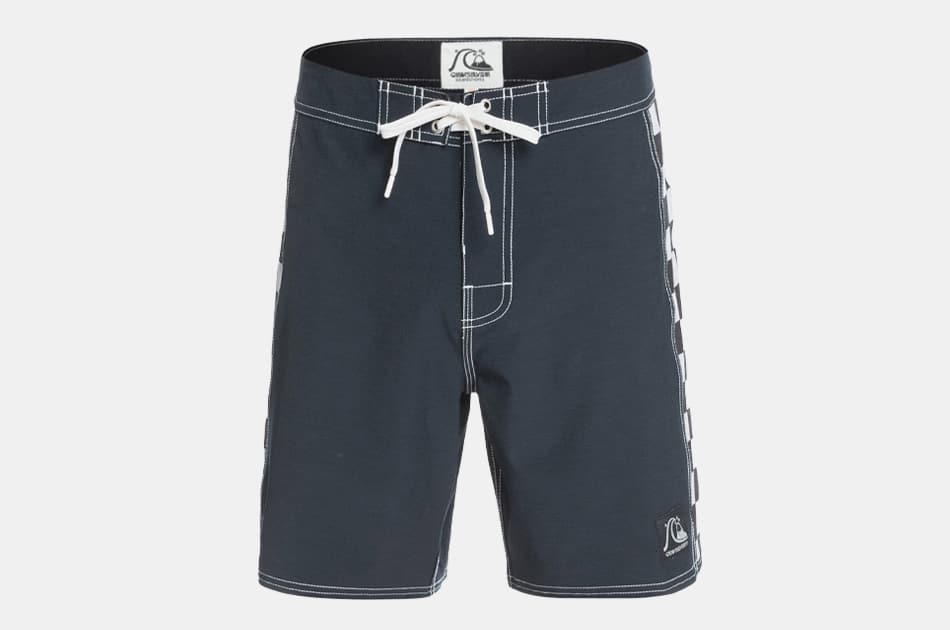 Quiksilver Original Arch 18″ Boardshorts
Quiksilver was the first big surf wear company — and their Original Arch Boardshorts are as OG as it gets. While they've kept the iconic checkered side style, the materials for these shorts have been updated and greatly improved. Now made with a recycled cotton/polyester/spandex blend, they're eco-friendly, super comfortable, and ready to hit the waves. If you want to capture that old school surf style, these Quiksilver shorts will give it to you in spades.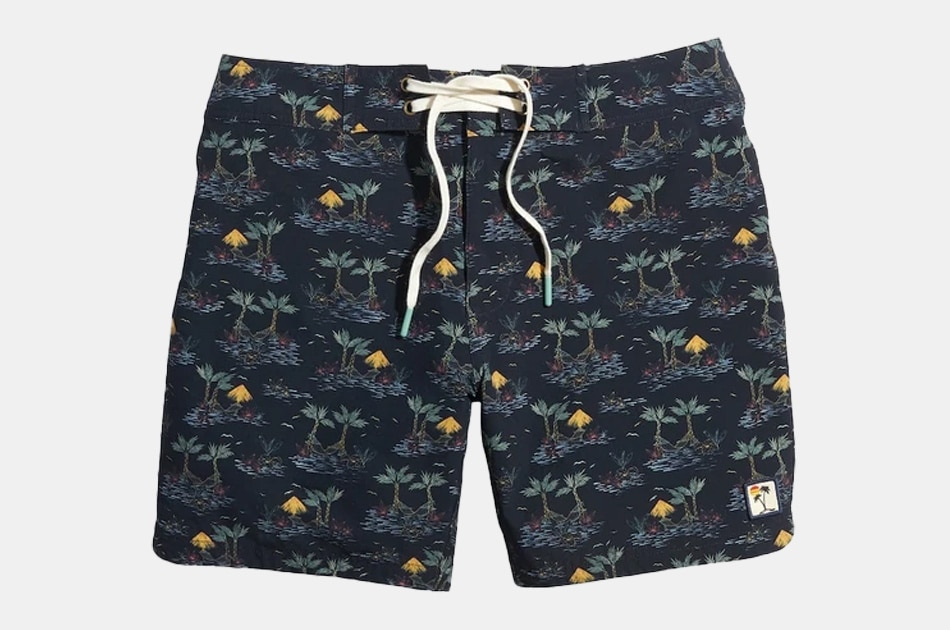 Marine Layer Coronado Board Shorts
Get ready to do your best Magnum, P.I. impression — because Marine Layer's Coronado Board Shorts have a uniquely retro style and fit. First, check out the sunset stripes along the bottom: Pure vintage. Then, scope that inseam: A tiny 6.5 inches, perfect for showing off your manly gams. Thankfully, the Coronado's fabric has come a long way since the '70s. Now it's made of nylon and elastane, giving these shorts a much nicer feel and stretch than the classic 100 percent cotton style.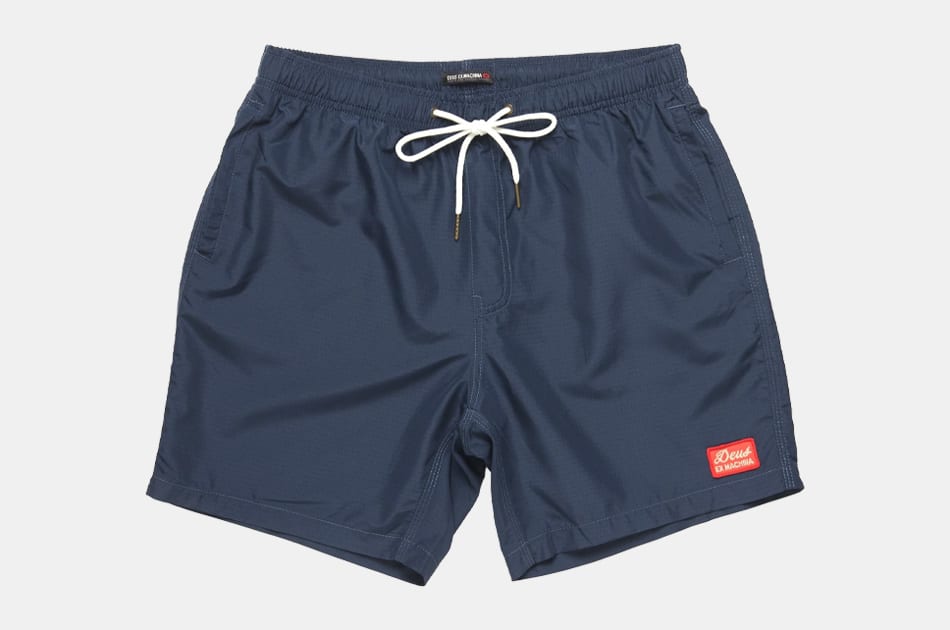 Deus Ex Machina Plains 16 Inch Boardshorts
Looking for a pair of shorts that can do it all, from lounging to jogging to hitting the beach? Check out Deus Ex Machina's Plains Boardshorts. Both the navy and black colors are perfectly minimalist, complementing casual outfits without drawing too much attention to themselves. And if you want to put them through the paces of a vigorous workout, you're in luck — they're made of 100 percent polyester, ripstop fabric that's already been garment washed for a lasting fit.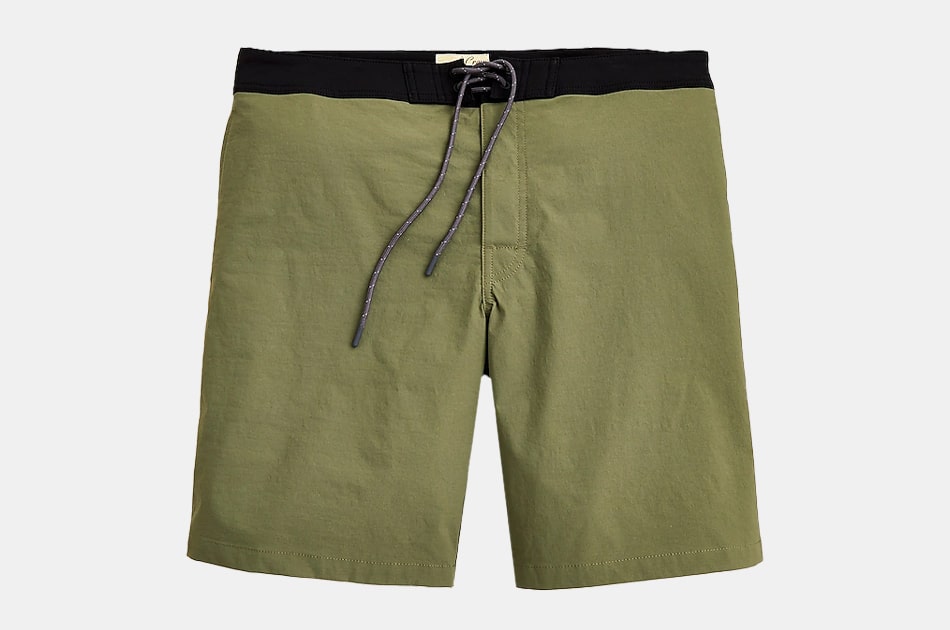 J.Crew 9″ Stretch Board Shorts
What do you get when you combine the long, loose legs of old school board shorts with a slimmer, modern fit? An awesome pair of shorts that are the best of looks and performance. That's what J. Crew's Stretch board shorts specialize in — the intersection of style and durability that makes for a truly versatile addition to your wardrobe. They're one of the only board shorts you'll find that look just as good worn solo at the beach as they do paired with a baggy sweater.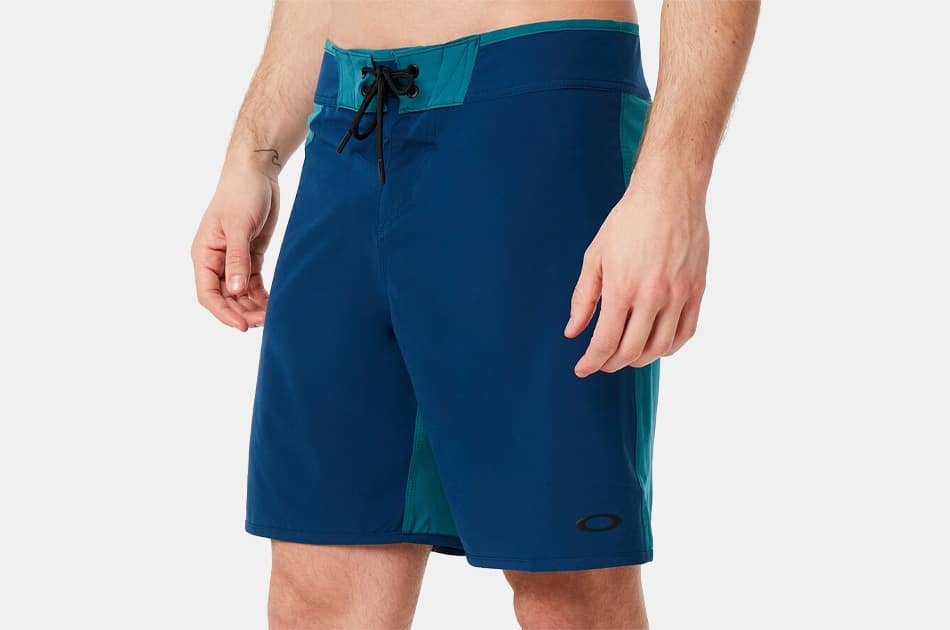 Oakley Floater Angle Block Board Shorts
Oakley's take on board shorts has a distinctive look that separates them from the commonly bright patterns and prints. Made in three attractive two-color contrasts, the Floater Angle Block Board Shorts give off a sporty vibe that's perfect for active dudes. A zippered back pocket further reinforces this style, giving you a place to safely store your essentials without fear of them spilling out while you're paddling.
Disclosure: Clicking on these links and making a purchase may earn us a small referral fee, at no extra cost to you. Learn more here.
freestar.config.enabled_slots.push({ placementName: "gearmoose_leaderboard_btf", slotId: "gearmoose_leaderboard_btf" });