15 Best Fleece Jackets For Winter
The days of the fleece jacket being a last resort, the exclusive purview of hungover college kids traipsing their way to class, are over. Long gone in fact. The market is awash in your favorite brands — both old and new — making fleece jackets that are at once sustainable, stylish & cozy for the fall and winter season. That's really all there is to it — well, not quite.
The men's fleece jackets made today go where no fleece jacket has gone before. That might seem a bit overdramatic (or a lot), but it's true. Today's crop of fleece jackets are cut slim and trim, made from premium materials, and as ready to layer up with a chambray shirt as they are a laidback white thermal shirt on winter weekends.
When you combine warmth, style and the distinct ability to be worn with the rest of your favorite men's style essentials, you've got yourself a winner. And among this list of the best fleece jackets for men, you're going to find stylish winners aplenty. Trust us.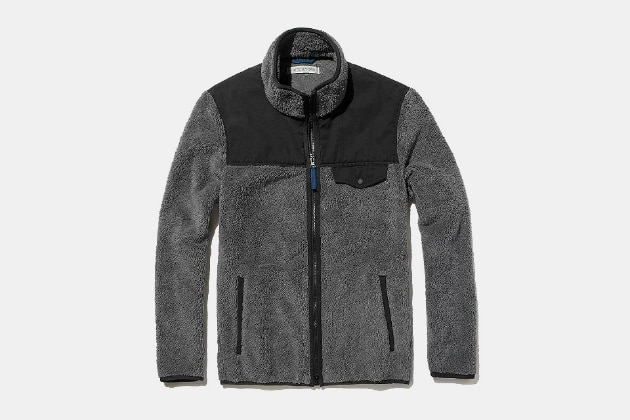 Outerknown Dusk Fleece Jacket
Looking for that crucial blend of technical style and durability that only the best fleece jackets seem to have? Look for the Outerknown Dusk Fleece Jacket, a unique take on the silhouette that again amps up and changes everything you thought you knew about the fleece jacket. Made from Italian cotton-fleece — that's the good stuff, in case you were wondering — the Dusk Fleece also features nylon accents for winter-ready durability. Wear it with one of the brand's perfectly cut Oxfords and a pair of its sustainable denim. – Shop Now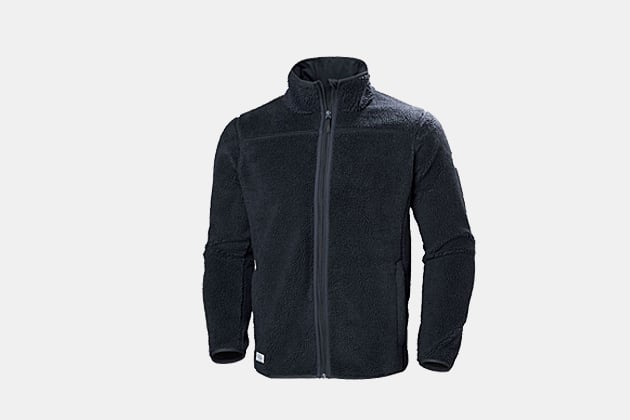 Helly Hansen Propile Jacket
For the guy on the go who prizes outdoor performance and the sort of versatility that works on the trail or in the town, there's the Helly Hansen September Propile Jacket, made with high loft pile fabric and a breathable interior for fall and winter layering. In that case, we suggest you pair it with a rugged waffle henley and a chambray workshirt for your next day hike (or your next round of post-hike beers). The price point is agreeable — $150 — while the range of colors offers something for, yes, everyone. – Shop Now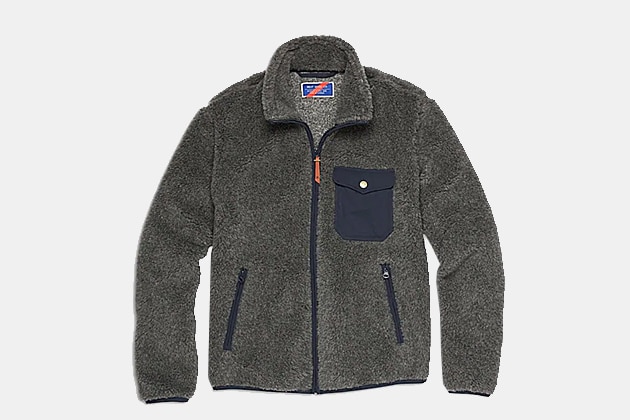 Best Made Co. Wool Fleece Jacket
You might know Best Made Co. for the brand's ridiculously rugged, cool outdoor gear, from axes to camping tools. Perhaps you know the brand for its essential Service Chinos (a favorite of ours). Or better yet, maybe you're about to get to know the brand through the handsome Wool Fleece Jacket, as sold by the classic menswear purveyors at J. Crew. It's a beastly insulated jacket that doesn't overdo it — the fit is tailored without being too tight (say goodbye to your baggy college fleece) and the fact that it's made with Wisconsin wool is applause-worthy in our book. Wear it with the brand's aforementioned Service Chinos, plus rugged leather boots and a classic chambray shirt. – Shop Now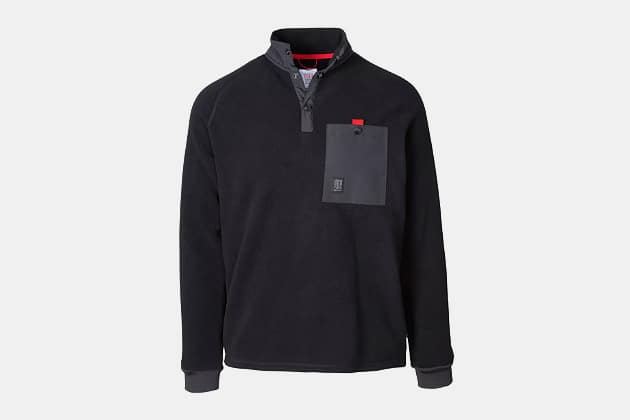 Topo Designs Mountain Fleece
The best fleece jackets often are more subtly designed than one might think, yet no less essential when it comes to layering up for winter. Especially when the holidays hit, the occasion sometimes calls for a warm, rugged fleece that's going to keep you warm as you spend the evening at your favorite hometown brewpub. In that case, the outdoor-minded (yet city-ready) Topo Designs Mountain Fleece is the one you need. In a trim fit and made with a blend of Polartec fleece and nylon, it's as good as it gets if you need a simple, winter-ready fleece (which you do). – Shop Now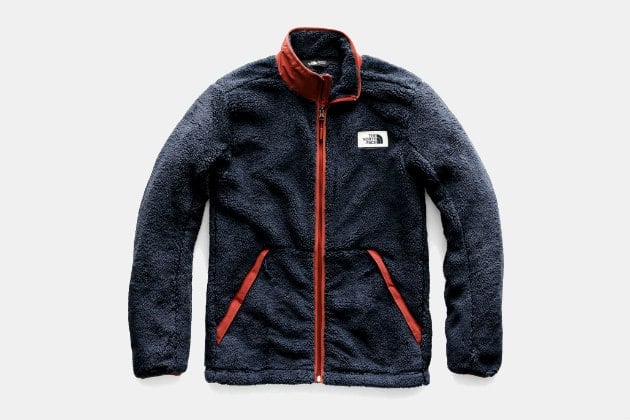 The North Face Campshire Full Zip Fleece Jacket
The North Face is yet another brand you can count on to come through in the clutch in terms of surprisingly stylish gear that also performs at the highest level — the Campshire Full Zip Fleece Jacket simply knocks it out of the park in that regard. The Vintage White California Basket Print shown here is the next eye-catching addition to your winter weekend wardrobe,a ready pairing with faded light wash denim and broken-in leather moc toe boots. The brand recommends you wear this to layer up at your campsite, and we think it'd look equally great when worn for casual post-hike drinks this winter. – Shop Now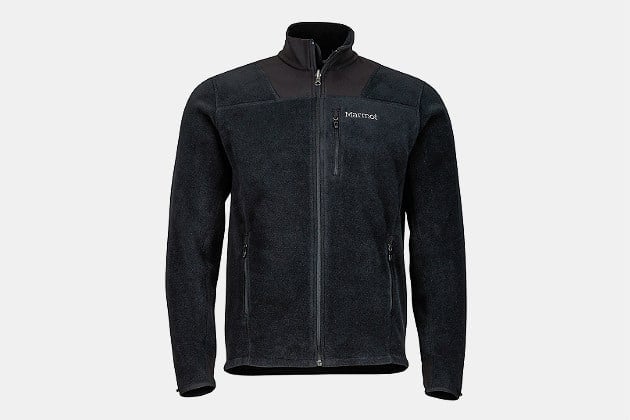 Marmot Bryson Jacket
The best fleece jackets for men are often more simple than you'd think — the key comes in getting the fit and the details right, and some brands struggle with that. Not Marmot, with its winter-friendly Marmot Bryson Jacket. It's as fitting as it gets for laidback weekend layering, especially when paired with a garment-dyed Oxford and stretch denim. Polartec 200-weight fleece keeps you warm while being surprisingly lightweight. Go with the sleek Black color for a serious weekend coffee run upgrade. – Shop Now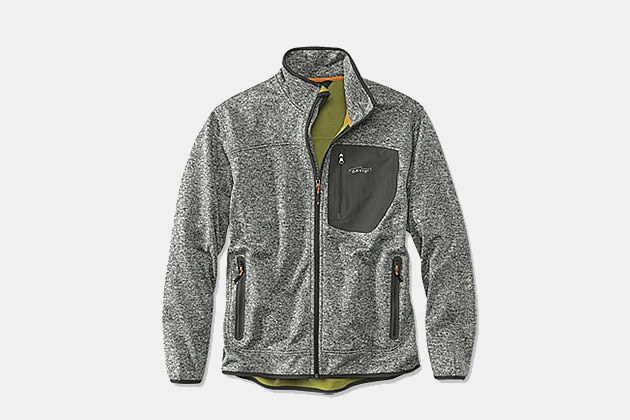 Orvis Windproof Sweater Fleece Jacket
Generally more well-known for its exceptionally rugged outerwear and tough chore coats, Orvis takes things slightly lighter — yet no les well-made — with its Windproof Sweater Fleece Jacket. Available for just a shade above $100, it's made to block wind and keep you warm on early morning hikes or hunting excursions. Even better? It'll pair up quite nicely with other field-ready gear from Orvis, and it's available in neutral colors like Navy/Charcoal and Light Grey. Your next adventure with Orvis awaits. – Shop Now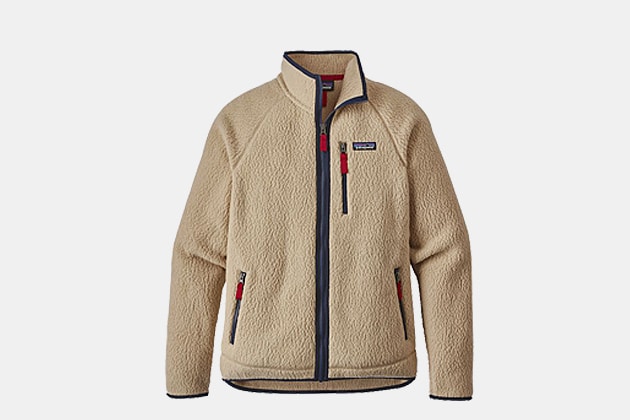 Patagonia Retro Pile Fleece Jacket
Rounding out our list of the best men's fleece jackets is an entry that comes from a brand we know, love and appreciate in terms of churning out classic styles and seasonal basics, year after year. Patagonia does one better with its Retro Pile Fleece Jacket, a piece that calls to mind your favorite fleece jacket of years gone by. The double-sided polyester solid shearling is cozy and warm, while the raglan sleeves provide mobility and an easy fit. The end result is a supremely cozy, casual jacket that'll wear with ease this holiday season and beyond. – Shop Now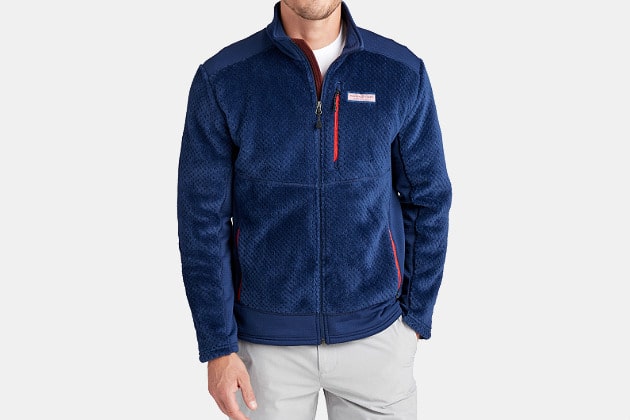 Vineyard Vines Performance High Pile Fleece Jacket
The fleece is a style staple that lends more visual interest to a look than a baggy hoodie or other similar winter layers — thus, the VIneyard Vines Performance High Pile Fleece gets it right if you're looking for a layer that lends casual style to layered looks this holiday. Made once again with Polartec fleece, it's soft to the touch and easy to throw on for casual, chilly winter mornings. Wear it with a crisp white Oxford for a slightly more polished look this winter. – Shop Now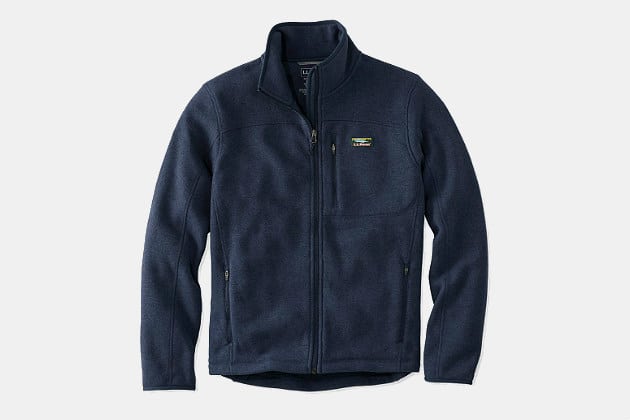 L.L.Bean Sweater Fleece Full-Zip Jacket
What are you going to pair with your durable and classic "Bean Boots" on cold and blustery winter days? Easy — the L.L. Bean Sweater Fleece Full-Zip Jacket, as fine an example as it gets when it comes to a timeless fleece jacket. This number is more than deserving of a spot on any list of the best men's fleece jackets, and with good reason. We appreciate the Bright Navy color (to pair with tan chinos and a white henley), and we also appreciate the relatively slim fit. In short, it's got all the hallmarks of a fleece jacket that should belong in your closet right now. – Shop Now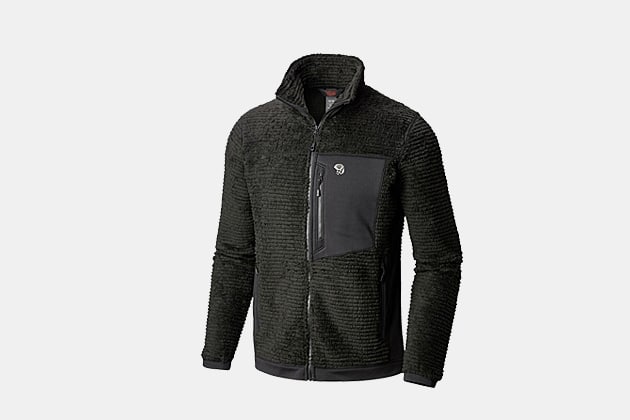 Mountain Hardwear Monkey Man Fleece Jacket
There are stylish fleece jackets that are made for more casual, less strenuous situations, and then there are fleece jackets that blend elements of serious style with serious performance. The Mountain Hardwear Monkey Man Fleece Jacket is a jacket that does both, and it's more than worthy of your time, consideration and purchase. It's made from performance fleece from Polartec, as one would expect when it comes to the right fleece jacket for chilly winter weather. The fit is trim and easy to layer, and the Altitude Blue color is a favorite of ours — sure to stand out on the mountain or the trail. – Shop Now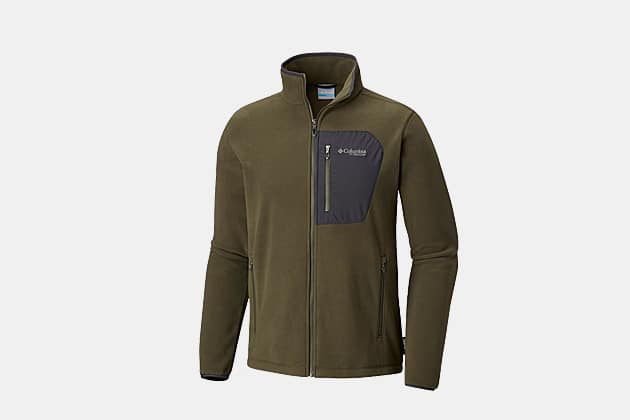 Columbia Titan Pass 2.0 Fleece Jacket
Columbia is absolutely another brand to consider when it comes time to stock up on the best fleece jackets for the season (yes, there's a good chance you might need more than one). At any rate, the durable and rugged Titan Pass 2.0 Fleece Jacket is one to add to your winter outerwear rotation, well-suited for layering over rugged style staples like a cozy crewneck sweater. It features an active fit and is made with Polartec 200 fleece for the ultimate combination of style and functionality. – Shop Now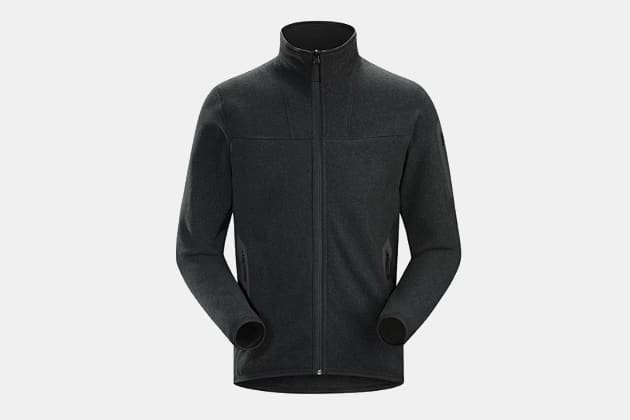 Arcteryx Covert Cardigan
Arcteryx nails that tricky balance between gear that's functional and technical … yet also surprisingly stylish. The Covert Cardigan is an innovative take on the traditional fleece jacket, featuring what the brand calls slim, sleek lines and the style of a wool sweater. Fitting for apres-ski cocktails or a casual evening at a whiskey bar ('tis the season!), the synthetic fiber and breathable material manages to keep this jacket comfortable yet cozy. We love the Caribou color, able to readily pair with faded stonewash denim and beat-up leather boots. – Shop Now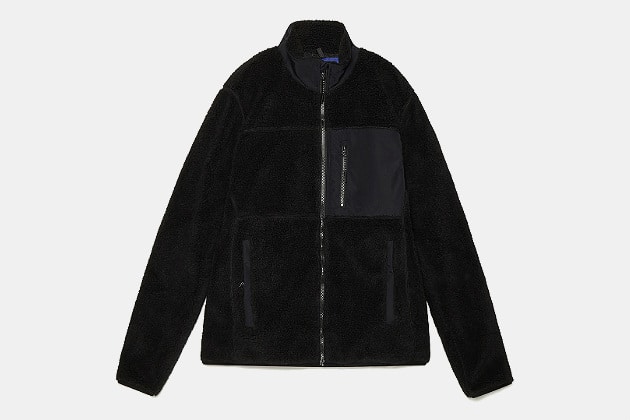 Penfield Mattawa Fleece Jacket
Penfield, it would seem, has succeeded in making menswear that nods toward classically technical mountaineering style with a modern, fresh design approach — hence, the resulting Mattawa Fleece Jacket. Made with polyester sherpa fleece with a full body mesh lining for breathability and an easy-to-layer appeal, this jacket is a technical piece that also manages to wear nicely over casual winter style staples, like a tough white henley and broken-in blue selvage denim for your next holiday gathering. – Shop Now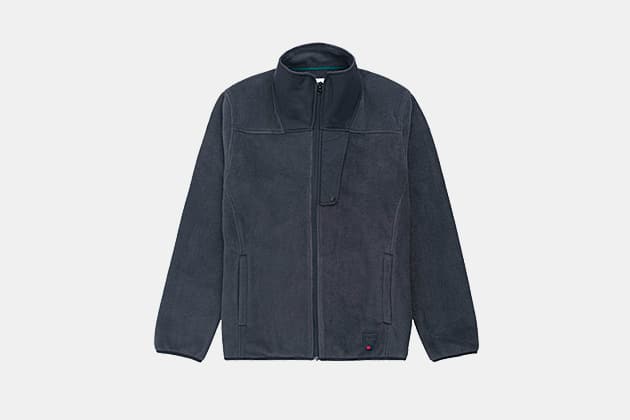 Herschel Supply Co. Fleece Zip-Up
The brand that continually delivers when it comes to stylish bags and everyday carry essentials has now expanded into another apparel category you're going to love, particularly this winter season — that'd be Herschel Supply Co. and the brand's Fleece Zip-Up. As the brand puts it, the Fleece Zip-Up is an "iconic style" with its own spin when done by Herschel. In this instance, that means ripstop accents complement anti-pill fabric for a fit that's easy to pull off, especially when worn with black jeans and tan leather sneakers. – Shop Now