The 15 Best Headphone Stands
Whether you're working from home or you're a hardcore gamer, you know the value of a good pair of headphones. They can block out auditory distractions like barking dogs, rambunctious kids, leaf blowers operating at ear-splitting levels, and neighbors inexplicably blasting Slayer in the middle of the day (okay, that last one's not so bad).
Of course, a hefty set of noise-canceling earphones can prove problematic when you have to find a place on your cluttered desk or coffee table to store them, especially if they're attached to a lengthy cable. 
The easy solution? A handy headphone stand. There are several options that offer not only outstanding utility, but also an attractive addition to your décor. These are the best headphone stands on the market today.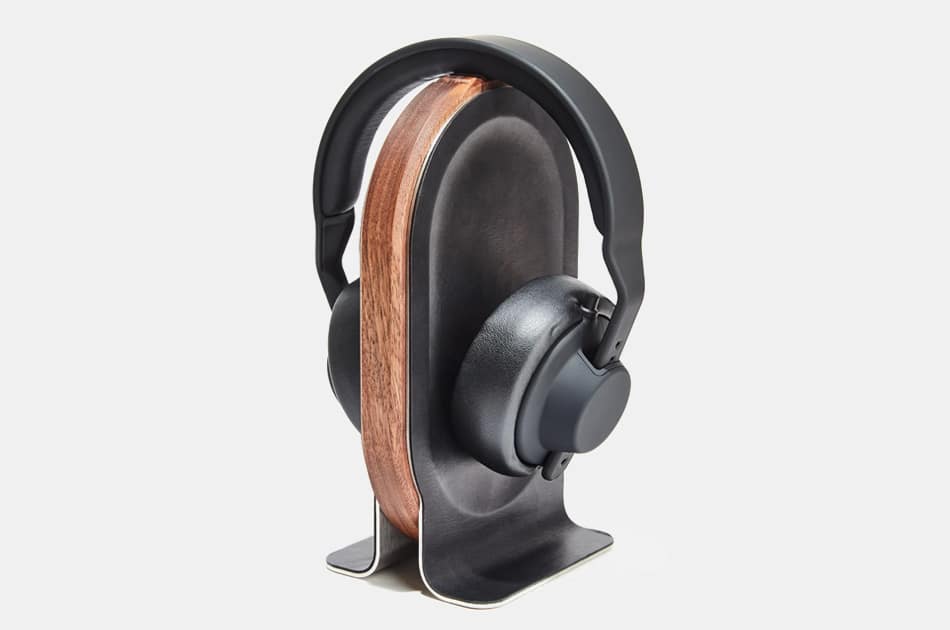 Grovemade Wood Headphone Stand
It's hard to argue with the simple design, attractive craftsmanship, and high-end materials that make up this minimalist headphone stand. This stand features a core in solid walnut or maple flanked by stainless steel supports that are skinned in vegetable-tanned leather. The oval shape is long on style: Notches in the top make sure your headphones won't slide off, while the slim, upright, bookend design fits anywhere. It is the best looking and best overall headphone stand you can buy right now.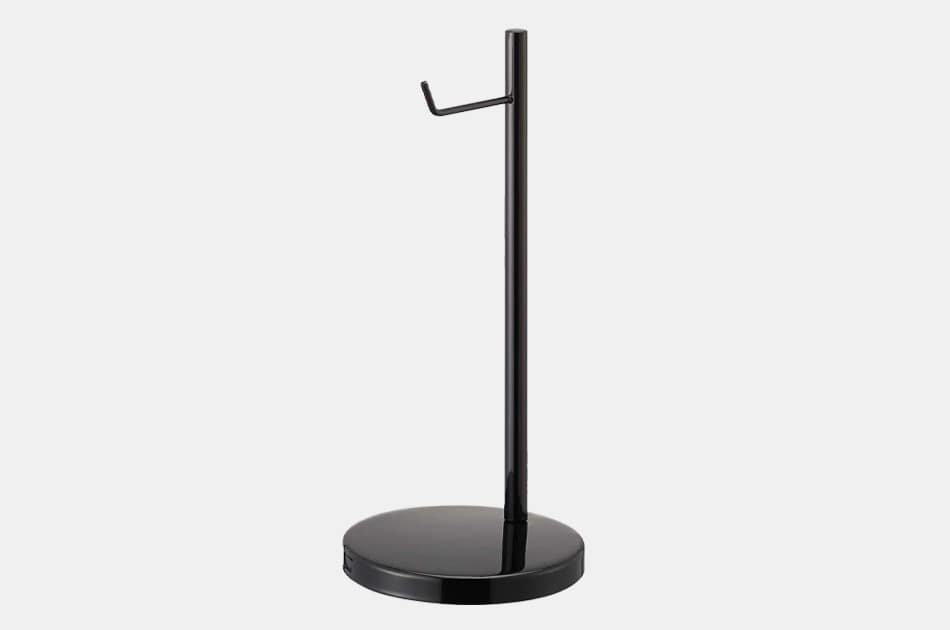 Yamazaki Headphone Stand
It doesn't get much simpler than Yamazaki's minimalist design in black-coated steel, which looks a bit like a coat rack designed for a single jacket. The puck-like base supports a vertical rod with a lone hook to rest your headphones on. A height of 11 inches should support even DJ-worthy headphones. At roughly five by five inches, the base should squeeze in just about anywhere you want to deposit your earphones.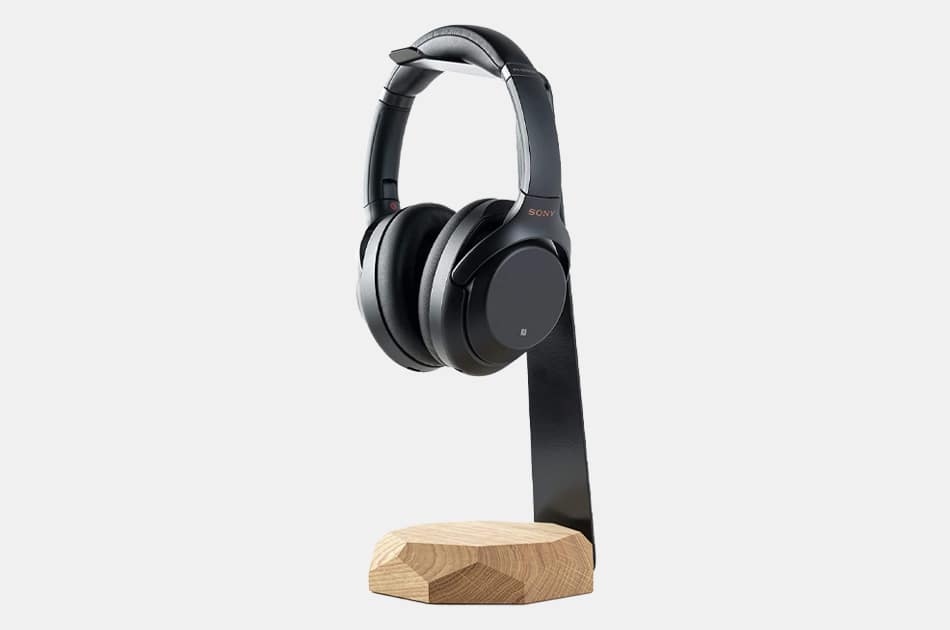 Oakywood 2-in-1 Walnut Headphone Stand & Charger
If you live in cramped quarters (or you just like the utility of multi-functional stuff), you're going to love this two-in-one product from Oakywood that holds your headphones while simultaneously charging your smartphone. The beveled base in solid wood serves as a wireless charging stand for Qi-enabled devices (even better, it's compatible with cases up to 4mm thick). A vertical arm in steel bends at the top to create a handy hook for headphones when they're not on your noggin.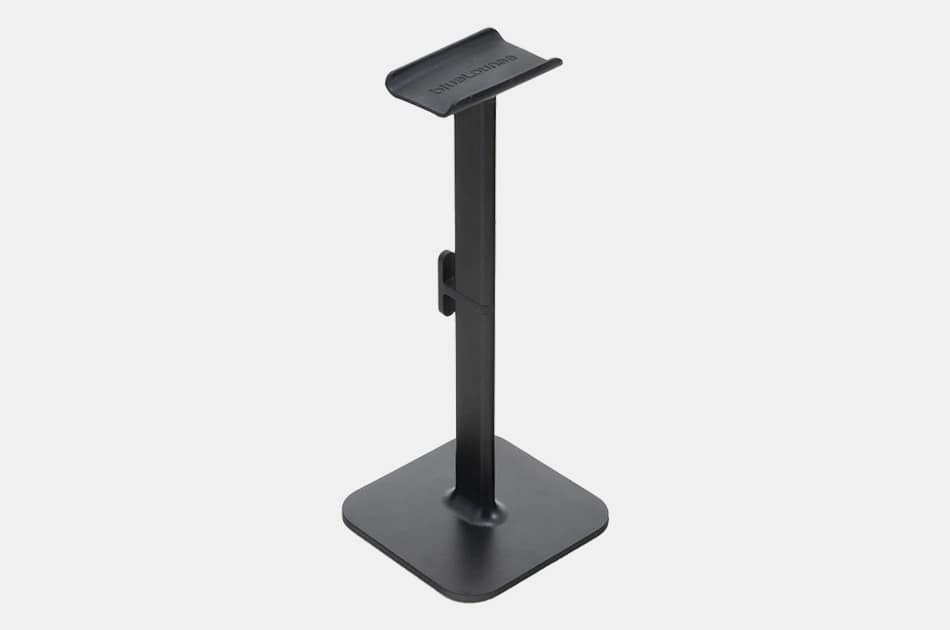 BlueLounge Posto 2.0
Robust construction is the name of the game with this simple, space-saving design in durable, lightweight T6 aircraft-grade aluminum. Grippy microsuction feet on the square base make sure your Posto stays put, without leaving sticky residue when you move it. Intended to work with the best headsets on the market, from Sony to Beats to gaming products, this sturdy base provides a place up top to rest your headphones. It also features a smaller hook on the side to wind extra cord length so it's not spilling all over your desk.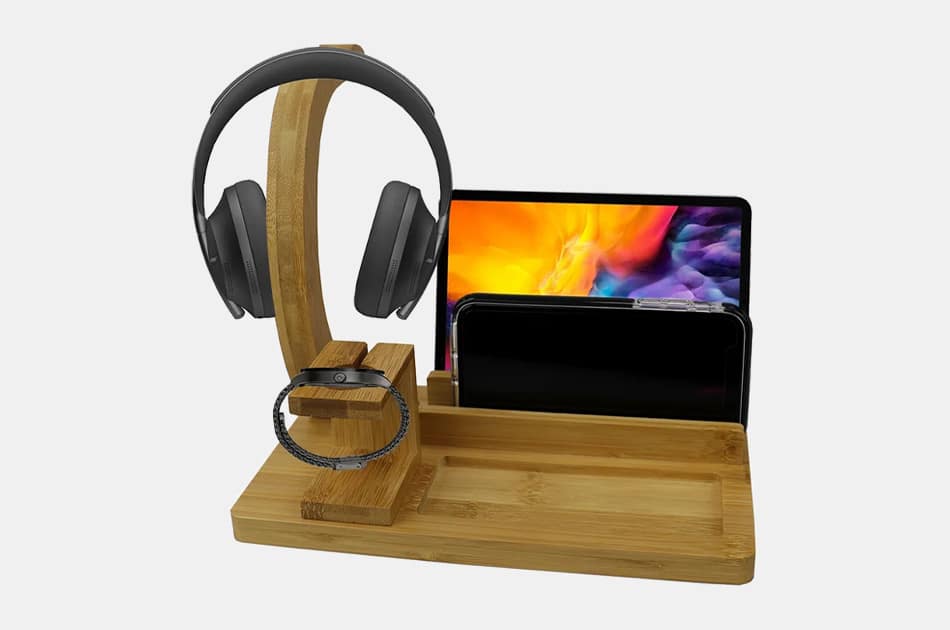 Millwood Pines Orona Bamboo Charging Station
Not your average headphone stand, this bamboo beauty is a catchall for your daily effects. The rectangular valet base is the perfect place to unload your pockets, with space for your wallet, keys, and change. Vertical slots in the back offer room to rest two devices (smartphone and tablet, perhaps) while they charge (alas, not wirelessly). A curved arm next to the device has slots to house your headphones, fronted by a small accessory rack that's perfect for hanging or charging your smartwatch.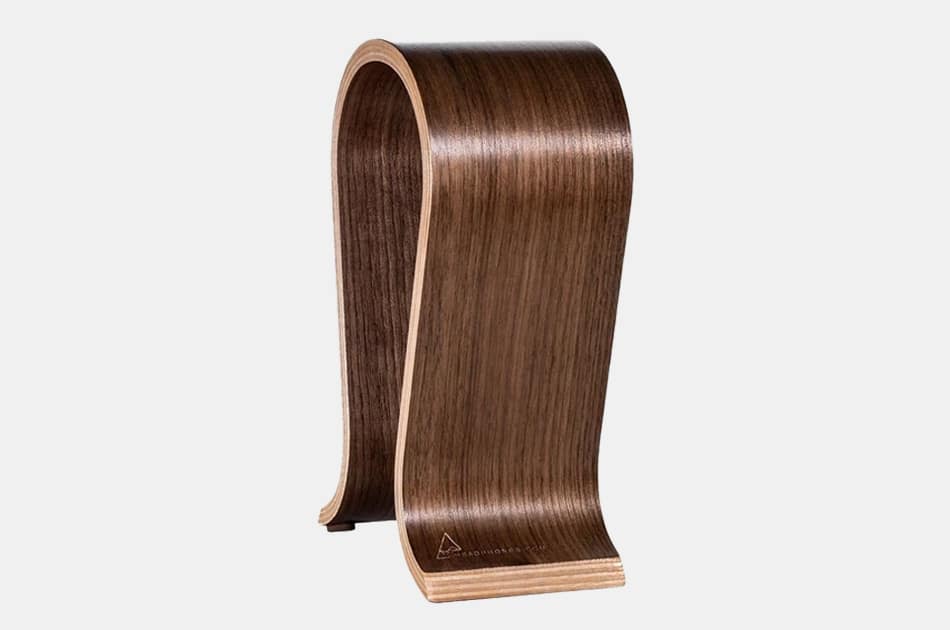 Wooden Omega Headphone Stand
One look at this curvy masterpiece of minimalism will tell you how it got its name – the stand is shaped like a vertically elongated omega symbol (something like a horseshoe). If you're looking to display your headphones in style, you could do a lot worse than this fetching frame in layered, heavy-grain walnut. A four by five base won't strain available space, and the ten-inch height should accommodate any headset.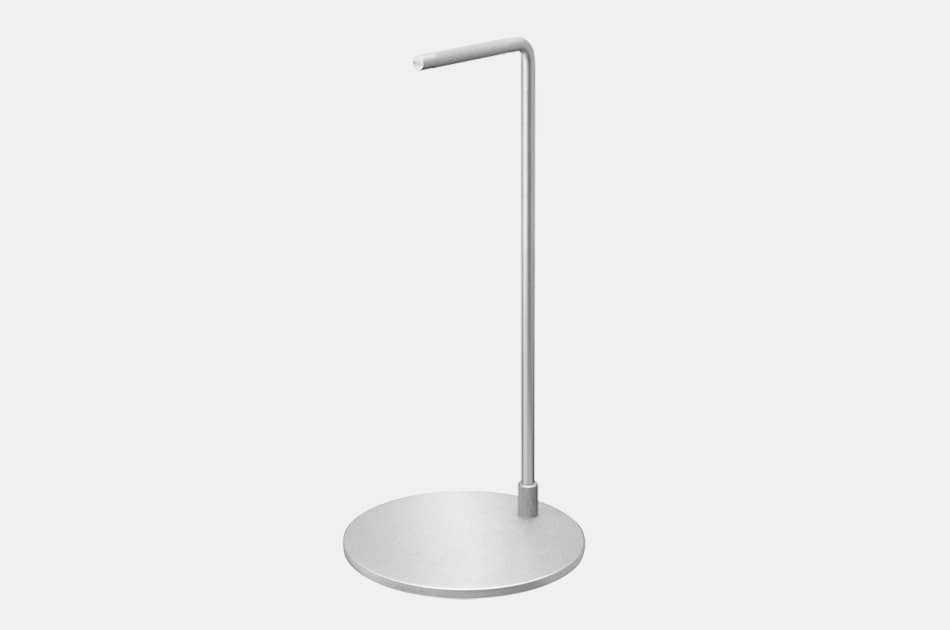 Master & Dynamic Headphone Stand
Master & Dynamic's incredibly simple stand looks a bit like something is missing, but it has everything you need to keep your headset corralled when it's not in use. Elegant and utilitarian, a sturdy, round base in silver or black acts as the foundation for a slim arm that bends at the top like an upside-down L. That's it. Stay organized with the simplest of tools, minimizing clutter with very little visual impact.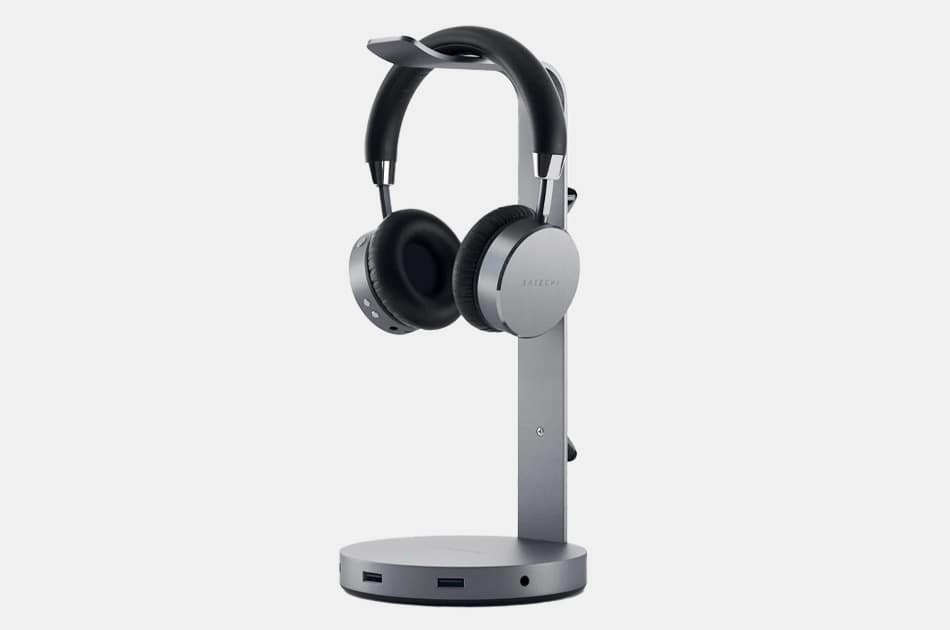 Satechi Aluminum USB Headphone Stand
Some simple headphone docks recede into the background. Not this stand, in bright silver or space gray aluminum, it perfectly balances functional design and elegant appeal. The curved hook keeps headphones from slipping off the end, while a smaller hook assists with cable management. The thick, puck-shaped base is more than just a stabilizer – it also features USB-A data transfer ports and a 3.5mm audio jack for your convenience.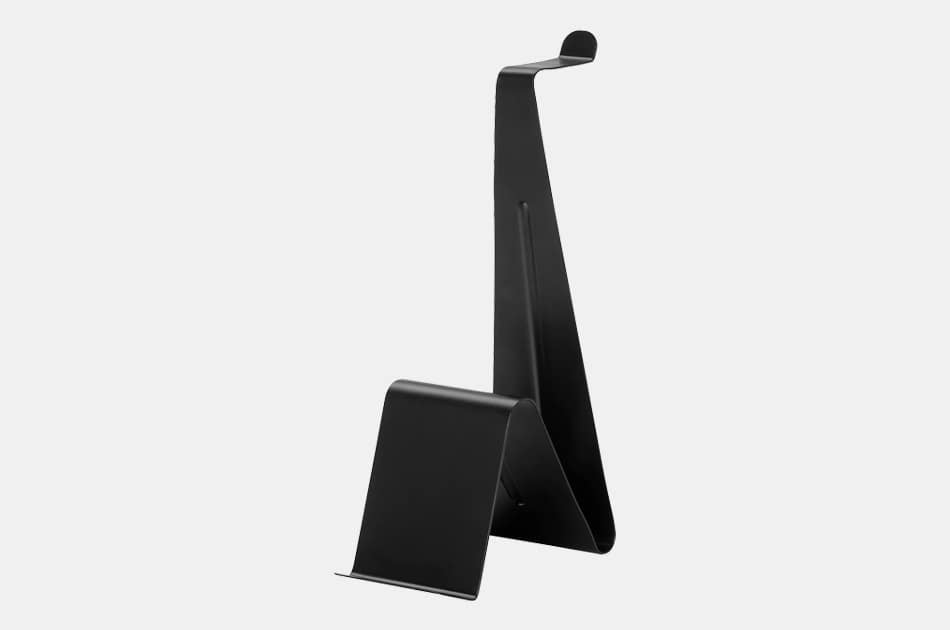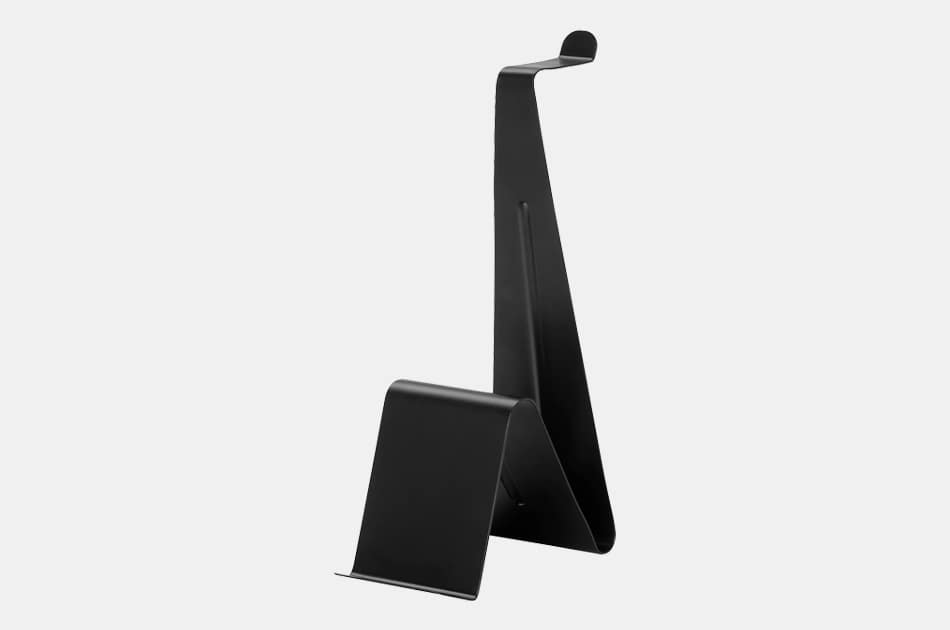 IKEA MÖJLIGHET Headset and Tablet Stand
It's hard to argue with the modular appeal of Swedish design — not to mention the wallet-friendly pricing offered by IKEA. The lightning-bolt shape of this stand is more than just eye-catching — every curve serves a purpose, from the tilted front dock for your smart device to the two-point base for stability and the taller arm in the back, featuring a hook with a crook to keep your headset in place.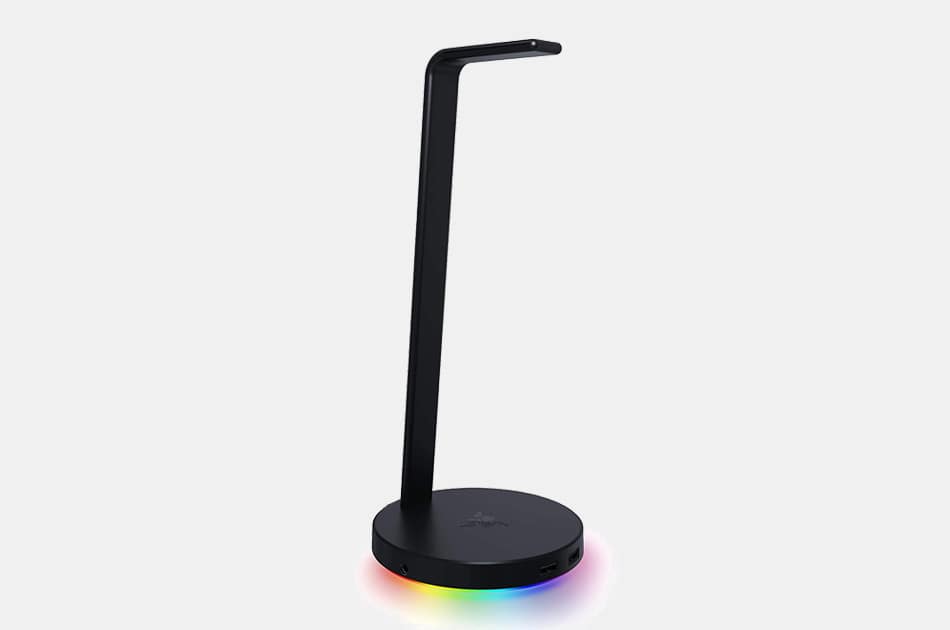 Razer Base Station V2 Chroma Stand and USB Hub
Known for their hip gaming headsets (with names like Kraken and Blackshark, detailing in acid green, and even a pink kitty edition featuring cat ears on the headband, for fun-loving gamer girlfriends), it's no surprise Razor also provides functional accessories to display their attractive gear. This base station in black features a puck-like base with two USB 3.1 SuperSpeed ports and a 3.5mm combo port with a built-in DAC, not to mention CHROMA RGB underlighting for cool effects. Oh, yeah, it also has a hooked vertical arm to hold your headset, natch.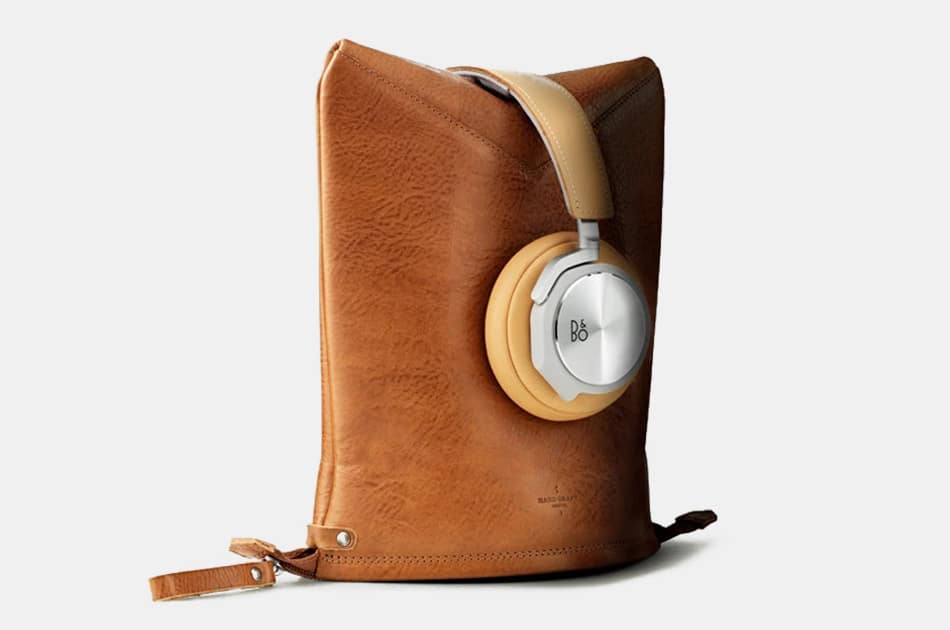 Hard Graft Peak Headphone Case
TBH, this stand looks a bit like a leather bucket bag flipped upside down at first glance. Well, that's because it essentially is. This multi-functional product encased in rich, vegetable-tanned leather is designed to display your headset when tented. It can also serve as a protective case, complete with zippered top, when you want to store headphones for a stretch and keep dust and damage at bay.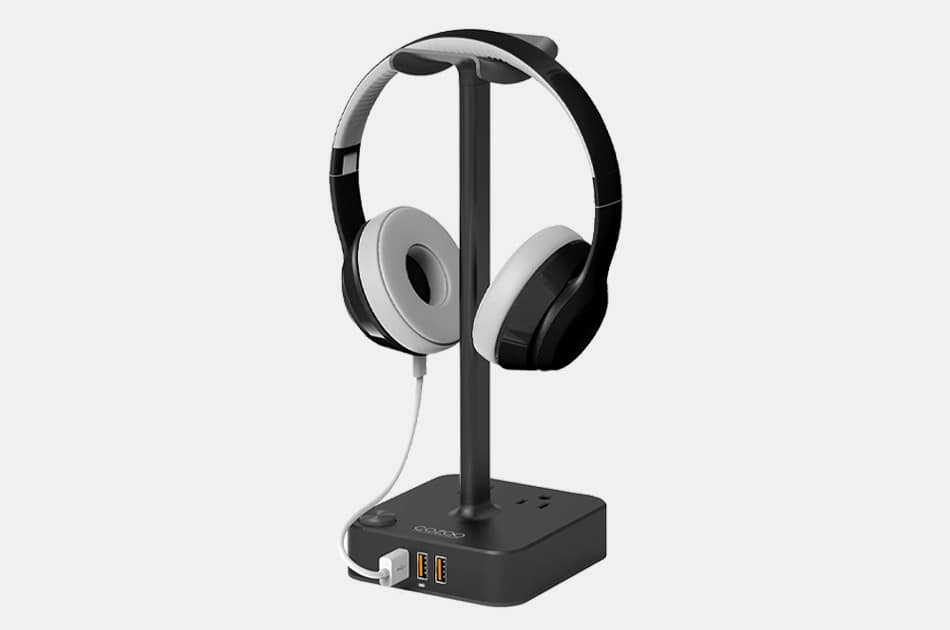 COZOO Headphone Stand with USB Charger
Thoughtful design is harder to come by than you might imagine, which is why you're going to be pleasantly surprised by the simple, yet brilliant touches that punctuate this streamlined dock. The durable, aluminum pole is topped by a curved headphone holder, which means your headset settles effortlessly in place. The squared base is even smarter, with two outlets and three USB ports, automatic current matching, and protection against overloads, short circuits, and overheating.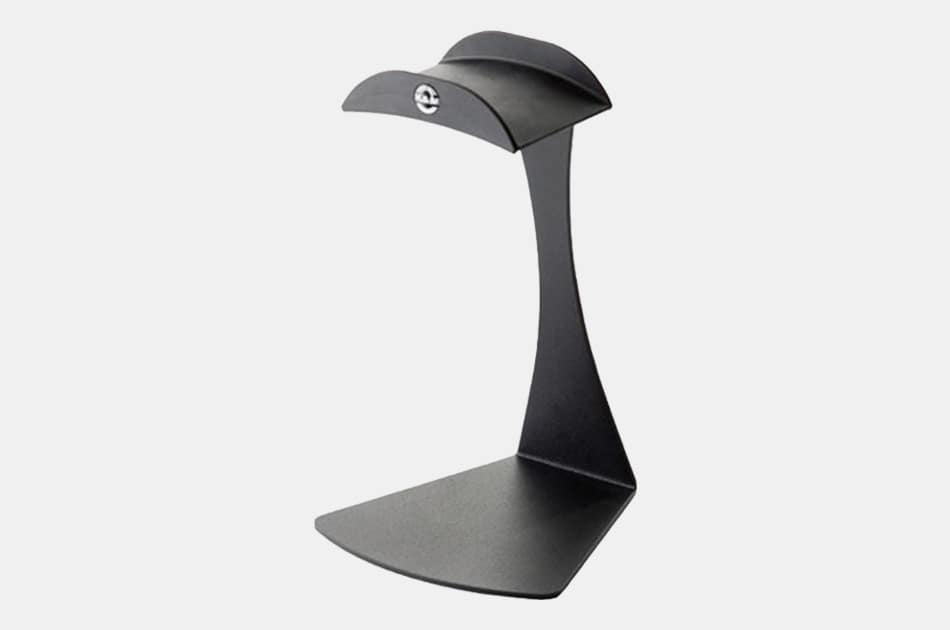 American Musical Supply K&M 16075
Simple, sleek, and surprisingly sturdy, the cantilever construction of this stand is both smart and striking. Manufactured in steel with slip-resistant rubber pads, this resilient headset dock stands firm, even though it looks like it could topple under the weight of some bulky ear boxes. Matte black coating offers modern appeal, while the curved, rubber-covered holder protects expensive headphones from harm.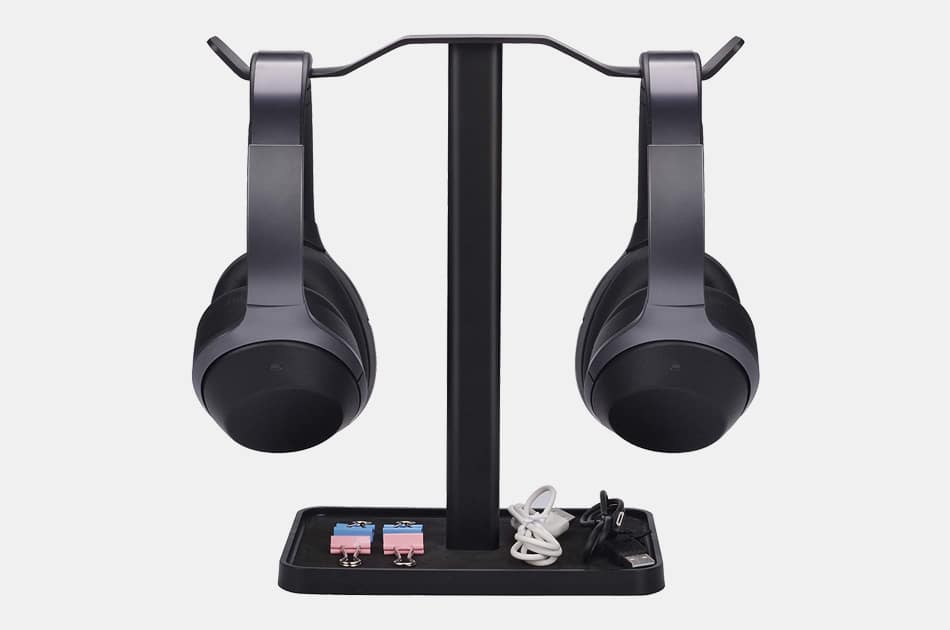 Neeto Dual Headphones Stand
What to do in a household with two gamers — or alternately, a sitch where you have one headset for work/gaming and one for your tunes? How about an aluminum alloy headphone caddy with two hooks and a solid metal base? Three pieces (base, vertical rod, double hook) slot together with such ease "a toddler can do it." Plus, the base provides a handy tray for charging cables.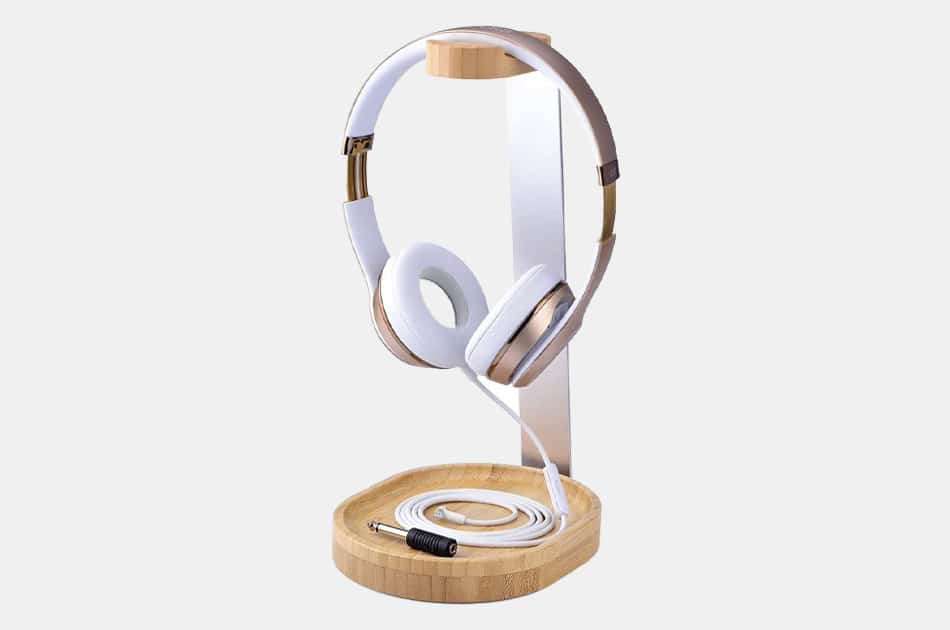 Avantree Universal Wooden Aluminum Headphone Stand
A hardwood base and headset hook connected vertically by a solid alloy frame make for a stylish addition to any desk or end table. But form follows function, and luckily, you'll get both with this nifty stand. A depression in the hook means your headphones stay where you put them, while the base offers ample room for coiled cables. Alternatively, it can serve as a coin and key caddy.
Disclosure: Clicking on these links and making a purchase may earn us a small referral fee, at no extra cost to you. Learn more here.
freestar.config.enabled_slots.push({ placementName: "gearmoose_leaderboard_btf", slotId: "gearmoose_leaderboard_btf" });