Tuesday, July 27 is National Scotch Day. What are you going to be drinking?
With this list of the 15 best Scotches by your side, carefully curated from every region of Scotland, you can't go wrong. Each bottle here is a classic of single malt mastery, with a storied history and unforgettable flavor. Sip them neat, add a splash of Scottish spring water, or even mix them into a classic cocktail like a Bobby Burns.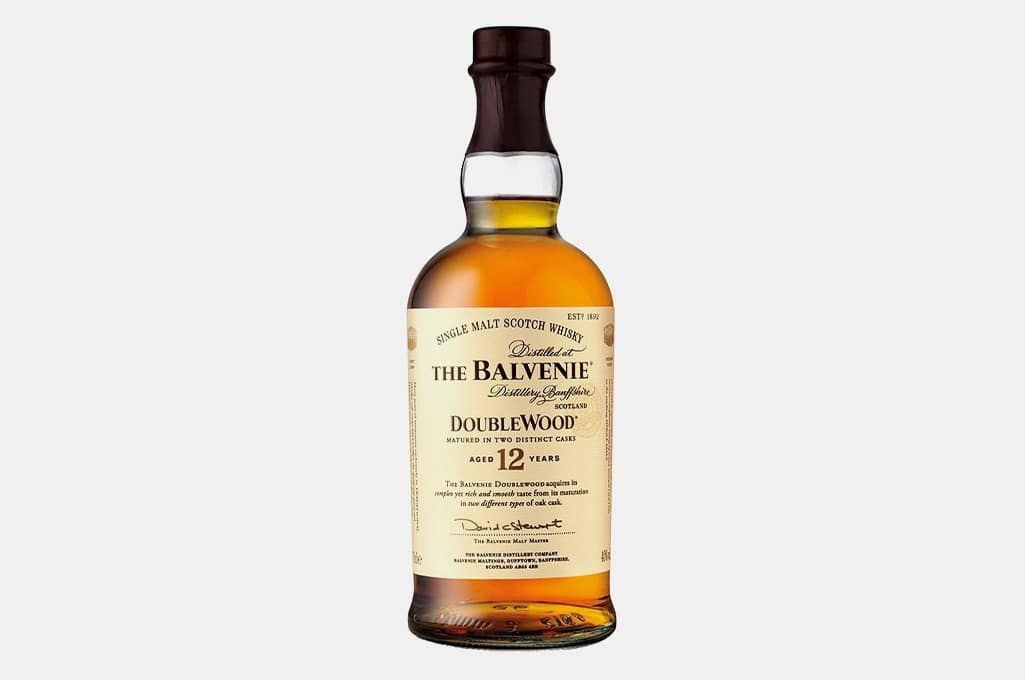 The Balvenie Doublewood 12 Year Scotch
A Speyside classic reimagined with twice as much oak, The Balvenie's Doublewood is a fantastic after-dinner dram. After an initial aging in French white oak, Balvenie's precious golden liquid is given an additional round of aging in freshly procured sherry casks. As a result, it has a luxurious and creamy body that carries through flavors of stewed fruit, baking spices, and a hint of milk chocolate on the finish. That finish is long and warming, too, perfect for letting the end of the day fade into a relaxing night.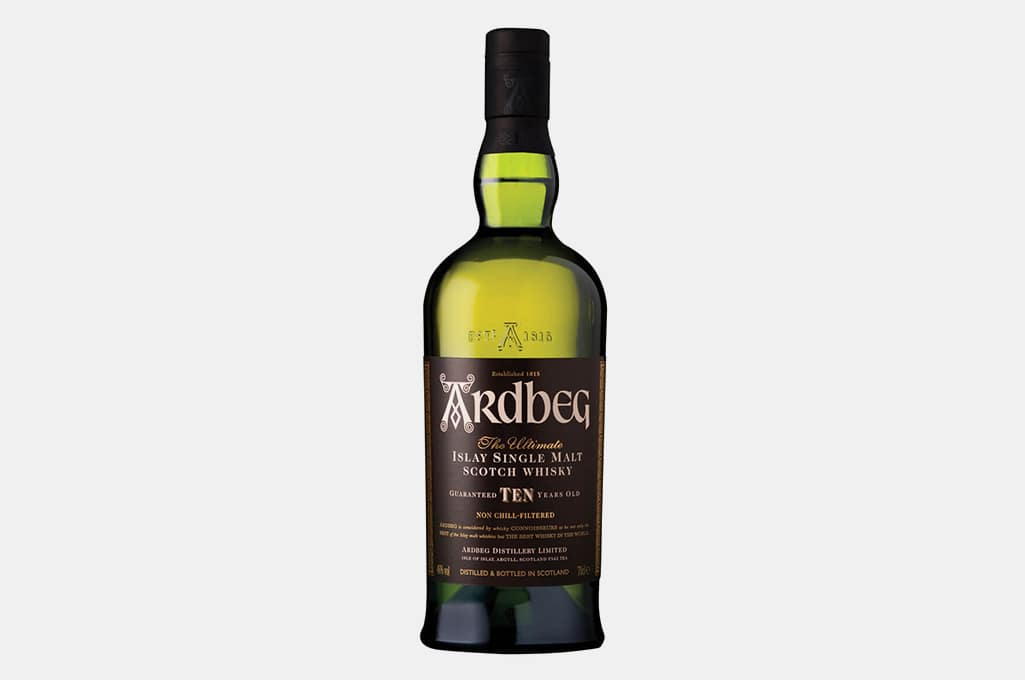 Ardbeg 10 Year Single Malt Scotch
The island of Islay is home to Scotch's smokiest spirits—and Ardbeg is perhaps the best introduction to the style. Rich with layers of peat and wood smoke, it plays host to a medley of flavors that emphasize sweet and barbecued flavors before finishing with a peppery blast. That's all supported by a base of baking spice flavors and aromas, and a toned-down oceanic quality that will make you think of your last beachside campfire. Truly one of the best single malt scotches offered at an entry level price.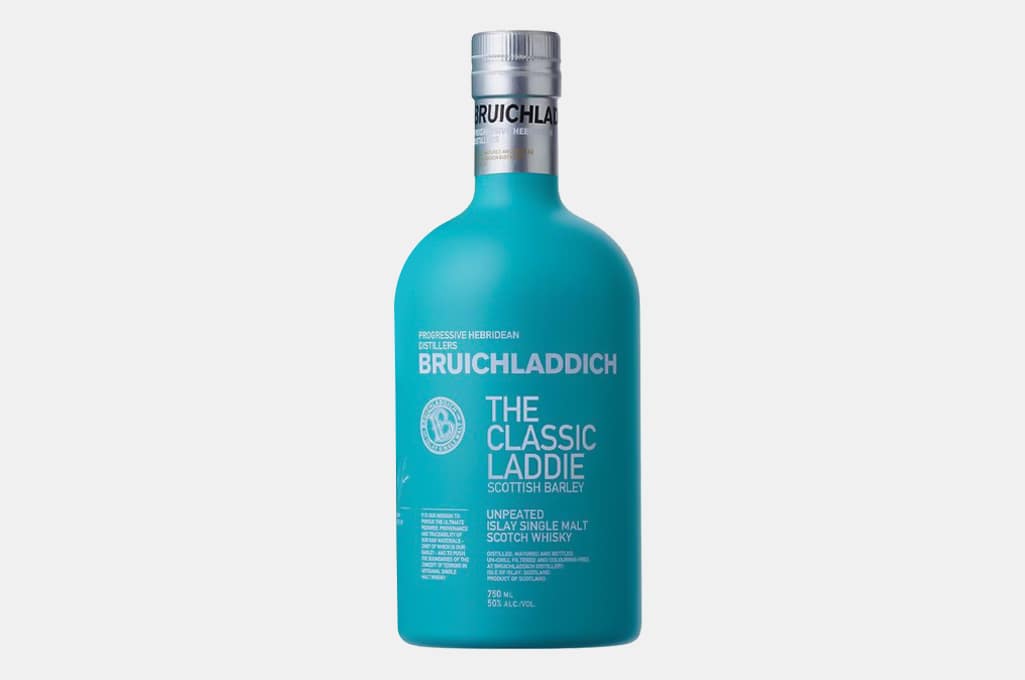 Bruichladdich The Classic Laddie Scotch
There's often an undertone of natural philosophy that runs through the work of distillers of Scotch whisky. A respect for the land, the plants, the animals, and the magical processes that all come together to make scotch a truly distinctive spirit, one that you can't find anywhere else in the world. Bruichladdich takes this message, and puts it through a megaphone—putting their money where their mouth is, and running a sustainable distillation business with 100 percent Scottish-grown barley and Scottish-sourced water.
That dedication to place comes out in spades in The Classic Laddie, which is one of the smoothest and cleanest scotches you'll ever taste. Citrus and caramel linger pleasantly on the nose, while rich malt flavors dominate the palate and give a long, slow, smooth finish.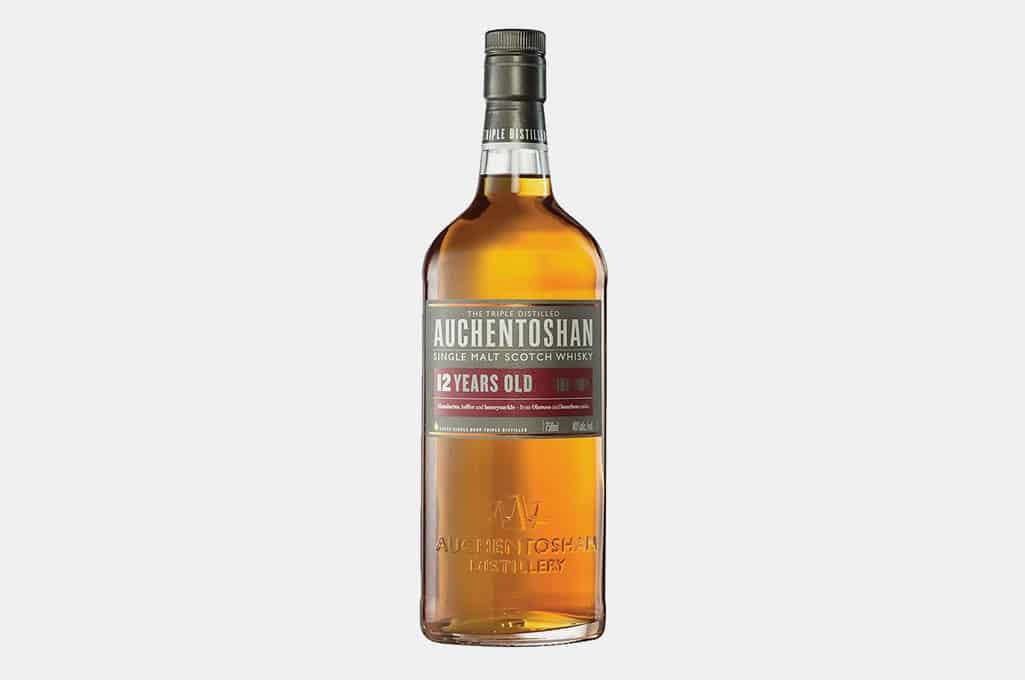 Auchentoshan 12 Year Single Malt Lowland Scotch
Whereas highland whiskies often focus on notes of honey and heather, lowland malts like Auchentoshan's 12 Year Old head towards the sweet culinary flavors of fine European baked goods. The nose on this whisky is unmistakably of creme brulee, with a hint of nuttiness and dried leaves that connect it to the land where it's made. After just one sip, a rush of zesty citrus flavors flood in, bathing your taste buds in tangerine and lime. And on the finish, peppery ginger takes over momentarily before fading to a long, refined, nutty end.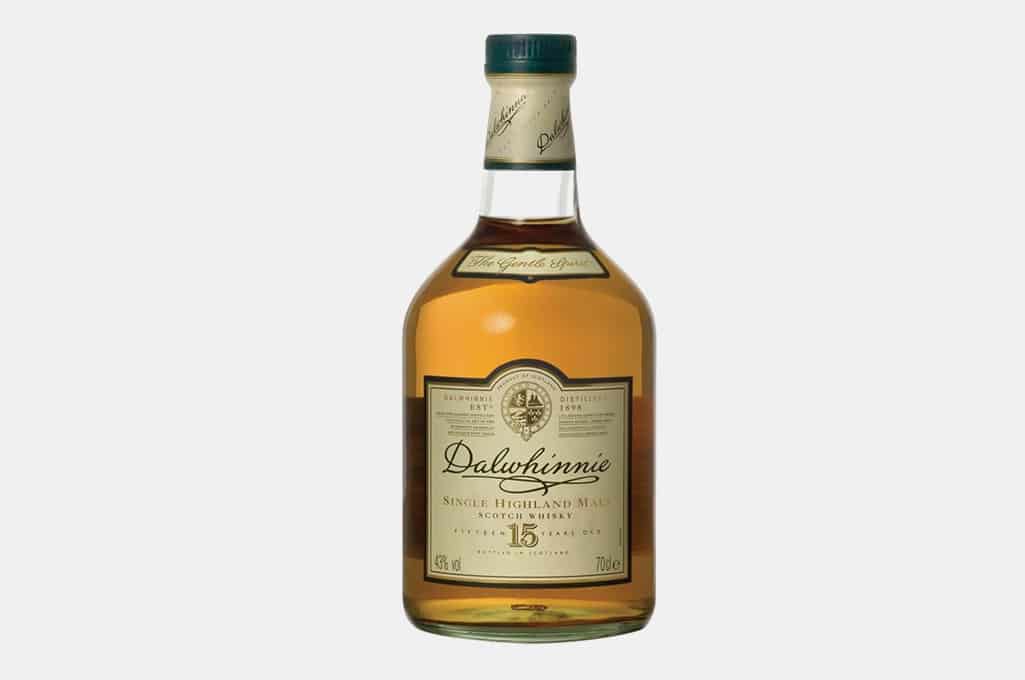 Dalwhinnie 15 Year Single Malt Scotch
Straddling the line between Speyside and Highland whiskies, Dalwhinnie has been producing their lovely hybrid of a spirit since 1898. The 15-year-old expression is easily the most approachable, and a great way to get introduced to the flavor of peat without a heavy smoke flavor to go along with it. The nose on Dalwhinnie's 15 is strongly aromatic, with apples, pears, and stewed fruits nicely complemented by high floral aromas and a whiff of smoke. These scents are mirrored on the palate, with the addition of a heavy malt character that gives abundant vanilla and baking spice notes.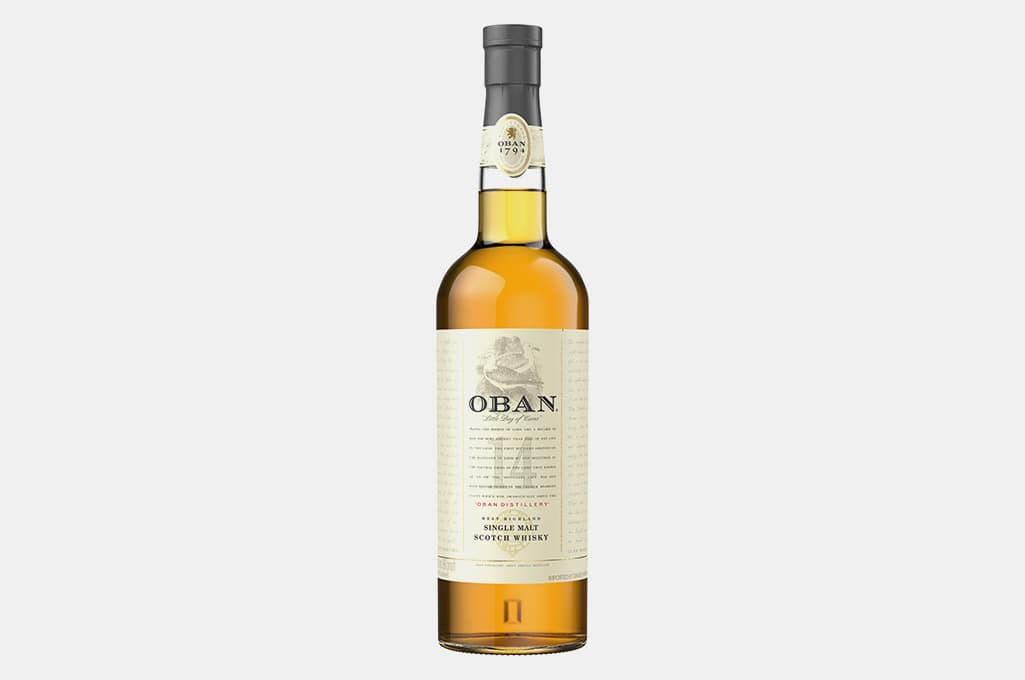 Oban 14 Year Old Single Malt Scotch
Oban's 14 Year Old Scotch consistently ranks as a favorite among fans of both Highland and Islay whiskies—something that precious few Scotches can lay claim to. That's because of its unabashedly full bodied character, with prominent smoke flavors alongside sea salt, orange peel, and honey. It's a contemplative sipper, for sure, and one that I consistently recommend as a nightcap.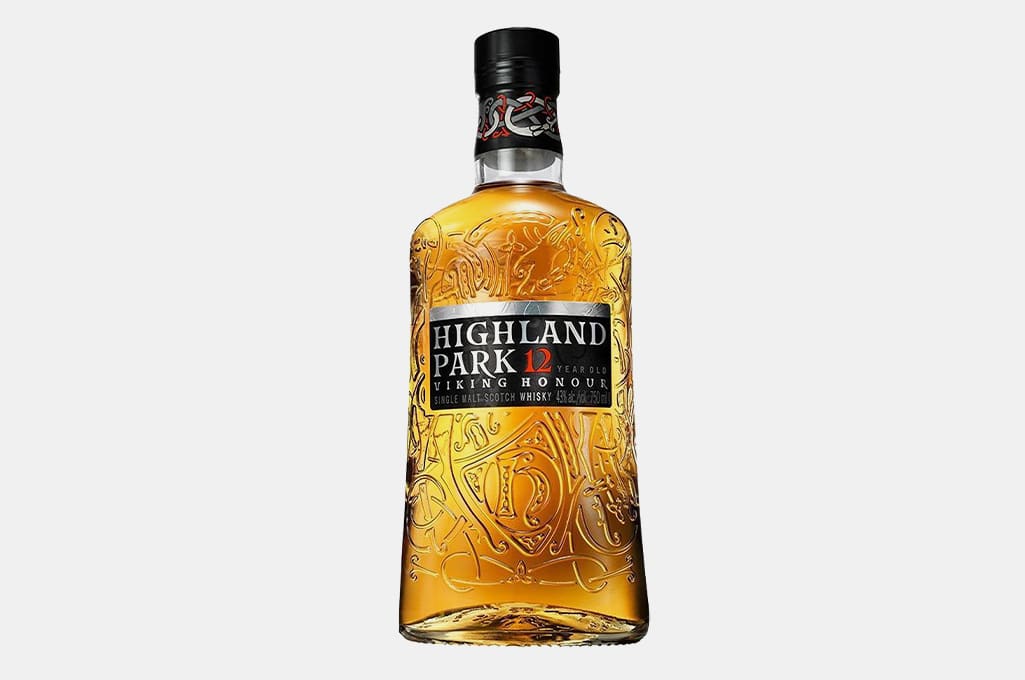 Highland Park 12 Year Old Scotch
Scotland's Orkney Islands are home to just two distilleries, with Highland Park being the older of the two. This has given them plenty of time to develop a rich, distinctive character for their flagship offering, the Highland Park 12 Year Old Single Malt. Its touch of smoke nods towards Islay-style whiskys without becoming nearly as intense, while the lightly grassy nose is rounded out by wildflower honey and herbs. That's all complemented beautifully by a palate rich with grilled fruits and toasted malt, giving a depth of flavor that's unexpected in a whisky offered at this price.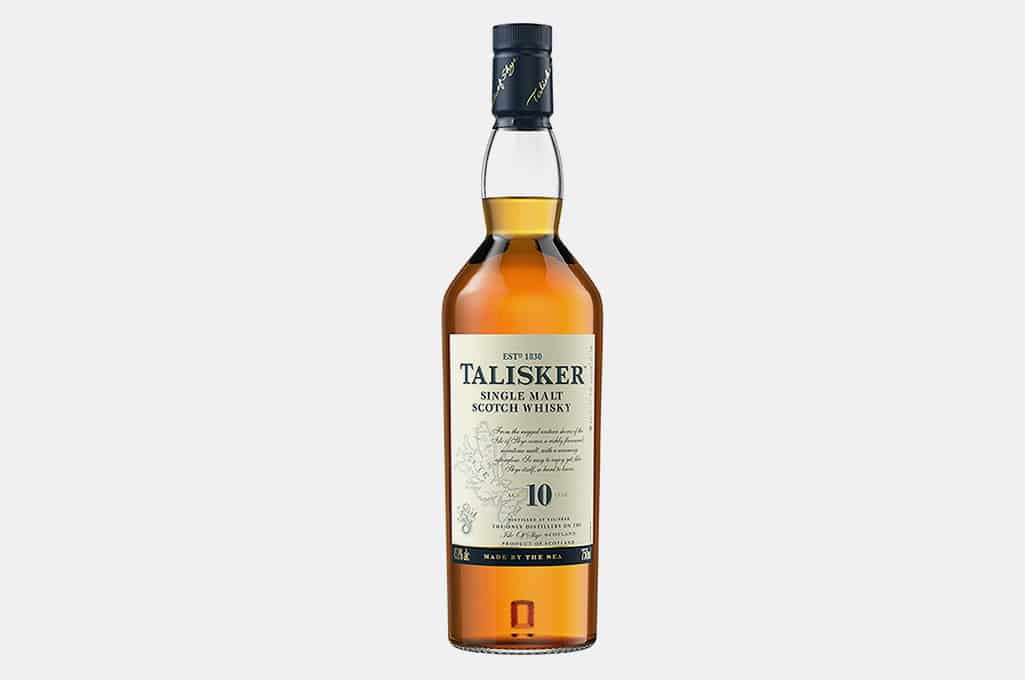 Talisker 10 Year Old Single Malt Scotch
Every Scotch that uses smoke as part of its flavor has to balance the natural astringency that's introduced. And perhaps none does so quite as flawlessly as Talisker, a distinctively smoky spirit that uses a fresh medley of sweet fruits combined with a breezy, salty, oceanic quality to craft a truly unique tasting experience. On the first sip, you'll notice a quality of dried seaweed mingled with pears and toasted barley, quickly progressing into a peppery and extremely long finish that dries out any residual sweetness.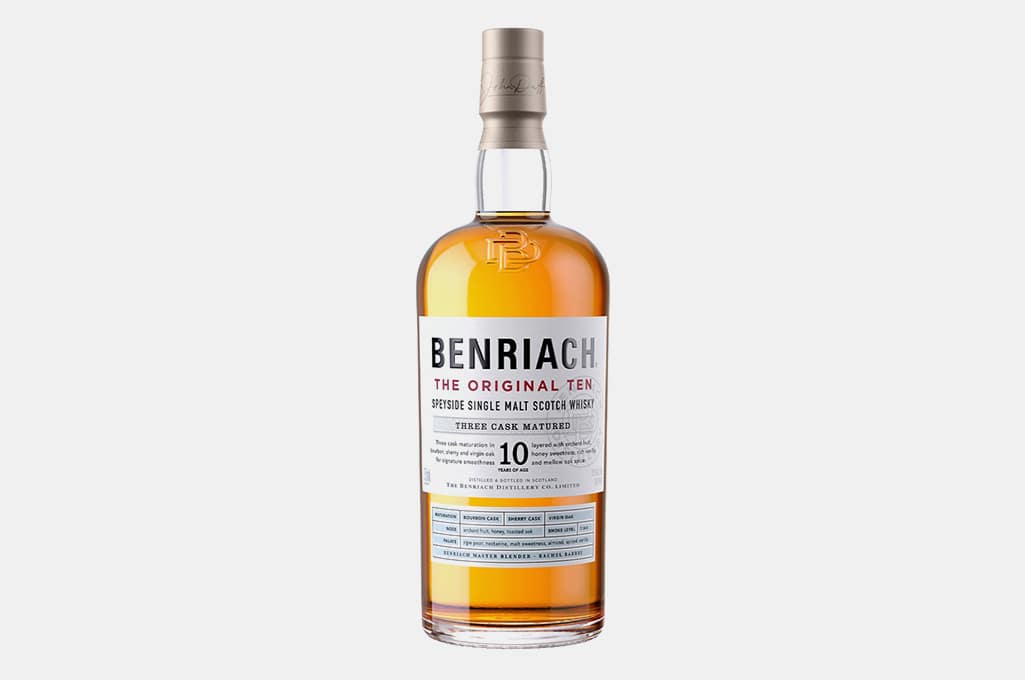 Benriach "The Original Ten" Single Malt Scotch
It's uncommon to find a 10-year-old Scotch that's been through three separate aging steps—but that's exactly what Benriach offers. Matured first in virgin oak, it's then sent for a shorter aging in sherry barrels and ex-bourbon barrels before being blended back together, creating a spirit that's more complex and refined than you might expect given its age. Stone fruits, honey, and toasted oak make up the spirit's aroma, which segue nicely into the flavor before finishing with toasted almonds and vanilla.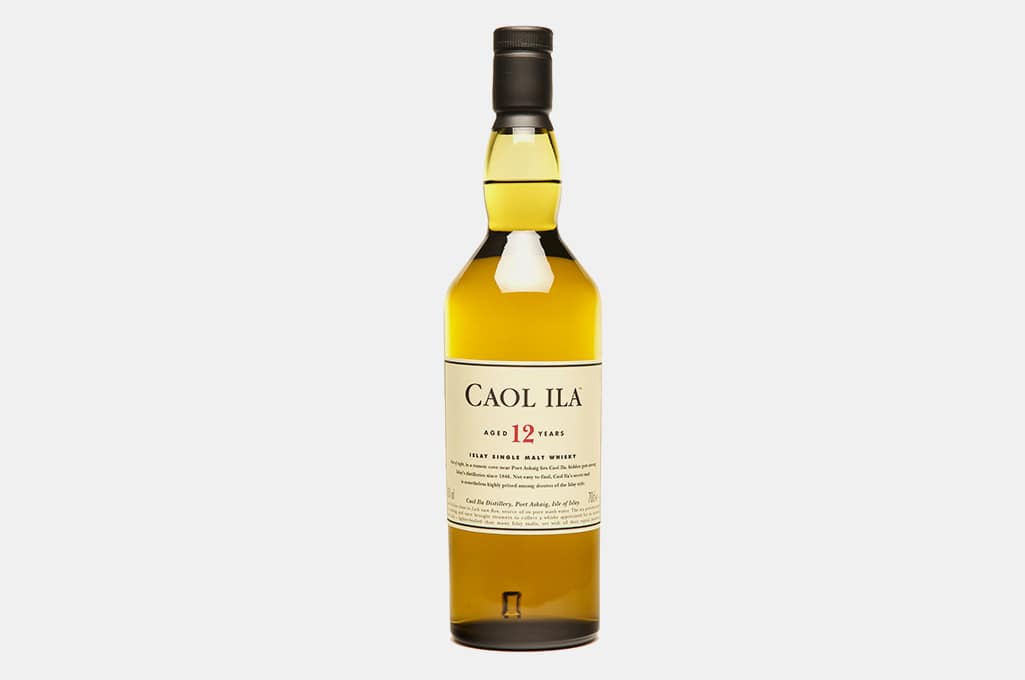 Caol Ila 12 Year Old Single Malt Scotch
A light and fresh take on Islay whisky's smoky style, Caol Ila 12 Year Old is a wonderful introduction to the smokier side of Scotch. The nose is distinctly fresh and herbal, only hinting at smoke between wafts of peppermint and lemon zest. After just a sip, though, you'll see the signature Caol Ila smoke come through, bringing flavors of smoked meats, dark tobacco, and a hickory wood campfire. That all culminates in a smooth, rich, and spicy finish as the smoke wanes.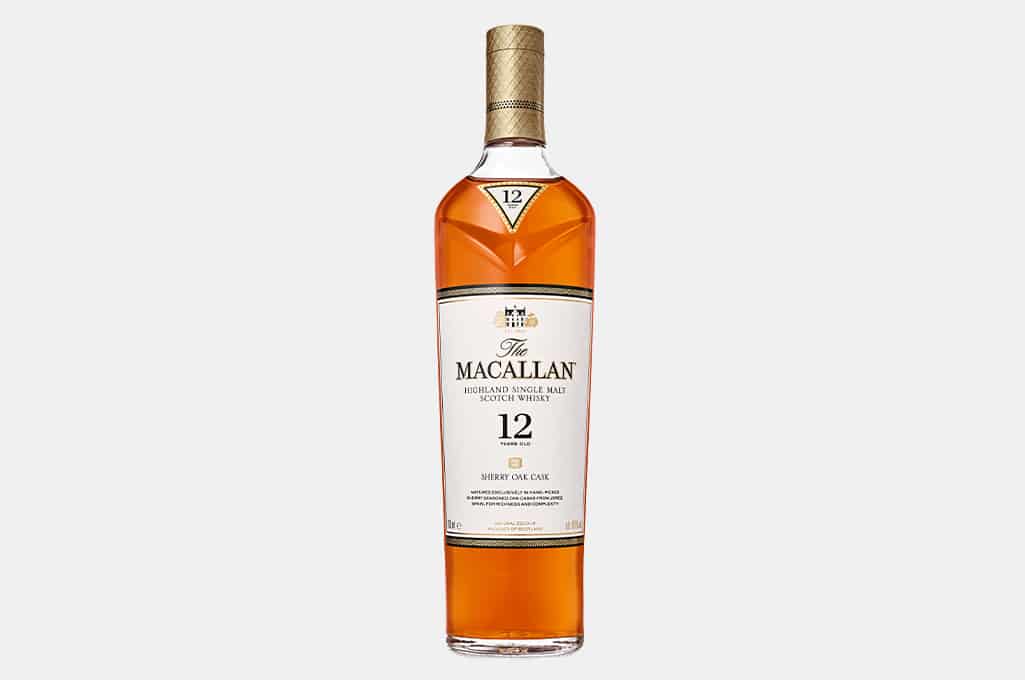 The Macallan Sherry Oak 12 Year Old Scotch
Speak of single malt Scotch among a group of guys, and chances are good that the Macallan will come up as a favorite time and time again. And for good reason: Their 12 Year Old Single Malt is one of the most approachable Scotches in history, with something to appeal to just about everyone. Its rich golden color hints at what lies within the spirit, from its complex nose of vanilla and baking spices to a refined honey and fruit palate, finishing on lingering notes of dried fruit and oak. Give it just a moment more after you swallow your first sip, and a bouquet of fermented sherry notes will fill your senses.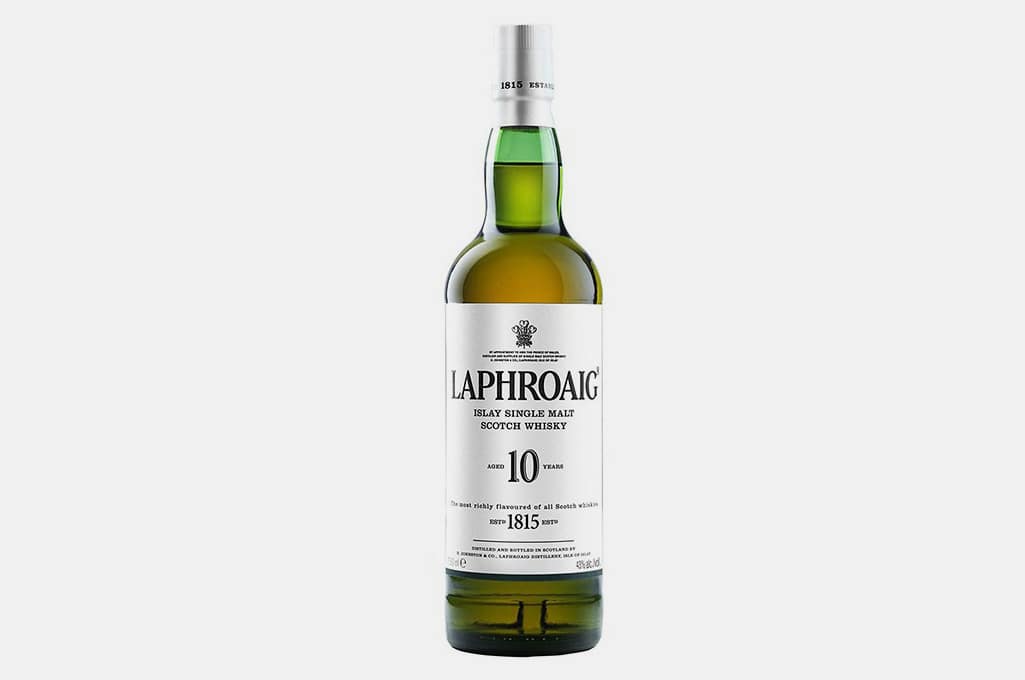 Laphroaig 10 Year Old Islay Single Malt Scotch
Laphroaig is without a doubt the scotch world's most polarizing spirit. People either love it or hate it, and there's not a damned thing you can do to change their opinions. The spirit is so beloved by its fans, in fact, that Laphroaig once used unflattering descriptions of the taste of its whisky as advertising, knowing that this would do nothing to dissuade its most ardent enthusiasts. Is "tastes like a burning hospital" a positive, or a negative? That's up to you to decide—but everyone should try Laphroaig at least once.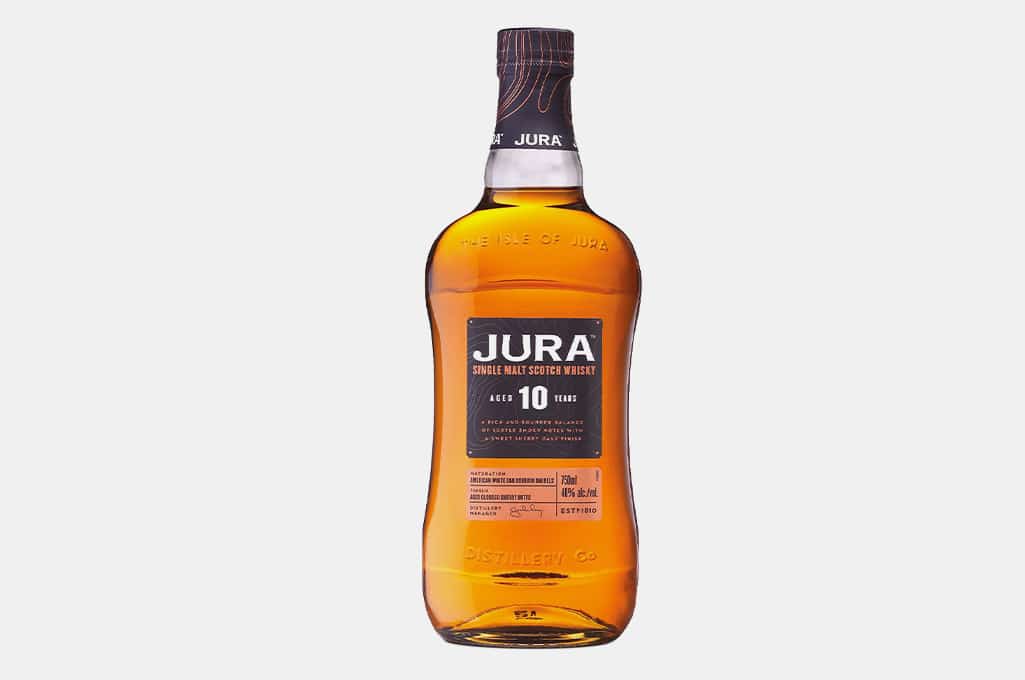 Jura 10 Year Single Malt Scotch
The only Scotch whisky to come from the Isle of Jura, this namesake spirit takes a different approach from mainland whiskies. First, it's aged in American white oak barrels, giving it a more pungent and astringent base. Then, it's finished in oloroso sherry casks, adding a burst of nutty and caramelized flavors. That's all packed into a strongly vanilla-tinged flavor throughout, with hints of chocolate and wood smoke that carry through its short and punchy finish.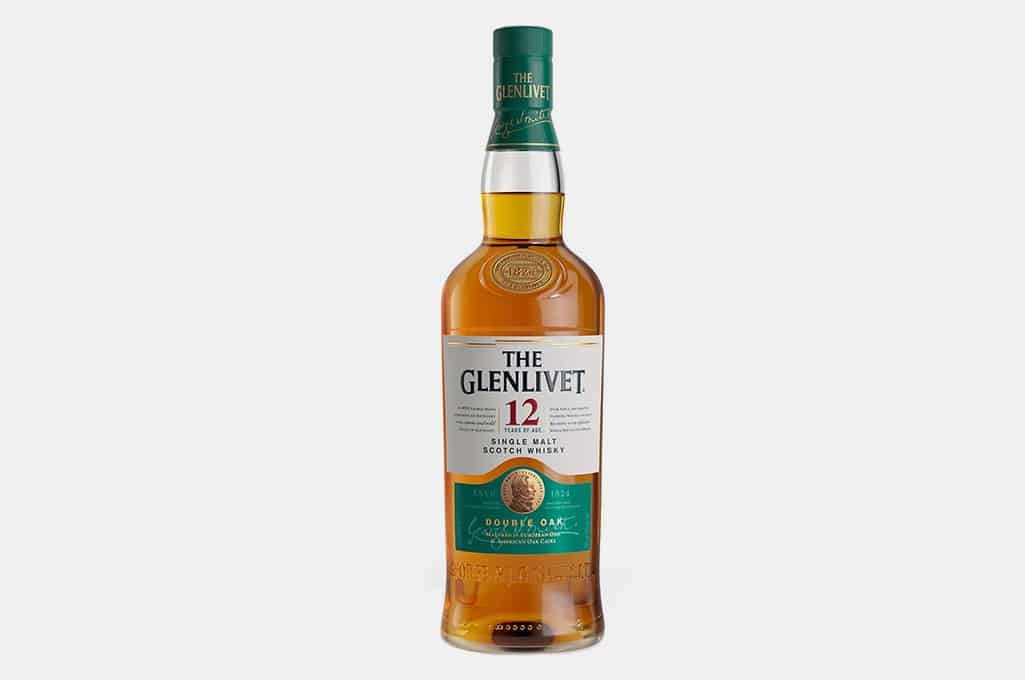 The Glenlivet 12 Year Old Single Malt Scotch
The smooth, balanced, and fruity Glenlivet 12 Year Old gets my highest recommendation as "first scotch a beginner should try." There's so much to like here, from the obvious tropical fruit notes on the nose and palate to the hint of honey and malt to the long, smooth, creamy finish. It's one of the few single malts that I'd recommend drinking alongside dinner, as well, since it's absolutely delicious with seafood or butter sauces. If you've not tried it, yes, you definitely need to.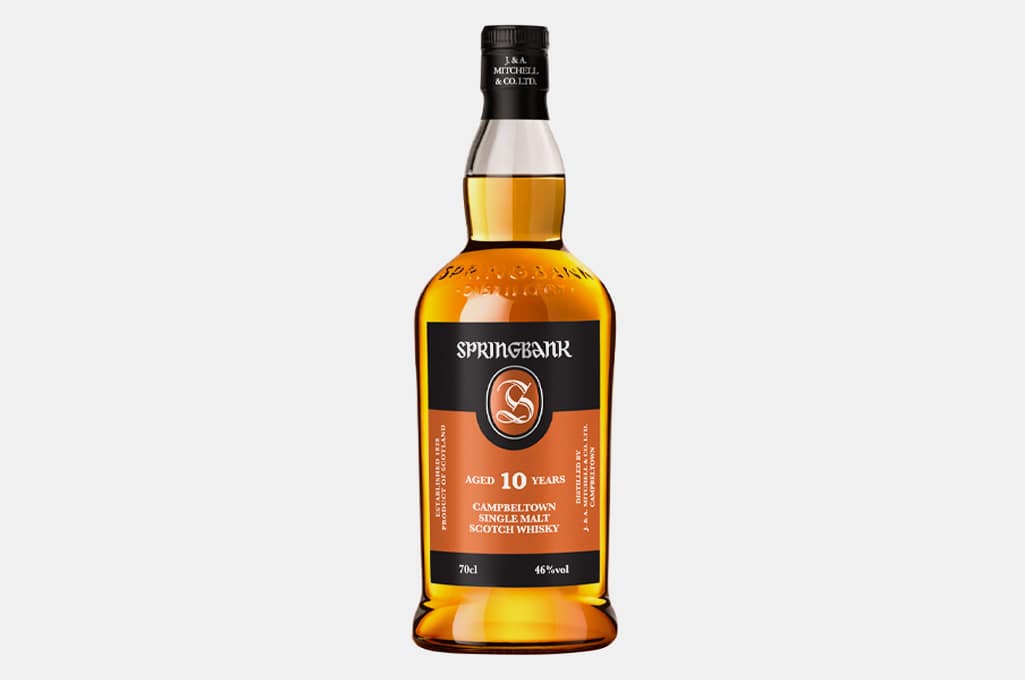 Springbank 10 Year Old Single Malt Scotch
Matured in both bourbon and sherry casks before being blended to perfection, Springbank's 10 Year Old Single Malt Scotch is the perfect gateway spirit for American whiskey drinkers. There's just a hint of peat on the nose, giving a pleasant smoke that complements vanilla and pear. The palate is all barley malt, with a rich toasted character supported by baking spices and even more vanilla. And the finish is all Scotland, with a salty, oceanic tingle underneath sweet honey and heather.
Disclosure: Clicking on these links and making a purchase may earn us a small referral fee, at no extra cost to you. Learn more here.
freestar.config.enabled_slots.push({ placementName: "gearmoose_leaderboard_btf", slotId: "gearmoose_leaderboard_btf" });