If you're not an avid Scotch whisky drinker, you might have some preconceived ideas about the Scottish spirit. Perhaps you believe this style of whisky is too fancy for you. Maybe you imagine tweed-clad, bushy mustachioed (potentially kilt-wearing) aristocrats slowly sipping from Glencairn glasses as they smoke cigars and compare stock tips in high-backed chairs in front of a comically large fireplace. Well, these men probably do exist somewhere, but that doesn't mean this whisky is off-limits to you regardless of your financial standings and prowess in the stock market.
While you can easily fork over $100 or more for a great bottle of single malt Scotch, there are myriad bargain single malts and blends on the market for much less money. The best part is that even though they're in the $30 to $50 range, they don't taste like they belong on the bottom shelf.
Also, these are not no-name brands. We're talking the likes of Glenlivet, Dewar's, Ardbeg, Johnnie Walker, and even Glenfiddich. These are some of the biggest names in the Scotch world and they all have expressions guaranteed to keep your wallet (mostly) full of money. Here are the best cheap Scotch brands that don't taste cheap at all.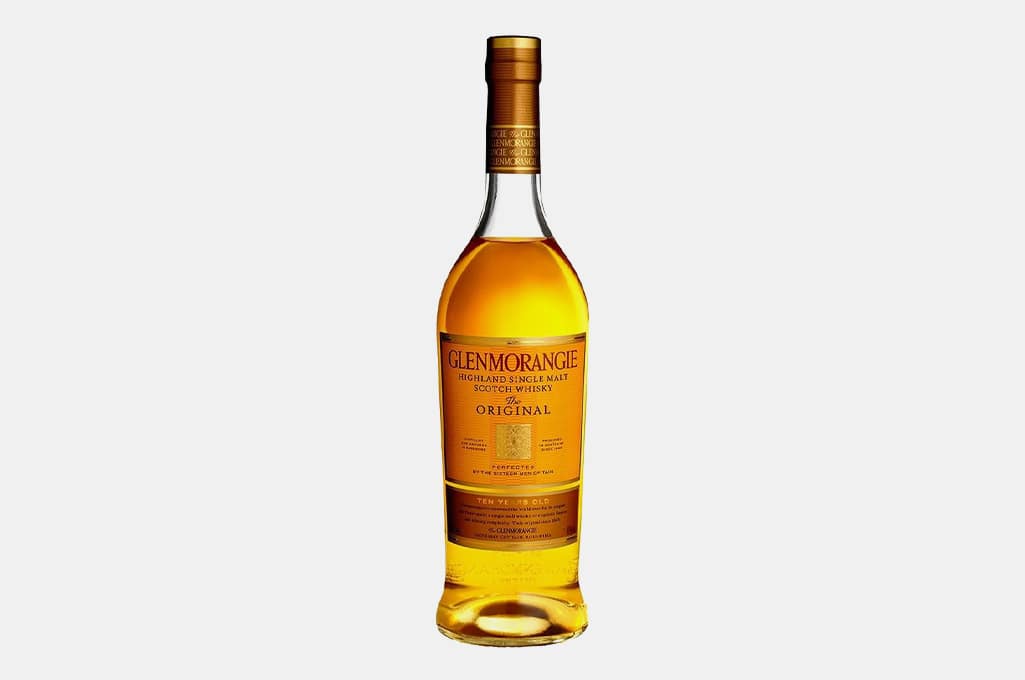 Glenmorangie The Original
There's a reason Glenmorangie The Original consistently makes lists for best introductory single malts. But it also makes lists of best value bottles. So, in essence, this is a bottle that everyone should have on hand at all times. Made the same way for more than 175 years, this iconic whisky is distilled using the tallest stills in Scotland (16 feet, ten inches). This beloved single malt is aged for ten years in ex-bourbon casks. The result is a sweet, mellow, easy to sip whisky with hints of candied orange peels, vanilla beans, and buttery caramel.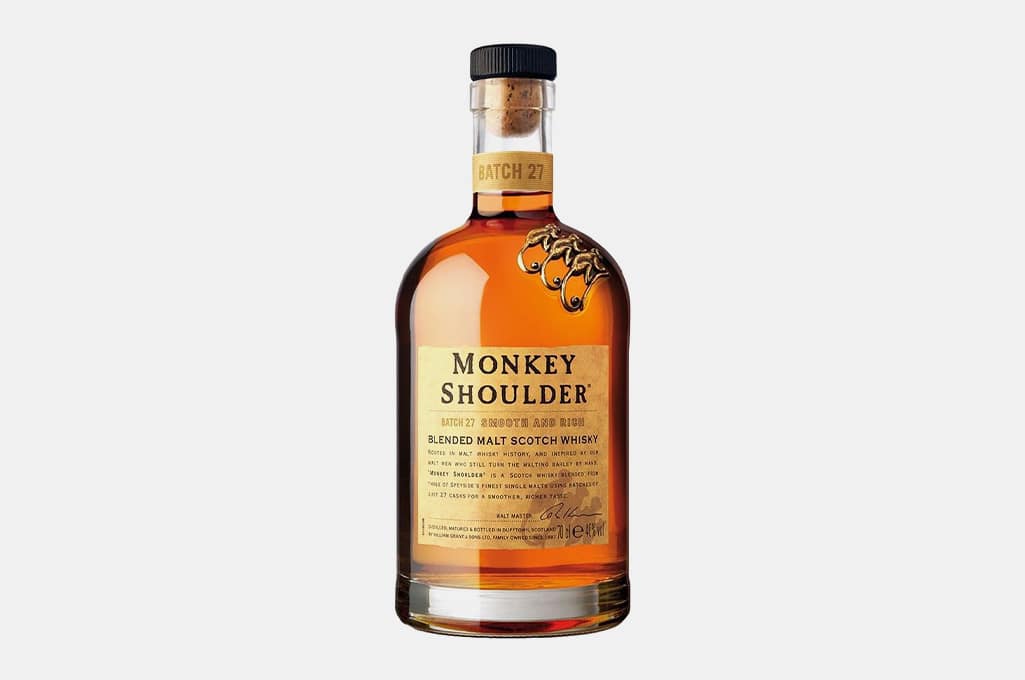 Monkey Shoulder
With a name like Monkey Shoulder, you might assume this is more of a gimmick than an actually good whisky. If you think that, you'd be wrong. Even though it's cheap and has a goofy name, this blend of single malt whiskies from well-known Speyside distilleries (originally Balvenie, Kininvie, and Glenfiddich, but others have been added since) is known for its smooth, creamy flavor. With notes of clover honey, caramelized sugar, vanilla, and citrus zest, it's just as suited for sipping neat as it is a mixer for your favorite Scotch-based cocktail.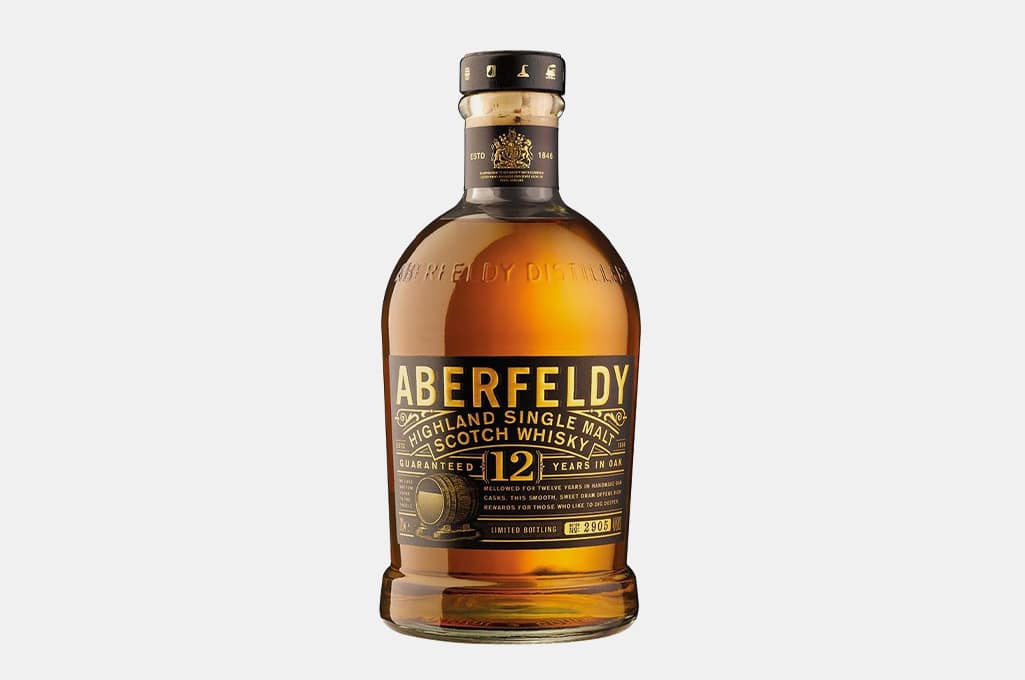 Aberfeldy 12 Year Old
If you don't know a lot about Scotch, you might not know that Aberfeldy is one of the single malts used to create Dewar's blended whisky. But, years ago, the brand began releasing the single malts on their own (the others that make up the brand's heart are Royal Brackla and the "bad boy of Speyside" Craigellachie). This value Highland bottle was aged for 12 years in a combination of ex-bourbon barrels and ex-sherry butts. The result is a sippable whisky with flavors like honey, charred oak, subtle spices, and warming, sweet toffee.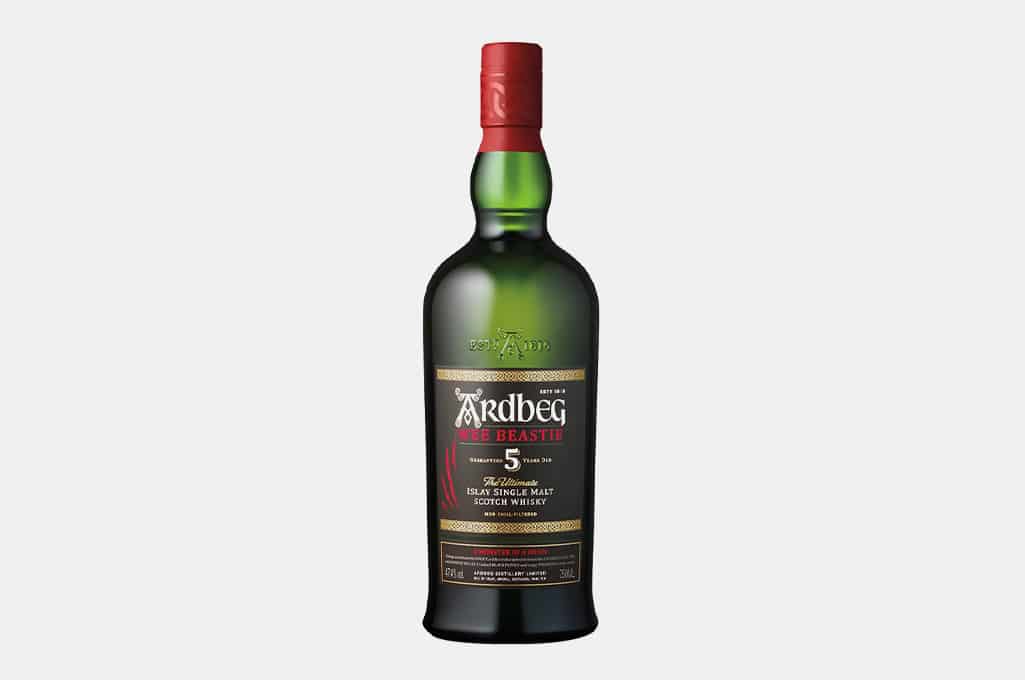 Ardbeg Wee Beastie
Sure, you can easily insert Ardbeg 10 in this spot, and you'll be completely happy. But, in our opinion, the best value at Islay's Ardbeg is its Wee Beastie. We understand that, when it comes to Scotch, some drinkers are wary of anything younger than ten years old. But the fact that this whisky was only aged for five years gives it a little extra potency and smoky flavor. This is tempered well by the fact that those five years are spent in a combination of ex-bourbon casks and Oloroso sherry butts. This creates a complex, well-rounded tipple with notes of ocean brine, salted caramel, vanilla beans, ripe berries, and gentle, pleasing peaty smoke.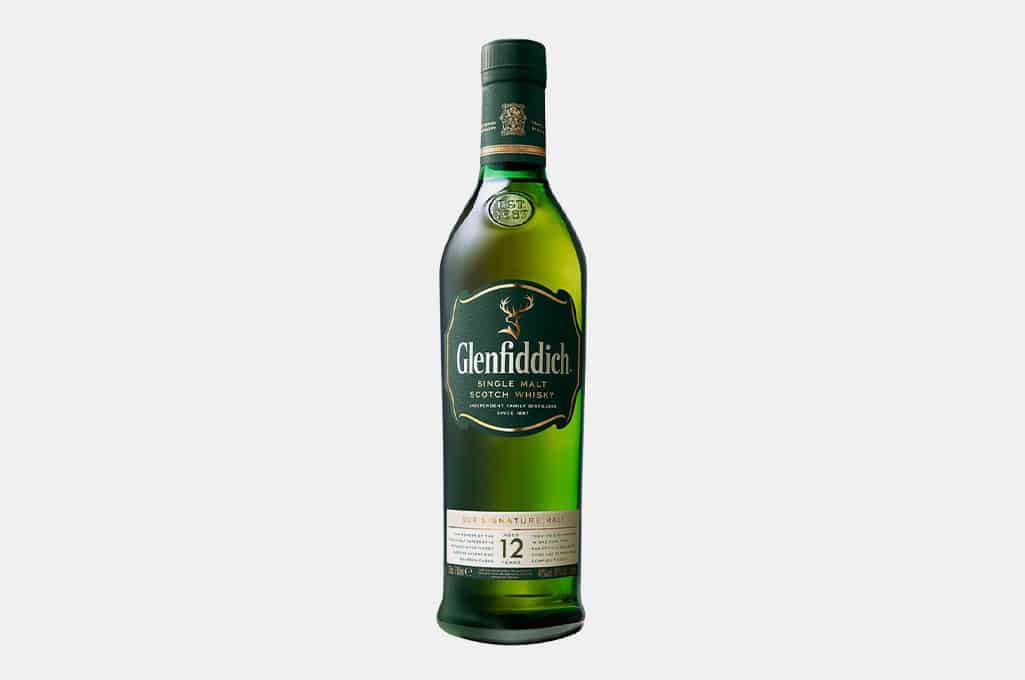 Glenfiddich 12 Year Old
Even non-whisky drinkers have heard of Glenfiddich. This is because this Speyside distillery consistently cranks out award-winning expressions. Not only is its 12-year-old offering its best value, but it's also won numerous prestigious awards over the years. A bottle that belongs on everyone's home bar cart, this single malt is aged for 12 years in a combination of American as well as European oak barrels. The result is a mellow sipper with flavors of buttery caramel, fresh flowers, vanilla, and subtle spices. This is the kind of whisky that, while fairly inexpensive, deserves to be enjoyed neat or with a few splashes of water.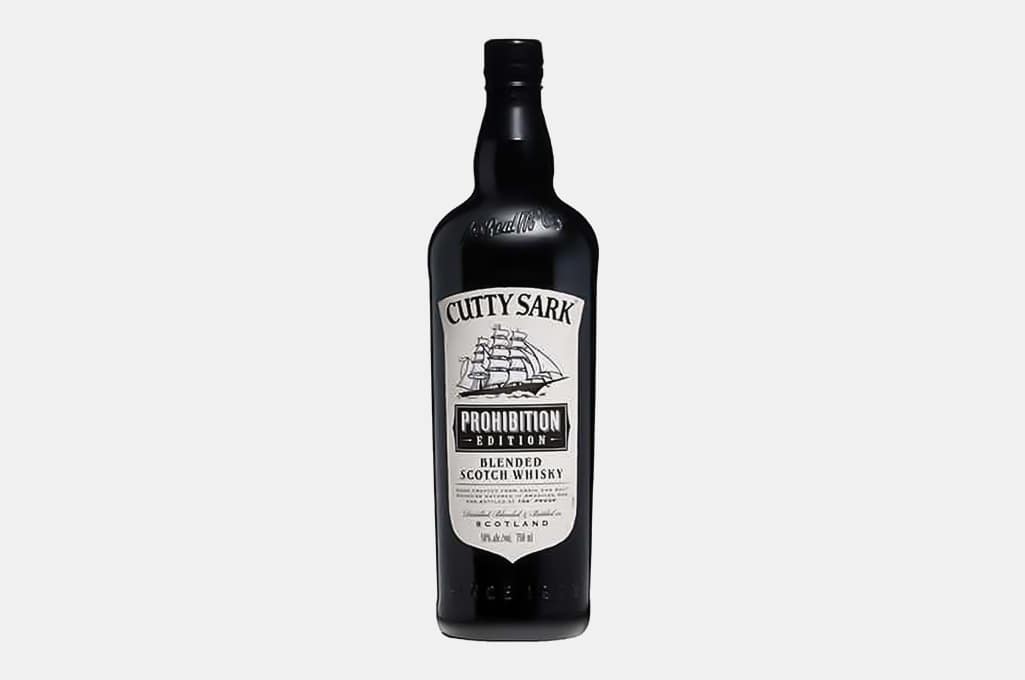 Cutty Sark Prohibition Edition
Cutty Sark gets a bad rap for being a bargain, blended whisky that your grandpa likely drank. Its original blended whisky is pretty much as cheap as it gets. But, while slightly more expensive, its Prohibition Edition is miles ahead in terms of flavor and value (and alcohol content). Made to pay homage to infamous Prohibition-era bootlegger Captain William McCoy, this 100-proof, bold, brash whisky is loaded with nutty sweetness, caramel, vanilla beans, and a nice spicy kick that works perfectly in cocktails.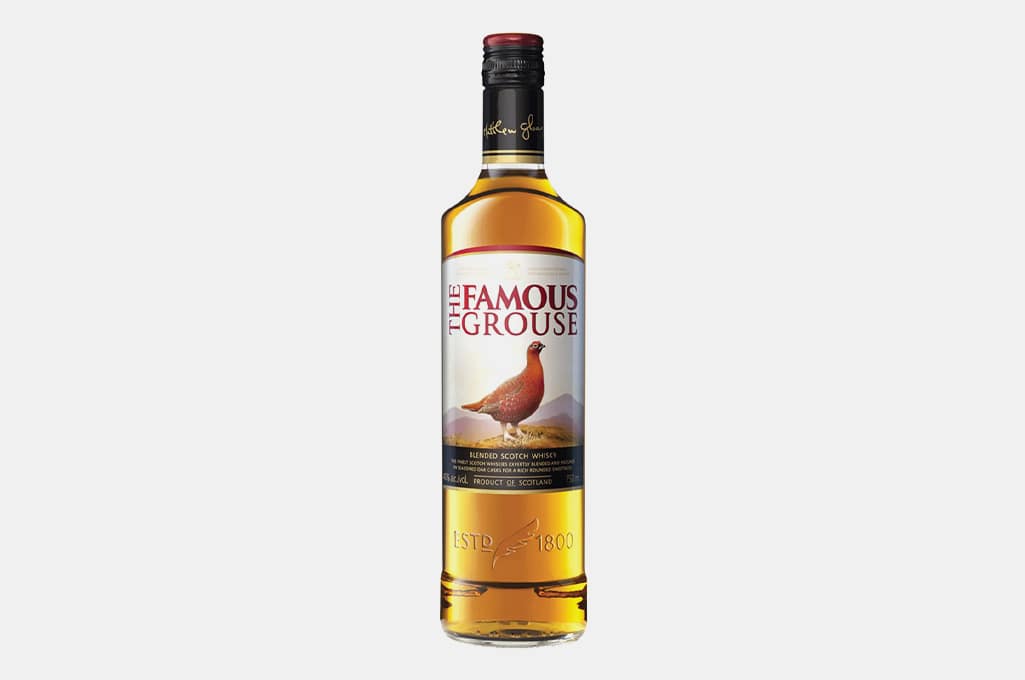 The Famous Grouse Blended
The best-selling whisky in the United Kingdom, The Famous Grouse is a blended whisky that's been produced since 1896. Known for its value, this blend includes well-known brands like The Macallan and Highland Park. The malt blend is aged longer and filtered at high temperatures to ensure the smoothest, mixable whisky you've ever had. While primarily used as a base for cocktails, this surprisingly inexpensive blend is so good, you'll want to sip on the nuanced flavors of sweet cream, buttery toffee, and subtle smoky spice.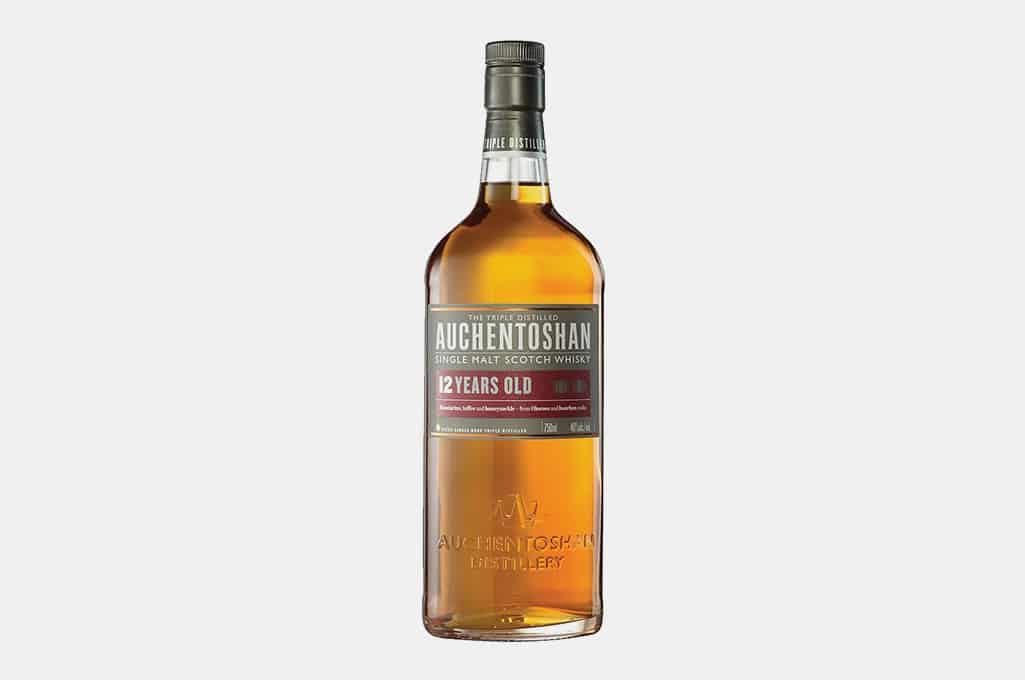 Auchentoshan 12 Year Old
While many well-known whisky distilleries are located in the sprawling Scottish countryside or situated on craggy rocks, overlooking the briny sea, Auchentoshan is located just outside the industrial city of Glasgow at the foot of the Kilpatrick Hills. Even though its location isn't idyllic, that doesn't stop it from crafting amazing whiskies. One of its best is Auchentoshan 12. Triple distilled and aged for twelve years, this bargain bottle is filled with notes of sweet treacle, buttery caramel, almond cookies, and just a hint of spice.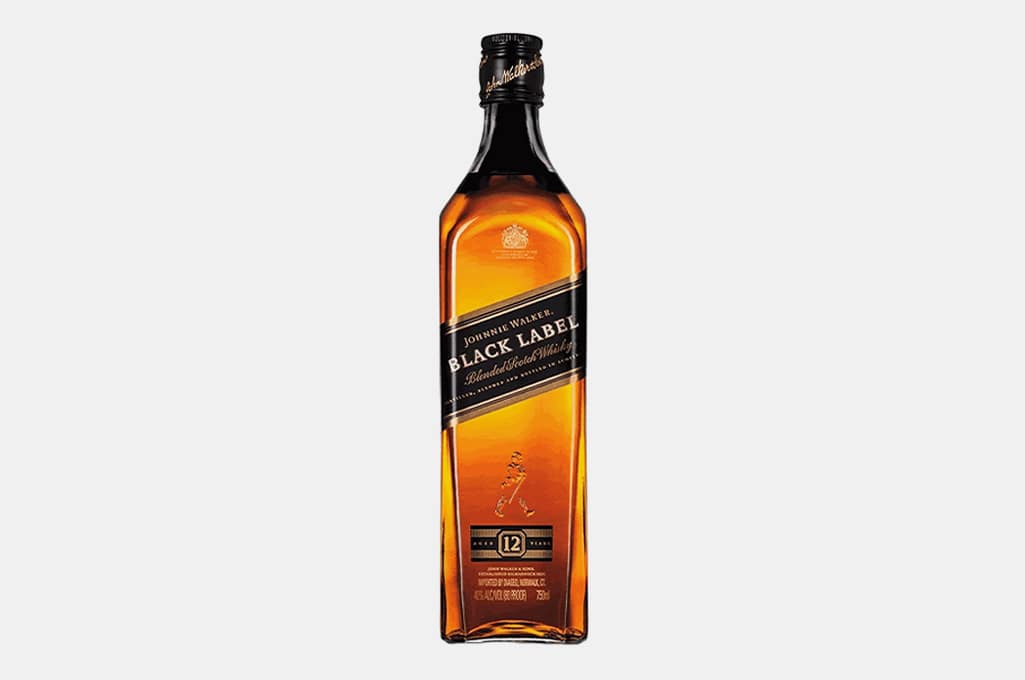 Johnnie Walker Black
When it comes to blended whiskies, there are no names bigger than Johnnie Walker. If you have the extra cash (around $200), you can enjoy a bottle of highly sought-after Johnnie Walker Blue. If you don't, you can do much worse than its Black Label. First introduced in 1909, this 12-year-old expression is a blend of whiskies from about 40 different distilleries. This results in a complex blend with flavors like sticky toffee pudding, vanilla cream, subtle cooking spices, and just a wisp of smoke.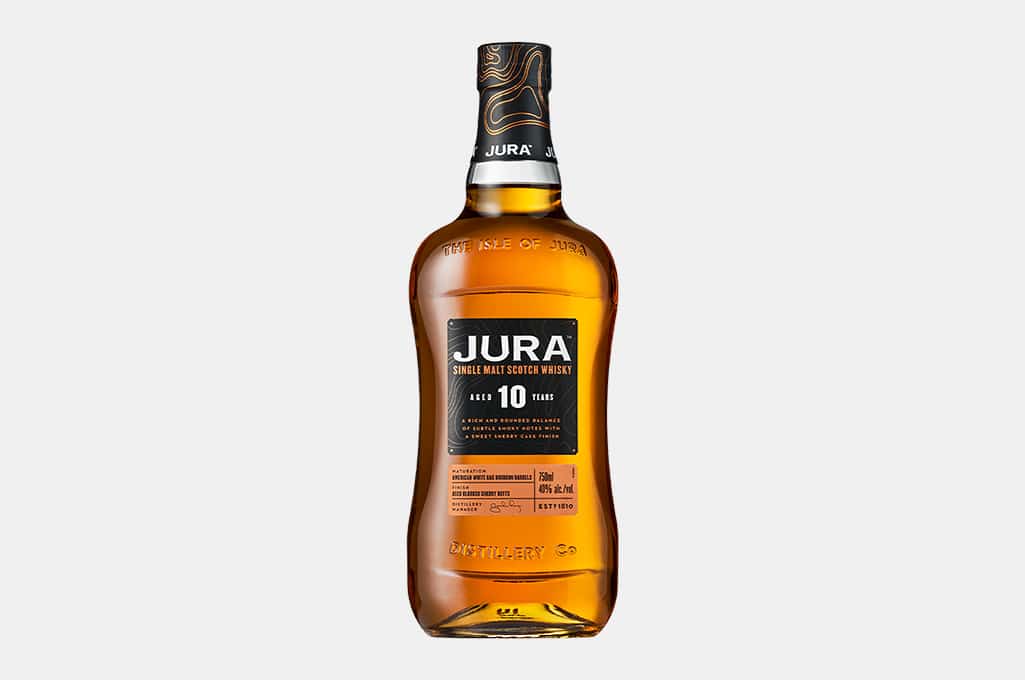 Jura 10 Year Old
When it comes to island single malts, Islay gets all of the press. This is mostly due to the high volume of award-winning distilleries on the tiny, sheep-filled island. But its neighbor Jura is also home to a noteworthy distillery that has its own fanbase. Its best value bottle is Jura 10. First aged in ex-bourbon American oak barrels before finishing in Oloroso sherry butts, this well-rounded whisky is filled with the vibrant, bold flavors of sweet vanilla beans, butterscotch, sherry sweetness, and nice, gentle smoke.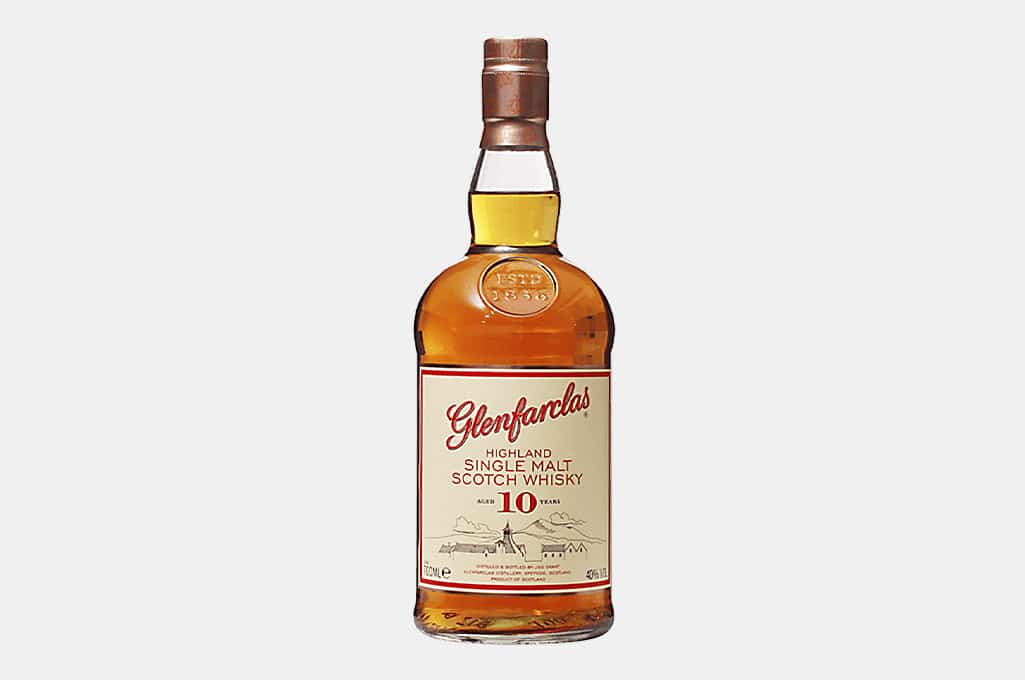 Glenfarclas 10
When it comes to value single malt Scotches, Glenfarclas 10 is the best kept secret in the spirits world. Whisky aficionados and bartenders love it, but most novice drinkers have never heard of it. Well, add it to your list and save it for a special occasion. This is because this single malt is so sweet, rich, and velvety that it's more like an aperitif or dessert drink than an everyday sipper. It's filled with notes of creamy caramel, dried fruits, sticky toffee, caramelized sugar, and just a hint of pleasing, warming smoke.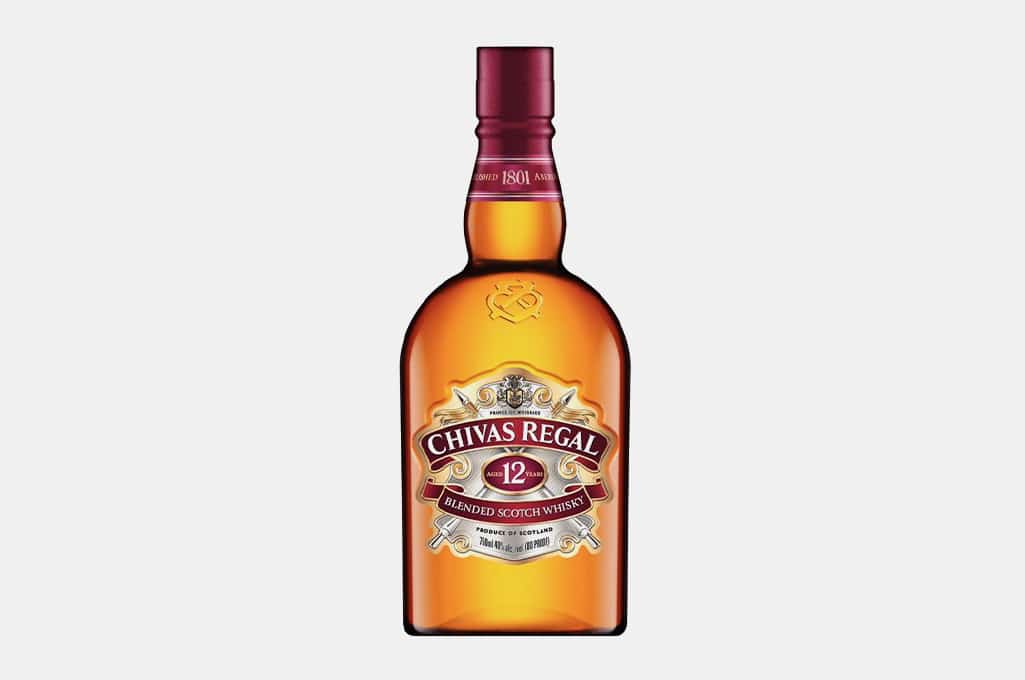 Chivas Regal 12
One of the most well-known blended whiskies in the world, Chivas Regal 12 is a blend of malt and grain whiskies from all over Scotland. While the whiskies included aren't listed (although Strathisla is the base and it also includes the likes of The Glenlivet and Allt-a-Bhainne), we know that they are all a minimum of twelve years old. Also, we know this surprisingly cheap whisky is good. It's won multiple awards over the years and is a critical darling for a reason. The proof is in the flavors of sweet barley, toasted vanilla beans, subtle spice, and a nice nutty sweetness that demands to be sipped neat.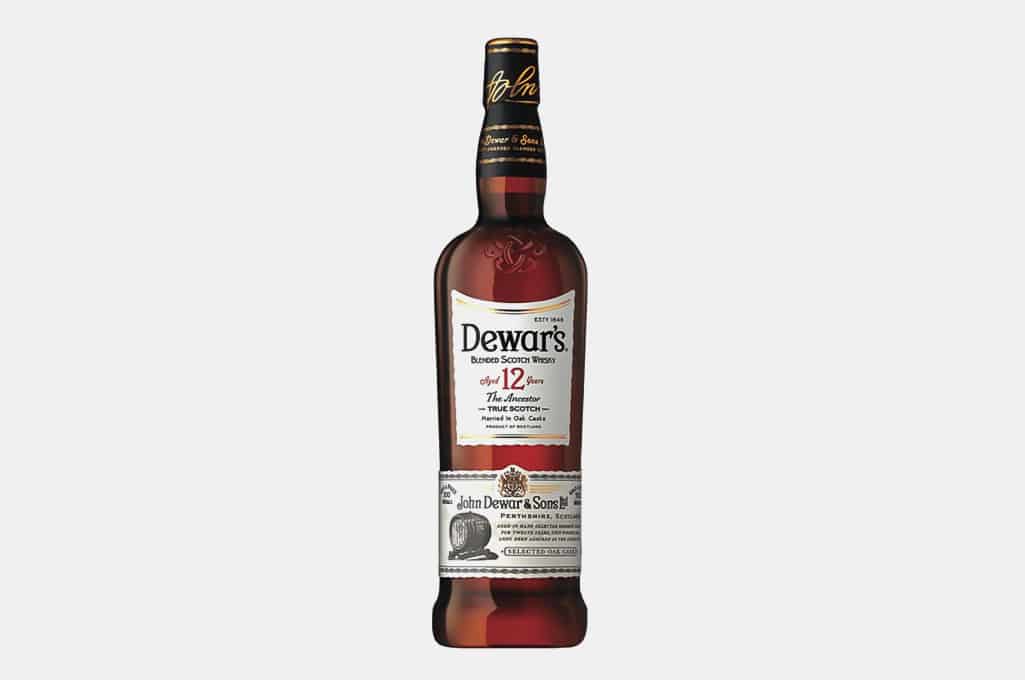 Dewar's 12 Year Old
Another well-known blend, Dewar's 12 was created by the brand's former Master Blender Tom Aitken to pay homage to the original blended whisky that was produced more than 100 years ago. When it launched, it was the first permanent addition to the brand's blended Scotch portfolio. Made up of painstakingly chosen 12-year-old malt and grain whiskies, this blend is swirling with hints of charred oak, vanilla beans, candied orange peels, and raisins. It's the kind of bottle you'll always want on hand for mixing.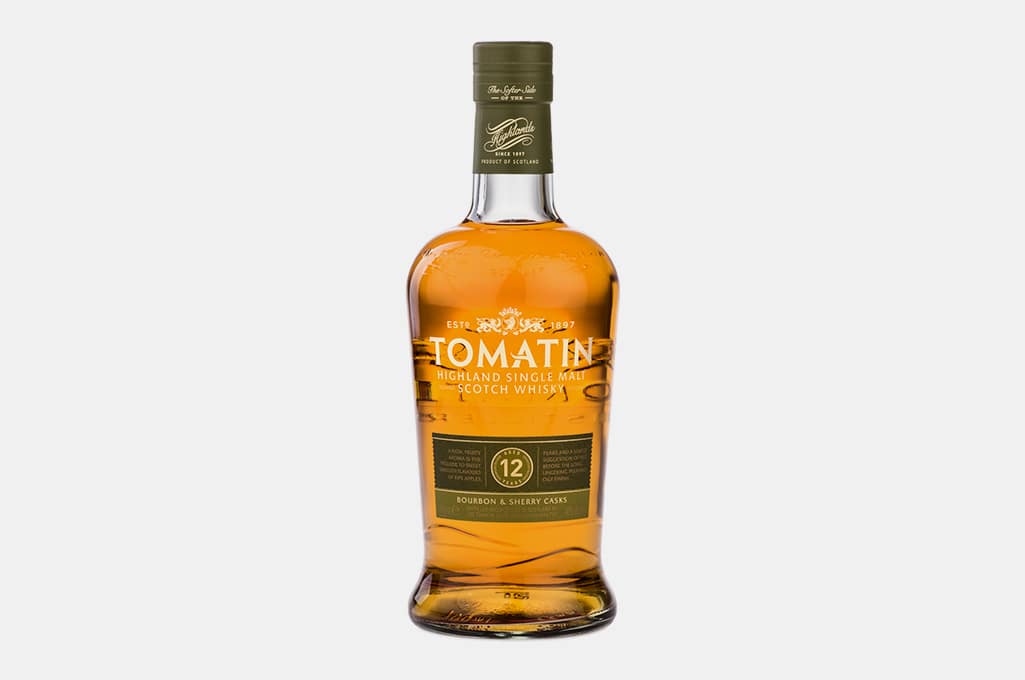 Tomatin 12 Year Old
If you're new to whisky, there's a good chance you've never heard of Tomatin. You should get acquainted as soon as possible. We suggest starting with its twelve-year-old expression. Released in 2014, this 43 percent ABV expression is aged for twelve years in ex-bourbon, American oak barrels before being finished for six to nine months in barrels that previously held Oloroso sherry. This results in a highly sippable whisky with hints of charred oak, toasted vanilla beans, dried fruits, citrus zest, and a sweet sherry finish.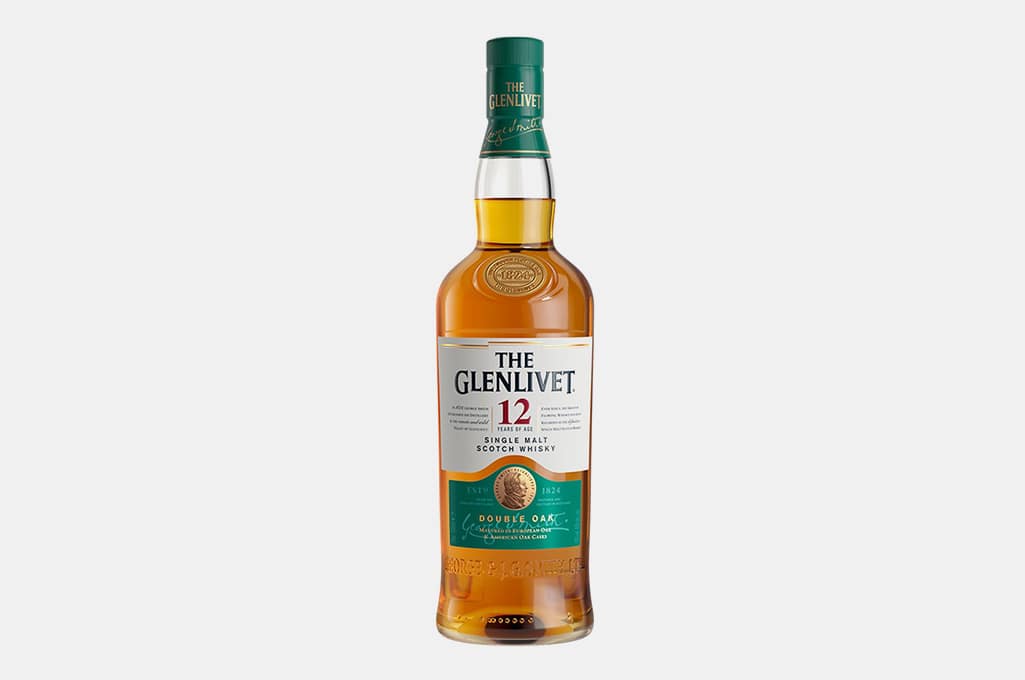 The Glenlivet 12 Year Old
When it comes to single malt whisky, there's no name more famous than The Glenlivet. When it comes to value, you can't do much better than its twelve-year-old expression. This iconic whisky is aged for twelve years in a combination of American and European oak barrels. More than a decade spent in the barrel reveals a surprisingly complex whisky with prominent flavors like heather, clover honey, dried fruit, buttery caramel, and sweet vanilla. Even at around $30 to $40 for a bottle, this nuanced bottle deserves to be enjoyed neat in a Glencairn glass (or literally any glass you have on hand) while you sit in a comfortable chair, reflecting on the day.
Disclosure: Clicking on these links and making a purchase may earn us a small referral fee, at no extra cost to you. Learn more here.
freestar.config.enabled_slots.push({ placementName: "gearmoose_leaderboard_btf", slotId: "gearmoose_leaderboard_btf" });