The 10 Best Camper Vans For Living The Van Life
There are plenty of good reasons to ditch the familiar four walls of your apartment and commit to the glorious existence of life on the road. Maybe you're single, completely unattached and free to toss yourself around the country like a tumbleweed. Maybe you just want to be.
Either way, the option always exists to cash in your chips and invest in one of the best camper vans being produced around the world. And what's more is that you need not leave any of your creature comforts behind. Some of these clever machines even let you live the van life like a sheik on four wheels.
From kitchens to commodes, pop-top sleeping spaces to full-blown extensions, plasma screens to coffee machines, living the van life isn't what it used to be. Gone are the days of sleeping in your spine destroying driver's seat; here are the multi-bed, decked-out camper vans taking the coolest among us to the most far out, beautiful corners of the wide-open wilderness. Read up and let your wanderlust finally convince you to burn your tie, trash your office and tell your boss where to stick his emails. The bridges you'll burn aren't the kind you'll need on your new life on the road. Here are the 10 best camper vans for living the van life.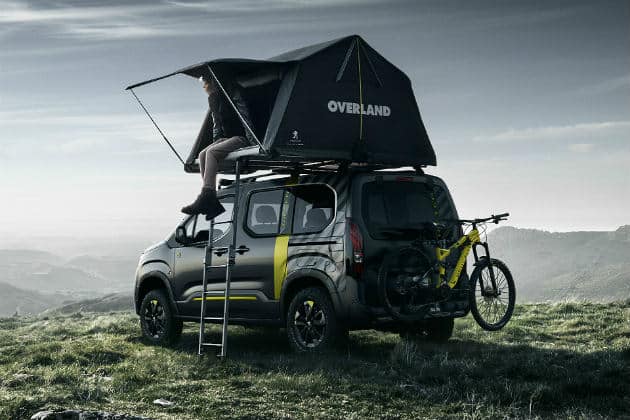 Peugeot Rifter 4×4 Concept
Peugeot's base model Rifter is a fairly tame, overtly European take on the modern SUV, meaning function takes precedence over form. The Rifter 4×4 Concept, however, blends form and function so adeptly that we now have one of the sharpest, most capable camper vans ever factory produced.
Stylistic embellishments wrap every corner from the bumpers to the steering wheel. With an 8cm lift kit that ensures its DANGEL 4×4 transmission will clear most obstacles, a massively powerful light bar and a root-mounted Overland tent providing abundant sleeping space, the Rifter Concept is a force to be reckoned with. Designed more for the adventurer than the man of leisure, this is a go-anywhere, do-anything warhorse itching to be charged into battle. – Buy It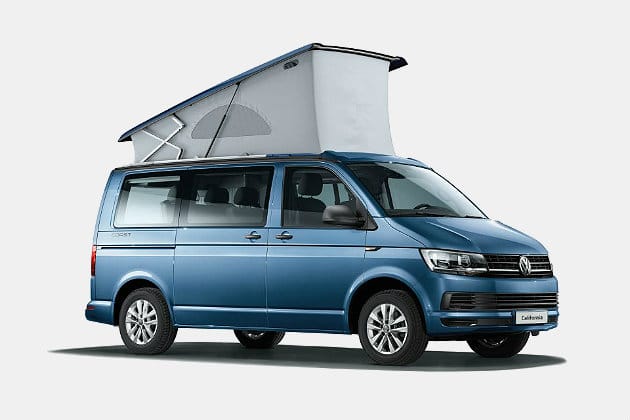 Volkswagen California Camper Van
From one of the oldest names in the game, Volkswagen's California is probably the most well-balanced option on this list. With a range of modern technological and safety standards (like driver assist, clever parking and smart-cornering halogen lights) as well as some classic touches (like an available manual transmission), this is practical German engineering at its best.
Ingenious, space-saving design elements abound, from Volkswagen's iconic pop-top roof that allows 4 adults to sleep comfortably, to the removable camping table and chairs that stow neatly out of the way when not in use. It's not the biggest; it's not the fastest; it's not the flashiest. But this is a precision, factory-perfect German stalwart that will last decades. – Buy It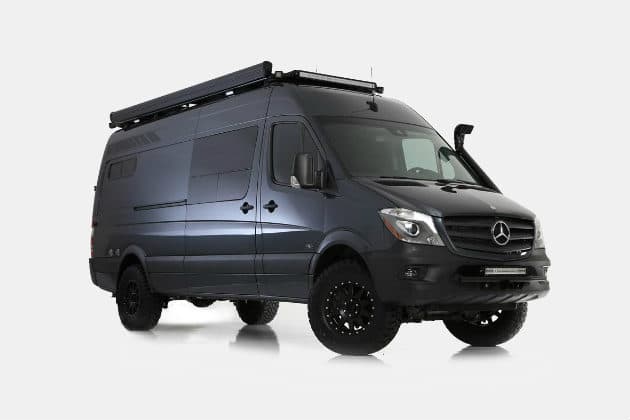 RB Components Sawtooth Touring Van
The people at RB Components are specialists at bells and whistles, and their Sawtooth Touring Van is a perfect example of that. Built on the ultra-capable chassis of a Mercedes Sprinter, it sports a full-sized awning, top-and-bottom front light bars, massive fresh water tank, full kitchen, bathroom, two dining areas, integrated solar panels, built-in outdoor barbecue and a 5-foot snorkel… just in case you feel like camping at the bottom of a pond.
Although not strictly a camper or a touring van, this is an all-around, self-contained, completely capable escape pod. Want to go rough it alone in the wilderness? No problem. Want to whisk yourself and 5 friends down to Daytona? Leave your Camry at home. – Buy It
Subscribe to our Email List to have an awesome collection of gear sent straight to your inbox every Tuesday. If we post it, you'll get it. No need to ever miss a thing.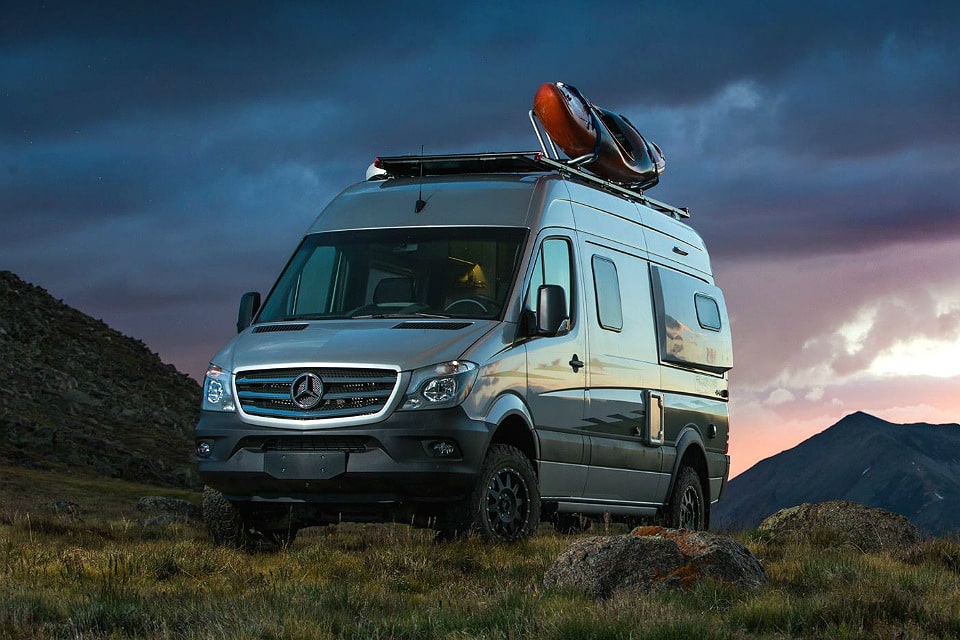 Winnebago Revel 4×4
If you ever wanted to hermetically seal every awesome bit of your life into a van, look to the Winnebago Revel. Precision engineered to be rock solid, this adventure-ready travel van comes stock with a 4×4 transmission, 325lb/ft of torque and enough space to stow every conceivable genre of action gear under the sun. As one of the oldest names in the business, Winnebago is confident in its builds, offering owners an impressive nationwide service network.
Integrated, roof-mounted solar panels link to an impressive electrical system that powers the stove, fridge, heater and lights, so there's no need for a propane tank. All you need to do is fill up the water tank, hit the gas station and point yourself to parts unknown. – Buy It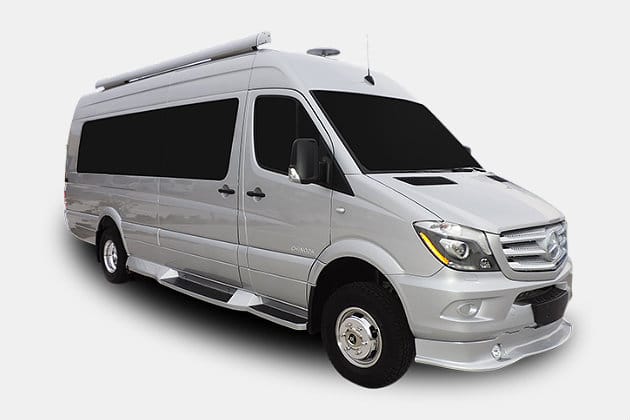 Chinook Bayside Camper Van
Just like the popular troop transport helicopter, the Chinook Bayside is for those who'd never leave their bros behind. Each of the three available configurations sport 6 executive chairs and no dedicated sleeping surfaces. What it lacks in overnight ability, though, it makes up for with the first-class trappings of a luxury man cave.
Built on the celebrated Mercedes Sprinter van chassis, it sports multi-passenger rear Maybach-style seating, an executive privacy package, deluxe lighting controls, full kitchen amenities, porcelain toilet, water heater, two TVs (including one in the head), concert-style sound system, and even a 4-camera security system. At nearly $150,000 it's a premium ride for sure. But your bros will tell you they're worth it. – Buy It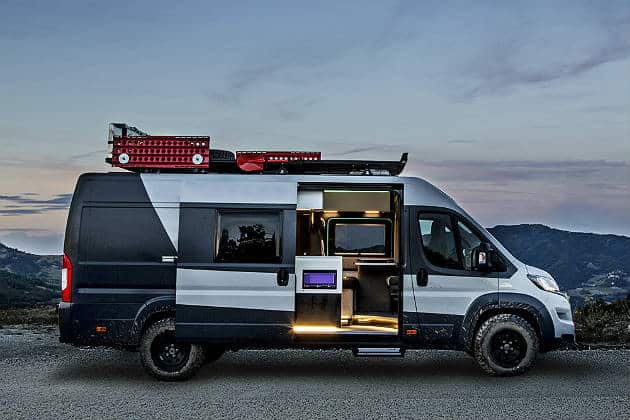 Fiat Ducato Camper Van
Most of us automatically associate Fiat with its diminutive icon, the 500. But in recent years they've been investing heaps of energy in swiping a slice of the camper van market.
While the Ducato has been around in one form or another since the early 80s, its current iteration is leaps and bounds beyond anything they've ever produced. With a best-in-class turning radius, electronic stability control and ergonomic emphasis, there's no wonder why it's become a van life fan favorite. And considering its enormous factory customization options result in over 600 potential layouts, there's something here for everybody. One more neat tidbit: Fiat offers all Ducato owners its live phone assistance in 15 Languages, 51 Countries, 24 hours a day, 7 days a week. Not bad. – Buy It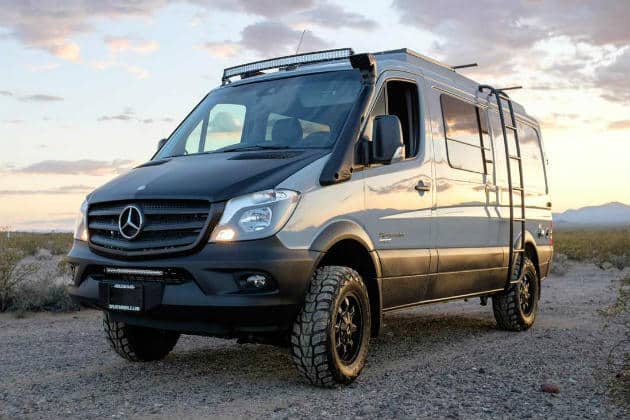 Sportsmobile Mercedes-Benz 4×4 Sprinter
Although not as fancy as the Sawtooth, Sportsmobile's Sprinter conversion is a great buy. With a specialty lift kit that raises the chassis 4 inches in the front and 3 in the back, its improved slope-climbing ability makes it the mechanical equivalent of a mountain goat.
Sportsmobile has been outfitting existing vehicles as campers since the early '60s, so they've learned a thing or two about economizing space. Even though the Sprinter already comes standard with plenty of headroom, they've added a pop-up sleeping platform so that the "downstairs" area is functionally different. With plenty of available options, like solar panels and the obligatory snorkel, the sky is the limit on your custom build. – Buy It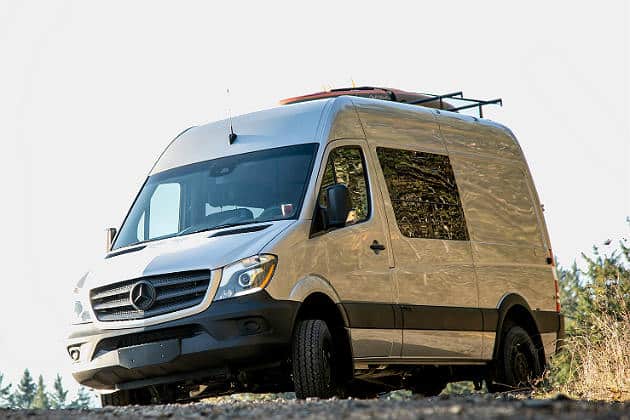 Outside Van Wanderlust
If you're looking for the most affordable, pre-built, 144" Sprinter-based camper van out there, you should look in this direction. Without wasting time on unnecessary external flare, Outside Van's Wanderlust is a solid long-term option for those with one thing in mind: being outside.
Although it's endowed with much more than just the basics (hot/cold sink and shower; full kitchen with clean, modern lines; extra-large sleeping surface), the emphasis here is clear: getting you and your gear to your destination. With an enormous rear cargo hold and an extra-wide roof rack, feel free to pack even your most space-wasting outdoor hobbies. True to its utilitarian form, there's no bathroom in this one. So what happens when nature calls? Just step outside. Heck, you're already in nature anyway. – Buy It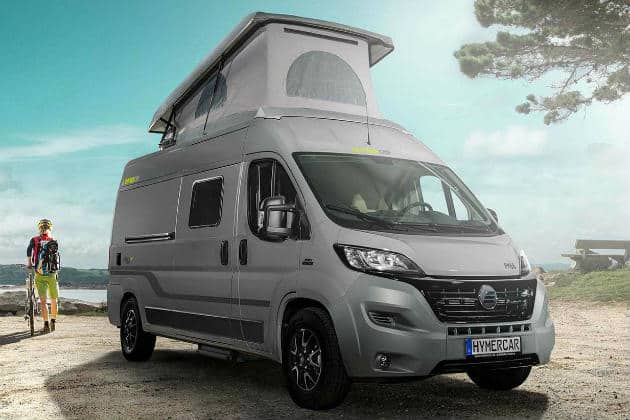 Hymercar Camper Vans
Germany's Hymercar has a reputation for building campers of outstanding comfort and quality. In the business since 1953, their most recent focus has been retrofitting base-model Mercedes Sprinters and Fiat Ducatos into all-out camping monsters.
Customizable to include bathrooms, extra-large refrigerators, luxurious sleep surfaces and state-of-the-art safety sensors, having a Hymer ensures you'll never be far from the comforts of home. If you opt to have one of their pop-top roofs installed, you'll even have a total of 4 spacious sleeping surfaces. Sleek design, solid German engineering and a competitive price point make this one of the best deals on this list. – Buy It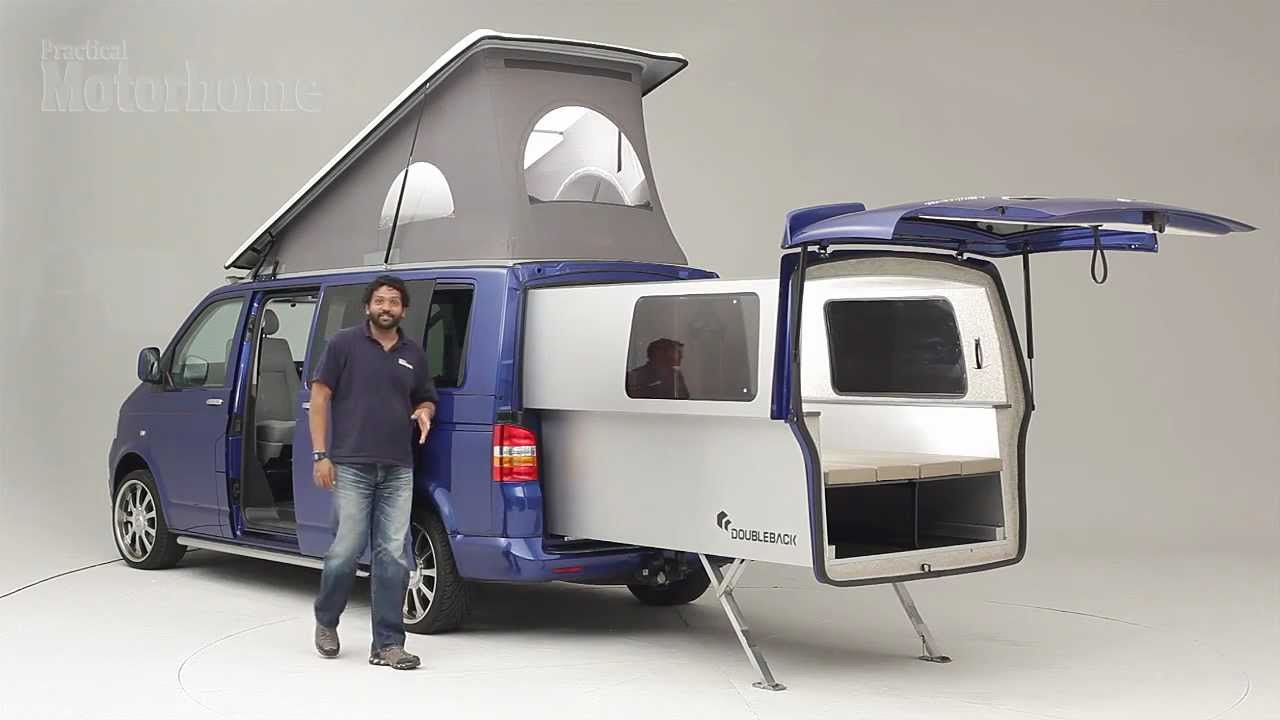 Doubleback Van
Doubleback's innovations won't soon be forgotten in the world of camper vans. Although it appears to be nothing more than a standard VW 2.5 TDI Transporter at first glance, the flick of a switch enables a massive, 6-foot pod to glide rearward and the roof to tilt generously to standing height.
Built from aerospace-spec materials, including a honeycombed aluminum frame, Doubleback's alterations boast an amazing strength-to-weight ratio. The pod itself weighs just over 300lbs, but can support an impressive 900lbs of gear and furniture. Hand-built to order by their dedicated engineers in England, Doubleback's James Bond style gadgetry has earned it the nickname "the Swiss Army knife of vans". – Buy It
Disclosure: Clicking on these links and making a purchase may earn us a small referral fee, at no extra cost to you. Learn more here.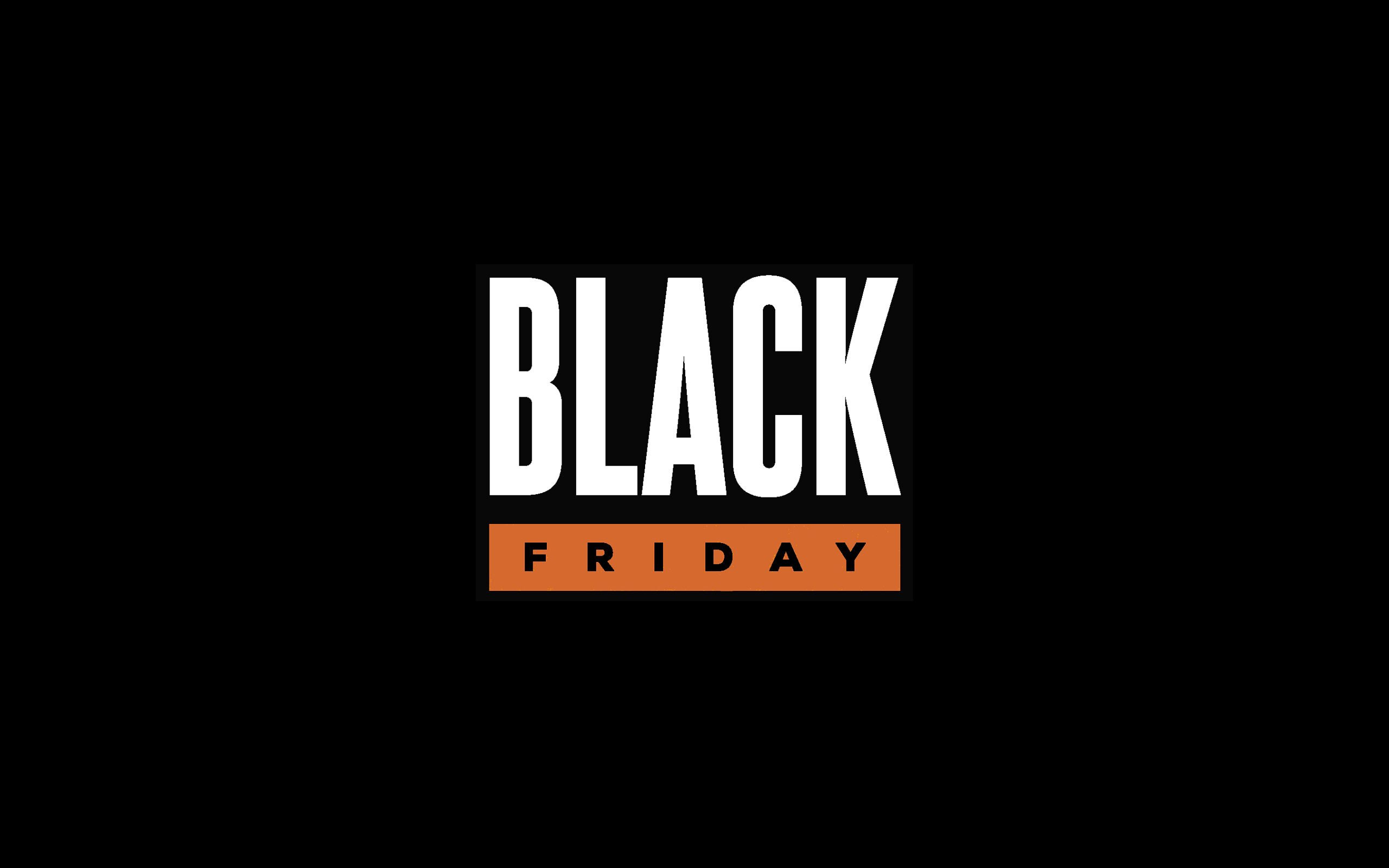 freestar.config.enabled_slots.push({ placementName: "gearmoose_leaderboard_btf", slotId: "gearmoose_leaderboard_btf" });